$70,000 raised and counting toward our $300,000 goal
Wildcat Marching Band Uniform Campaign
Hey Big Blue Nation, are you ready for new Wildcat Marching Band uniforms for the 2024 season? Help us suit up the entire student band from musicians and drum majors to majorettes and the color guard.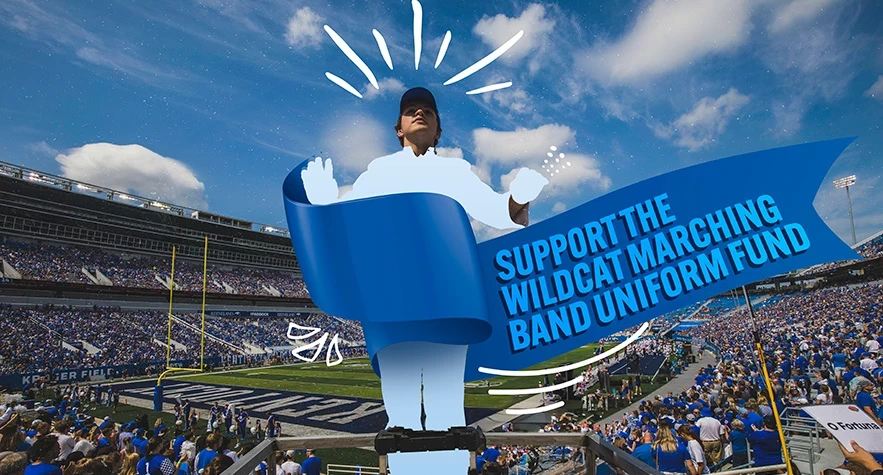 Wildcat Marching Band
The Sound of the Wildcats, the largest and most visible student experience at the University of Kentucky. The Wildcat Marching Band entertains thousands of fans with spirited, high-energy performances at Kroger Field, originally called Commonwealth Stadium. In fact, generations of students have been rallying the Big Blue Nation to victory, at home and away, for over 120 years.
Today, the future is bright for athletic bands with Dr. Shayna Stahl. She has grown participation from 180 to 240 students over the last two years and is on a record-beating pace to enhance the student experience and the sight and sound of the Wildcats.
The time is now for a fresh look and a UK-branded inventory to meet the demand of a growing band. It's been eight long years in the old uniforms (that's a lot of duct tape and sewing repairs). So, please line up with alumni, friends, parents, and superfans to make a gift to the Wildcat Marching Band Fund. Help supply critical resources for the purchase and maintenance of 300 uniforms for the students.
Big shout outs to Provost Robert DiPaolo for a lead gift from his office and two loyal alumnae who have set up matching gift challenges for two crowdfunding online campaigns to raise an added $20,000.
"I'm able to donate because of my parents and brother, so I do it for their legacy. We were always marching band students and my dad even played trumpet in a marching band in the Army. I'm glad I can help." Anonymous '80
Every gift counts and every gift helps us reach our goal.
Please make a gift to fund a uniform for one student, more than one, or a whole section or group.
$1,000 = 1 musician uniform or 1 drum major uniform or 2 majorette uniforms or 4 color guard uniforms.
Mail checks directly to UK Philanthropy, PO Box 23552, Lexington, KY 40523 (payable to University of Kentucky with WMB Uniform Fund designation in the memo line or a note of instruction).
Questions? Contact Lisa Blackadar, Director of Philanthropy
859-257-3145 / lisa.blackadar@uky.edu