Art & Visual Studies Building
Address
236 Bolivar Street, Lexington, KY 40506
The School of Art and Visual Studies' award-winning renovated building houses multiple art studios across ceramics, wood shop, sculpture, drawing, painting, fiber, 3D digital fabrication labs, and more.
Building Image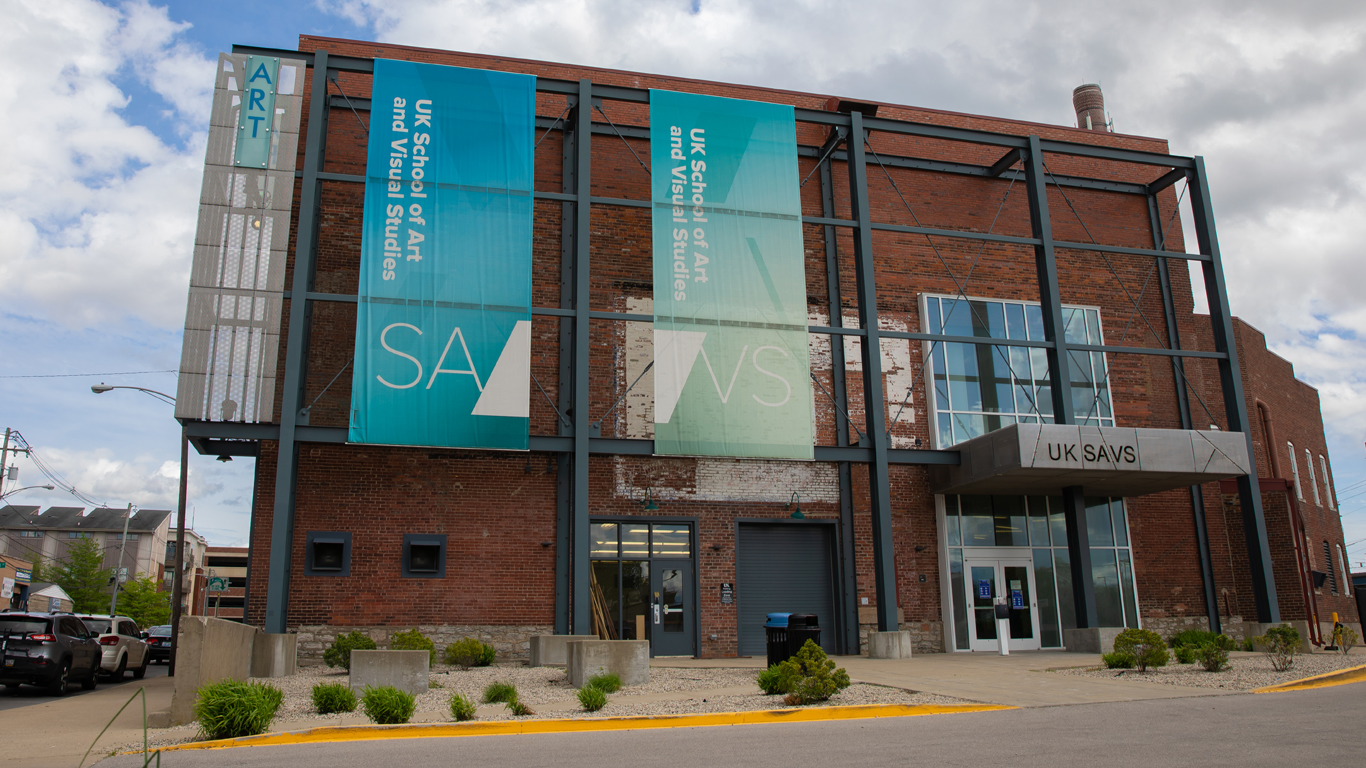 The building was designed by Lexington-based firm Omni Architects and preserves the local history of its 1899 origins as Leggitt & Meyers tobacco processing plant. It possesses over 117,000 square feet dedicated to supporting the development of knowledge and creativity related to the visual arts AND the mastery of materials and processes that supports the making of art.
In keeping with SA/VS's commitment to fostering a collective artistic community is the dedication to open critique. All SA/VS disciplines rely on the regular critique process as critical to the learning experience. Sharing this process as openly as possible serves the broader SA/VS community by making visible that which happens within the studio. As such, common critique areas are a unifying factor of the open social realm of the Art and Visual Studies Building on Bolivar Street.
The SA/VS building has two wings: the west wing, built in 1917, is a two story structure with a central axis lit by skylights. It features glass-walled art studios and spaces for all types of media interaction and exploration among its high ceilings, wide passageways and lovely light. Among these is the Hazel True Haunsz Fiber Studio, where students produce work in all manner of fiber-related materials, processes, and mixed media. The original east wing built in 1899 is a four-story structure that houses the administrative offices, the gallery, faculty and student studios, and a 21st-century research laboratory in which state-of-the art digital media labs are in close proximity to a multipurpose 3-D fabrication lab, a photography suite, and a print media shop.
UK SA/VS has had a long tradition of students and faculty creating ambitious, large-scale work in installation, performance, sculpture, ceramics, fiber, painting and drawing. Expansive ceramics facilities, wood shop, sculpture studios, as well as drawing, painting, fiber, and design workshops, foster experimental and cross-disciplinary conversations and critiques. SA/VS's Art Education labs are located in the midst of the art studios. Bolivar is also the home of several classes in the Art History and Visual Studies program. The metal shop and foundry remains located in its long-time location adjacent to the old Reynolds building.
Located just on the edge of campus near the College of Education, the Art and Visual Studies Building is surrounded by ample parking, and close to the heart of an entertainment and restaurant row. It is a short walking distance from microbreweries, burger and pizza spots, diners, Korean, African, Mediterranean, and Indian bistros, just to name a few, and only a few blocks from downtown Lexington.
Cornerstone Garage: (Parking Structure #5, 409 South Limestone)
Metered parking along Bolivar Street (free after 5PM and on weekends)
Other UK lots for which you have a permit
Parking for SA/VS visitors, students, and faculty/staff is NOT permitted at:
The lot at the corner of Lawrence and Bolivar. This lot currently belongs to South Hill Station.
Any locations marked South Hill Station.
In the Burley Tobacco Growers' lot on Broadway. This is the lot between Tolly Ho and the Burley building. Vehicles not authorized by Burley will be towed.
Accessibility
There is a wheelchair-accessible entrance on the Broadway-facing parking lot. Elevators are accessible to all areas of the building (the Broadway side elevator goes between floors 1R and 2, and the elevator on the Upper Street side of the building goes from the Basement to the Third Floor).