Do you see yourself forming clay at a potter's wheel?
Making pottery is an exciting and challenging craft. If you have imagined yourself forming clay at a potter's wheel or wanted to create a sculpture with your hands but didn't have access to facilities, now is your chance. Whether you are looking to become a serious artist or are simply looking for a life-long hobby, we have everything you need to embark on a journey exploring the endless possibilities in ceramics. Learn about the vast array of ceramic applications in contemporary art as well as the breadth and depth of techniques used by utilitarian potters who adhere to the traditions of the studio craft.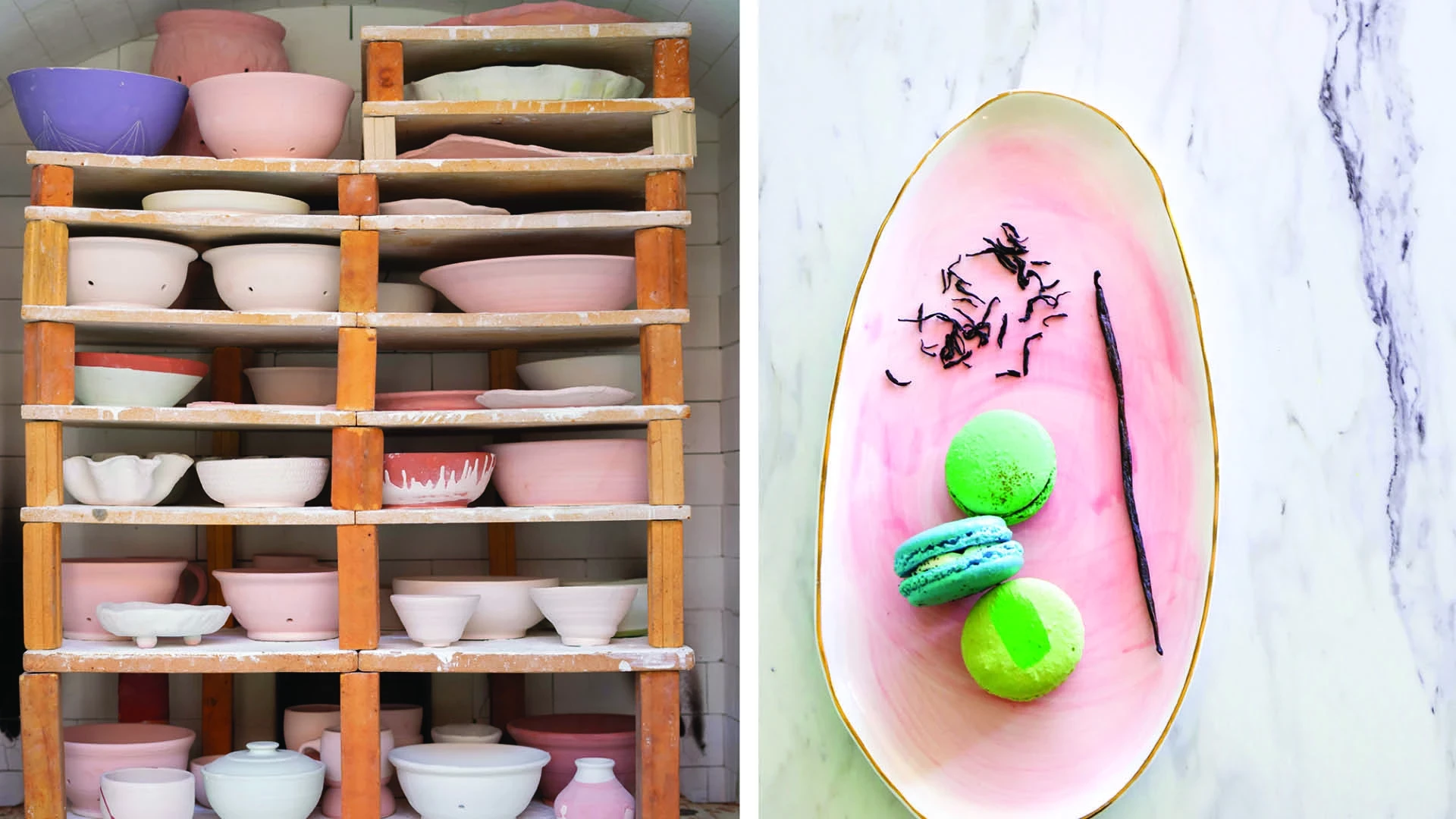 Ceramics at the University of Kentucky
Our studio equipment includes:
25 electric wheels
10 kick wheels
40-inch Bailey slab roller
2 extruders
Bailey de-airing pug machine
industrial foundry mixer
industrial sand blaster
Bluebird clay mixer
Bailey industrial glaze spray booth
comprehensive ceramics art book collection
Kilns include:
4 computerized Skutt electric kilns
manual Cone Art electric kiln
36 ft3 Geil Electric Car Kiln
1 Raku kiln
35 ft3 Geil Gas Kiln
60 ft3 Soda Kiln
115 ft3 Anagama wood kiln
26-ton log splitter
wood-fired pizza oven
Ceramics is also home to mold making, slip casting, and mixed media facilities as well as a fully stocked glaze and clay lab with new ventilation systems.
Through intensive studio courses, supplemented with demonstrations, critiques, and lectures, students explore clay's diverse and complex relationships to contemporary art as well as its long historical lineage. Within this framework, students make and discuss utilitarian, functional, and sculptural ceramic art projects.
Throughout the curriculum, students learn a wide spectrum of hands-on ceramic applications such as hand building, wheel throwing, figurative sculpture, slip casting, surface decoration, clay and glaze formulation, glazing application, and electric, pit, raku, gas, soda, and wood kiln firing processes. Students are also introduced to technical terminology, material studies, professional documentation of artwork, and proper studio procedures, maintenance, and safety. Professors energetically engage with students in an open-dialogue format to inspire self-motivated creative inquiry, intellectual rigor, and a strong work ethic.
Whether working as artists, independent craftspeople, or as a commercial potter, Ceramics in SA/VS prepares students for the professional world as they are mentored in the craft. Advanced-level students receive experience exhibiting in galleries and are guided through the process of applying to graduate schools, teaching positions, and commercial jobs.
Ceramics are central to many commercial and industrial fields. As a craft rooted in culture, history, and chemistry, students who practice ceramics will have a deep understanding of the medium and its technical and creative possibilities as they enter careers in architecture, industrial ceramics and pottery, and product, industrial, or interior design.
SA/VS alumni success stories range from admittance into prestigious graduate programs, and to being hired as K-12 teachers and university professors. Others have embarked on creative careers as independent craftspeople and artists.
Bobby Scroggins / Professor
Bob Shay / Professor
Hunter Stamps / Associate Professor
Jeremy Colbert / Lecturer and Technician