"I am not what I am, I am what I do with my hands."
-Louise Bourgeois
Textiles surround our everyday lives in fashion, furniture, decor, and in art. The medium is both ancient and contemporary, as well as technical, conceptual, and expressive. In the field of Fiber, each technique, material, and process has its own unique story. At SA/VS we embody an interdisciplinary sculptural practice that includes processes such as weaving, knitting, felt making, sewing, stitching, and dying; where students use their hands to build up layers of textiles and explore the myriad creative methods of fiber manipulation.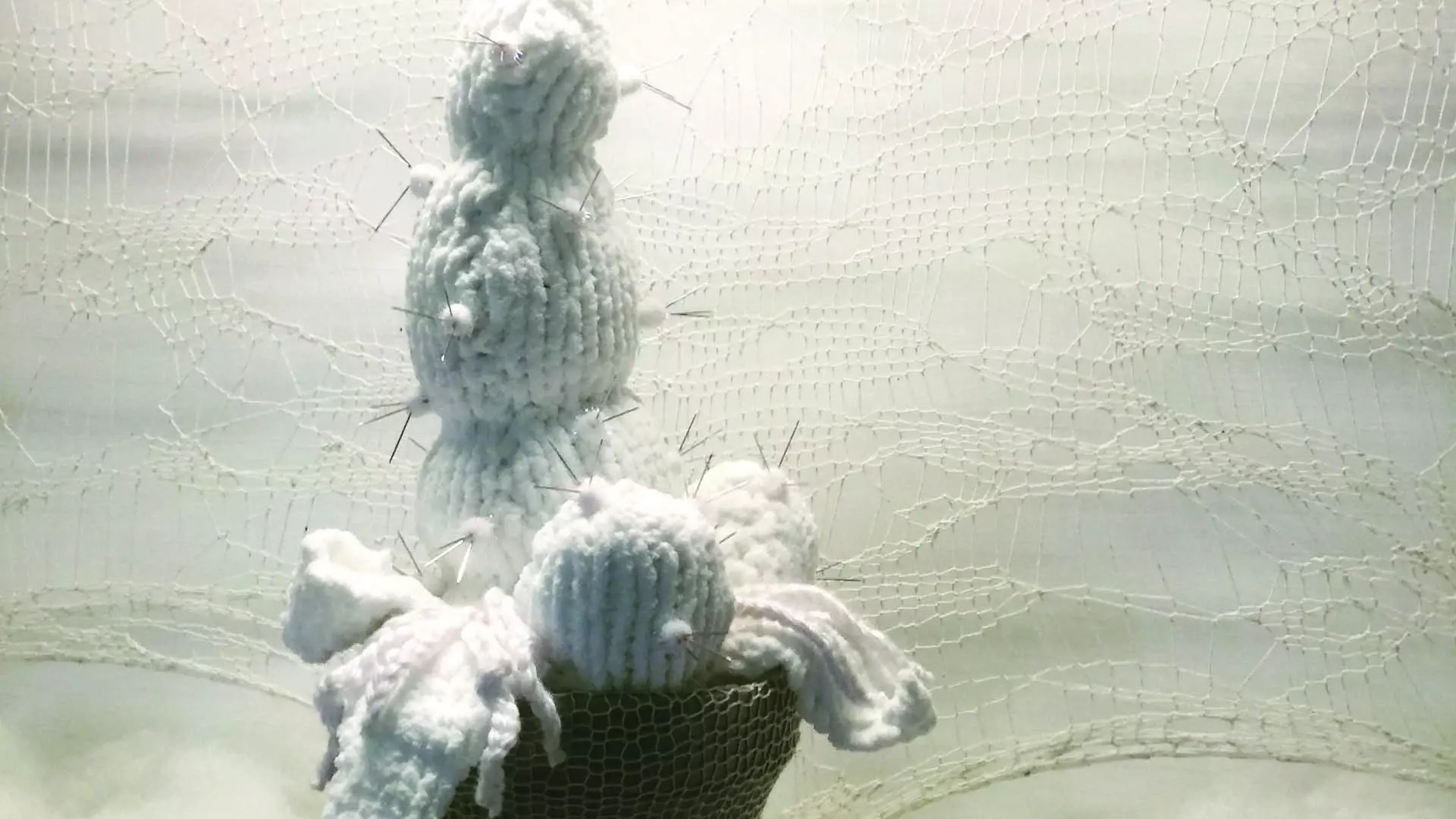 Credit: Alex Lewis
The Hazel True Haunsz Endowed Fiber Studio is equipped with state-of-the-art facilities where students learn technical skills and push the boundaries of what is possible within weaving, dyeing, stitching, felt making, knitting, crocheting, surface embellishment, and soft sculpture techniques.
Our weaving studio is outfitted with 16 floor looms, two AVL computerized dobby looms and a digital jacquard TC2. In our dye lab we work with both chemical and natural dyes and maintain an indigo bath. Our makers lab includes a FeltLoom, sewing machines, a long arm sewing machine, a knitting machine, and tufting equipment amongst other fiber equipment. It is a makerspace that is always growing.  
Modern fiber practice is a blend of ancient crafts and modern technology. There are many important themes running through our discipline that inspire and guide our classroom. Students will learn about the history of fiber and fiber arts to help inform their practice and inspire their projects.
Students work hands-on from the beginning, learning the basics of looping, knotting, and dying fabrics and thread. They get to explore and experiment with many different fabrics as they learn about the physical qualities of the textiles and how to push the boundaries of their strength and form. Students use looms and sewing machines to create artworks that are technical, thought provoking, and gallery-ready for exhibitions.
The Fiber program promotes students taking coursework in various fields of study to develop a multifaceted set of complementary skills. The Fiber area draws upon and contributes to coursework in Foundations (A-S 102 and A-S 103), Sculpture and Metal Arts (A-S 350), and Digital Fabrication (A-S 364). We have even seen our students crossover between Fiber and Painting. This makes SA/VS graduates uniquely situated to enter a world in need of dynamic and cross-disciplinary talent.  
A-S 350 Introduction to Fiber
A survey of fiber art processes and textile techniques used to create sculptural forms. This includes, but is not limited to, looping, knotting, dying, hand and machine sewing, and woven and non-woven structures. This course focuses on experimentation with materials, while using history and theory to guide research. 
A-S 351 Soft Sculpture
Building on the skills developed in A-S 350, this course emphasizes development of conceptual and technical skills using textile techniques to guide research and build sculpture.  
A-S 352 Woven Structures
Woven Structures explores the relationship of hand weaving, technology, and sculpture. Experimenting with material and pattern, this course examines traditional techniques of floor loom hand weaving as well as use of the computerized loom to understand weaving as a cross-disciplinary practice. 
A-S 550 Advanced Fiber
Supervised individual development in fiber. 
A-S 552 Advanced Woven Structures
Advanced Woven Structures builds on the knowledge acquired in A-S 352, through supervised individual project development in woven structures. 
Crystal Gregory / Assistant Professor, Fiber
Becky Alley / Bolivar Gallery Director and Lecturer, Sculpture 
Garry Bibbs / Professor, Sculpture 
Jeremy Colbert / Lecturer, Sculpture 
Rae Goodwin / Professor, Foundations, Performance 
Paul Rodgers / Lecturer, Foundations, Animation 
Siavash Tohidi / Digital Fabrication