How can you make your imprint?
Printmedia engages with the history of printmaking as a graphic art and its place within contemporary art, design, and visual culture. In our well-equipped printshop, students are introduced to a range of traditional print matrices. These include screen printing, intaglio, lithography, relief print, and letterpress. In addition to traditional processes, we also include contemporary media such as risograph, print animation, zines, print installation, and digital processes. Students in Printmedia are encouraged to explore the use of multiples as both a form of design and as a means of contemporary studio practice. The small class sizes in Printmedia also allow for one-on-one instruction and more time to work in the studio.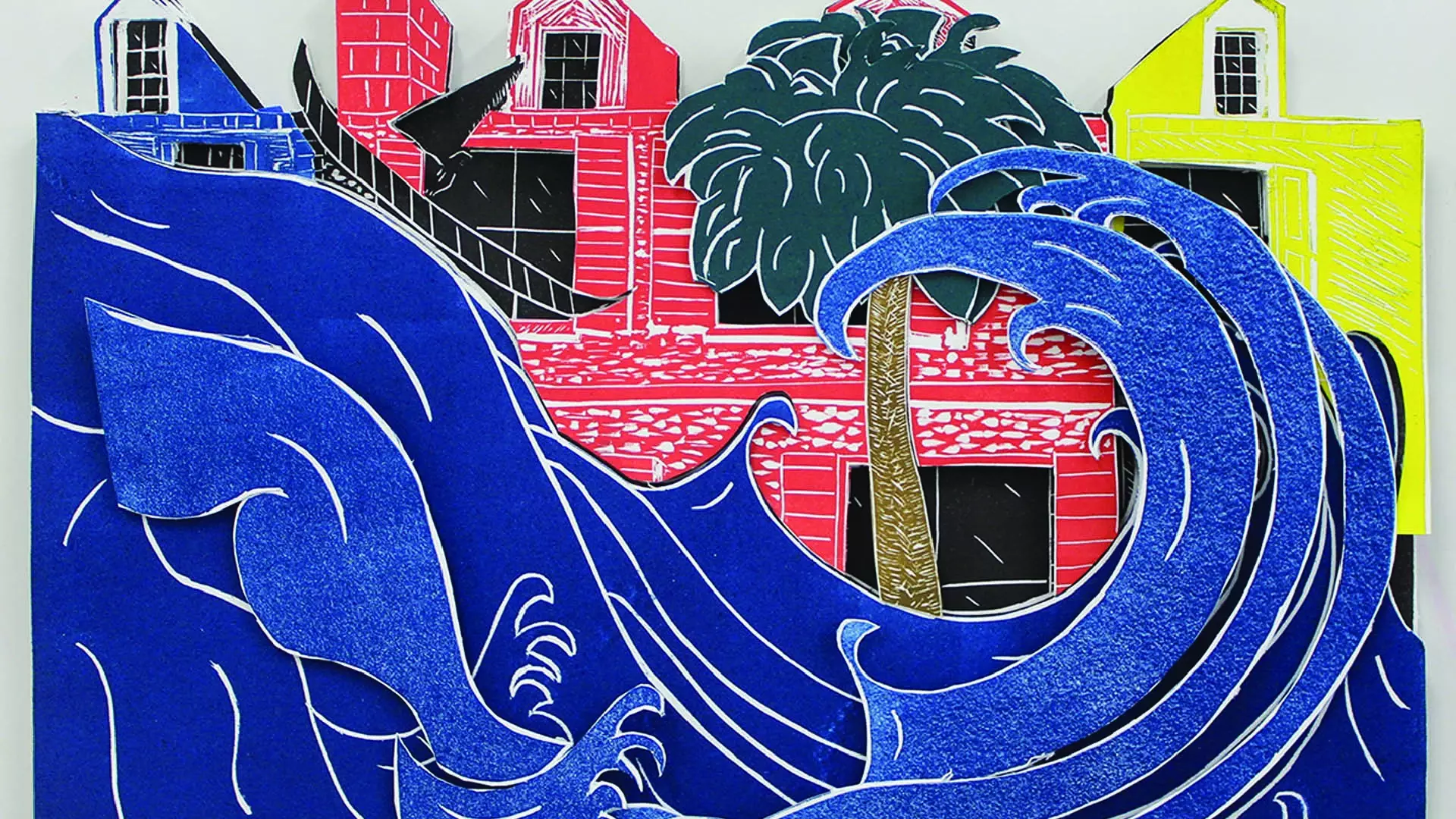 Credit: Terna Rushing
The Printmedia Lab is a full service print shop, capable of producing art in all Printmedia from traditional etching and woodcut to risographs. The Lab blends traditional equipment with new digital technologies, reimagining what printmaking can be in the 21st century.
Lab includes:
Takach Motorized Etching Press
Charles Brand Etching Press
French Tool Etching Press
Charles Brand Litho Press
Conrad Combination Etching/
Litho Press
Vandercook Universal Letterpress
Showcard Press
Large type collection
Screen Printing Stations
Screen Printing Vacuum Table
2 x washout booths
2x graining sinks
Large Litho Stone Library
3 x Riso EZ 221U Duplicators
NuArc Tri-Lite Exposure Unit
Full Spectrum Laser Engraver
2 x Shopoko CNC Mills
Dedicated Etching Room set up for copper plate photogravure
4x stopmotion copy stands
Challenge Paper Guillotine
Visiting Artist Workshop
The Print Media area has hosted numerous workshops and masterclasses by nationally and internationally renowned artists. Recent guests include Ericka Walker, Nova Scotia College of Art and Design, Hound Dog Press, Louisville, KY, Joseph Lupo, West Virginia University, Marie Bukowski, Kent State University, Lari Gibbons, University of North Texas, and many others.
A-S 320 PRINTMEDIA: SCREEN/RELIEF PRINT
Learn the skills necessary to create screen and relief prints and build a working knowledge of how both analog and digital stencils can be used to create editionable images.
A-S 321 PRINTMEDIA: INTAGLIO/LITHOGRAPHY
Learn the skills necessary to create Lithography and Intaglio prints and build a working knowledge of how both analog and digital stencils are used to create editionable images.
A-S 322 SCREEN PRINTING
Intensive studio experience in serigraph printmaking processes and history relevant to contemporary practices in the medium.
A-S 520 PRINTMEDIA: TOPICS (topics have include: Zines, Photo and Digital Processes, and Advanced Screen Printing)
Explore and discuss contemporary and future directions in Printmedia, while combining traditional, digital, and post-digital matrices to create works that merge print with installation, design, animation, book-arts, or other mixed-media methods.
A-S 521 PRINTMEDIA: CONTEMPORARY PRACTICES
Utilize knowledge from previous print courses to develop specific projects and research that develops a professional body of work and studio practice.
Printmedia encourages students to take additional coursework in such courses as A-S 340 Introduction to Graphic Design, A-S 330 Intermediate Drawing; A-S 331 Exploration of Human Form; A-S 385 Intermediate Photo Manipulation: PhotoShop; and A-S 386 Alternative Photoprocesses; among others.
Jonathan McFadden / Associate Professor, Printmedia
David Wischer /Assistant Professor, Graphic Design and Printmedia
Matt Brock / Senior Lecturer, Graphic Design
Mia Cinelli / Assistant Professor, Graphic Design and Typography
Chad Eby / Assistant Professor, Graphic Design and Simulation
Paul Rodgers / Lecturer, Foundations and Animation