The Academic Common Market (ACM) is a tuition-savings program for college students in 14 Southern Regional Education Board states who want to pursue degrees that are not offered by public institutions in their home state. The Department of Arts Administration at the University of Kentucky is currently one of the programs included in the Academic Common Market. The ACM is not competitive or merit-based, but applicants must meet state residency and college admission requirements.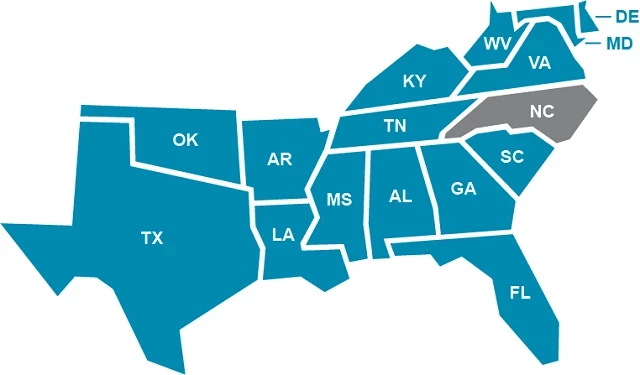 Participating States are noted in blue.
The ACM reduces the unnecessary duplication of academic programs among participating states, recognizing that it is impractical for any institution or single state to develop or maintain degree programs in every field of knowledge. The agreement supports existing degree programs that have the capacity to serve additional students by providing access across state lines for programs not available in a student's home state.
Participating States are Alabama, Arkansas, Delaware, Georgia, Kentucky, Louisiana, Maryland, Mississippi, Oklahoma, South Carolina, Tennessee, Virginia, and West Virginia.
For more information on this program, contact:
Academic Common Market Institutional Coordinator
100 Funkhouser Building
University of Kentucky
Lexington, KY 40506-0054
(859) 257-3256
Half the states in the Academic Common Market allow students to major in Arts Administration at the University of Kentucky for in-state tuition!
You can check your state's information and see if the program qualifies.
After ensuring that your state participates in the ACM and your desired program is eligible, apply to the University of Kentucky for Arts Administration. Once admitted to the university, contact your state's ACM coordinator and complete the ACM application. Applications can take up to three months to approve.
Double majors and dual degrees can participate in the ACM. Students often double major at the undergraduate degree level or dual degree at the graduate level within the College of Fine Arts in Theatre, Dance, Music, Art, etc. This allows students to get a well rounded education in both an art form and the business of the arts. Keep in mind that Arts Administration must appear as the primary major to qualify for ACM. Additionally, the student must be progressing towards a degree in Arts Administration every semester (e.g. enrolling in required courses for the degree).