Tuition
Students enrolled in the online MA or PhD in Arts Administration pay in-state graduate tuition rates regardless of their residential location.
Information on current tuition rates, tuition refund policies, deadlines, and amounts can be found on the University of Kentucky Student Account Services website.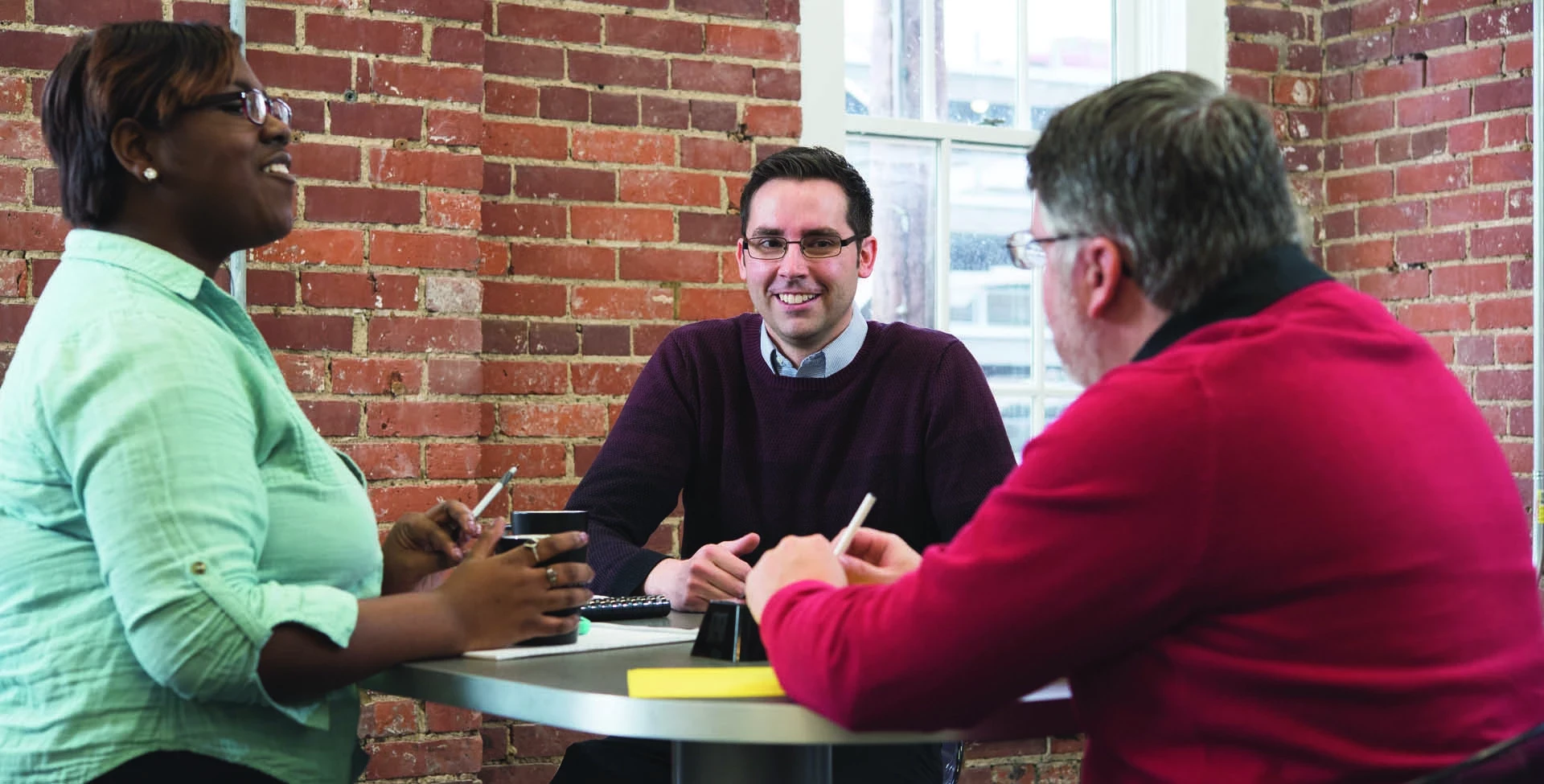 Graduate students collaborate through curriculum
Internal Funding
Please be advised that while the GRE is not required for admission to the MA in Arts Administration, the GRE is required in order to be eligible for UK Graduate School Scholarships and Fellowships.
Department of Arts Administration Scholarship
A limited number of one year and two year scholarship funding is available for Arts Administration MA and PhD students. Awarded students must have and maintain a 3.5 cumulative GPA. Priority is given to incoming students. The maximum annual award is $3,000; the average award is $1,500.
Department of Arts Administration Scholarship Applications must be submitted by:
Fall: July 15
Spring: December 1
Summer: April 1
Braun Endowed Fund
For information on the Michael Braun Endowed Fund, click here.
Teaching Assistantship
The Department of Arts Administration is pleased to announce the availability of a full-time or half-time Teaching Assistantships for graduate students enrolled in the MA or PhD in Arts Administration. All TA positions begin in fall semester and operate only in the fall and spring semesters.
There are two types of Teaching Assistantship Positions:
Full-Time Teaching Assistant (Must be able to commute to Lexington and be on campus): 100% of tuition and a $12,000 yearly stipend;
Part-Time Teaching Assistant (Can be remote): 50% of tuition and a $6,000 yearly stipend.
Students must be enrolled in 2 - 3 courses, which will be discussed with their faculty advisor.
Assistantships are awarded competitively on the basis of the applicant's academic record, professional promise, training, and experience. To be eligible for an assistantship, applications for graduate admission must be on file for each applicant. To receive an assistantship, students must be admitted to the MA or PhD in Arts Administration. Previous teaching experience is not a requirement.
Be prepared to upload the following materials before beginning your application:
A resume;
An undergraduate, graduate or professional paper, or another piece of expository prose of at least five pages;
A brief personal essay (1-2 pages) in which you discuss any teaching or related experiences and why you are interested in being a TA in the Department of Arts Administration; and
A letter of recommendation that specifically addresses teaching abilities or potential to be a successful teacher.
Teaching Assistant Applications are due on June 1.
External Funding
Financial Aid
Financial aid for graduate students is more limited than that available to undergraduates. The majority of the graduate student aid is in the form of loans. Below you will find information on loans, scholarships and resources to help you in the financial aid search. The University of Kentucky also has Financial Aid Counselors. You can contact the Financial Aid Office by phone or email.
Loans
Most graduate students take student loan to cover all or part of their tuition costs. The best place to begin is applying for federal student aid by completing the Free Application for Federal Student Aid (FASFA).
Federal Student Aid
Federal Student Aid, a part of the U.S. Department of Education, is the largest provider of student financial aid in the nation. Federal Student Aid provides loans funded by the federal government to help pay for education costs.
Free Application for Federal Student Aid (FAFSA)
AmeriCorps VISTA
AmeriCorps VISTA members are passionate and committed to their mission to bring individuals and communities out of poverty. Members make a year-long, full-time commitment to serve on a specific project at a nonprofit organization or public agency. AmeriCorps VISTA is open to all U.S. citizens, nationals, or lawful permanent resident aliens age 18 and older. Members and Summer Associates receive a modest living allowance. Members who serve for a year also receive limited health benefit options, childcare, if needed, and other benefits. After successful completion of a term of service, members can choose to receive a Segal AmeriCorps Education Award or post-service stipend.
Public Service Loan Forgiveness Program
The Public Service Loan Forgiveness (PSLF) Program forgives the remaining balance on your Direct Loans after you have made 120 qualifying monthly payments under a qualifying repayment plan while working full-time for a qualifying government or nonprofit employer.
PSLF Program
Private Student Loans
Since graduate student loans are unsubsidized by the federal government, private lenders (banks and credit unions) may also offer competitive loan rates.
Resources on Private Student Loans
University of Kentucky Federal Credit Union Student Lending
Scholarships
While scholarship and grant funding for graduate students is very limited, applicants are encouraged to research possible outside financial assistance. The following links may help in your search:
Scholarship Search Websites
Scholarships: Graduate Scholarships
Criteria-Based Scholarships
AfterCollege Business Student Scholarship
Current student working toward a degree (AA, AS, BA,BS, MS, PhD) in a field of business, which can include (but is not limited to): Accounting, Advertising, Business Administration, Economics, Finance, Human Resources, International Relations, Management, Political Science, Public Relations, etc.
AfterCollege Business Student Scholarship
Alpha Kappa Alpha Educational Advancement Foundation, Inc.
The primary mission of the Alpha Kappa Alpha Educational Advancement Foundation, Inc. (EAF) is to promote lifelong learning.
Alpha Kappa Alpha Educational Advancement Foundation, Inc.
American Indian Graduate Center
The AIGC Fellowship program provides approximately $1,200,000 in fellowships to over 400 American Indian and Alaska Native graduate and professional students each year. Graduate fellowships are monetary awards made to American Indian and Alaska Native graduate or professional degree-seeking students, who meet all eligibility criteria.
American Indian Graduate Center
American Indian College Fund
Students pursuing a graduate degree at any eligible college (tribal or non-tribal) may apply for The American Indian College Fund Full Circle Scholarships. These scholarships are funded through partnerships with corporate and private donors.
American Indian College Fund
Scholarship and College Guide for Native American Students
Scholarships for Native Americans are an essential resource. In 2016, data from the Census Bureau's American Community Survey showed that income among Native Americans is substantially lower than that of the general U.S. population. Native Americans also suffer poverty at higher rates than the general population. For many, a bachelor's degree can help to secure a stable job with income above the poverty level, while a master's degree or another advanced degree can help boost income. Native Americans especially can benefit from higher learning, taking advantage of colleges and programs designed to help overcome institutional biases.
Scholarship and College Guide for Native American Students
The Beinecke Scholarship Program
The Beinecke Scholarship Program was established in 1971 by the Board of Directors of The Sperry and Hutchinson Company to honor Edwin, Frederick, and Walter Beinecke. The Board created an endowment to provide substantial scholarships for the graduate education of young men and women of exceptional promise. The program seeks to encourage and enable highly motivated students to pursue opportunities available to them and to be courageous in the selection of a graduate course of study in the arts, humanities and social sciences.
The Beinecke Scholarship Program
Congressional Hispanic Caucus Institute, Inc.
CHCI's scholarship opportunities are afforded to Latino students in the United States who have a history of performing public service-oriented activities in their communities and who demonstrate a desire to continue their civic engagement in the future.
Congressional Hispanic Caucus Institute, Inc.
Epsilon Sigma Alpha Foundation
The ESA Foundation awards numerous scholarships annually.
Epsilon Sigma Alpha Foundation
Hispanic Scholarship Fund
Founded in 1975, the Hispanic Scholarship Fund provides scholarships to Latino students, as well as related support services. HSF seeks to give students all the tools they need to apply to college, do well in their course work, graduate, enter a profession, excel, help lead our nation going forward, and mentor the generations to come.
Hispanic Scholarship Fund
Jane M. Klausman Women in Business Scholarship
The Jane M. Klausman Women in Business Scholarship program helps women pursue undergraduate and master's degrees in business management and overcome gender barriers from the classroom to the boardroom.
Jane M. Klausman Women in Business Scholarship
The Margaret McNamara Memorial Fund
For female students from developing countries who are currently studying in the United States or Canada, the MMMF awards grants of approximately $12,000 each.
The MMMF Grant
Native American Student Scholarships
Several scholarships are available to Native American students. Learn more about determining your status as a Native American students, challenges facing Native American students, advocacy organizations and funding opportunities online.
Community for Accredited Online Schools
NALE Scholarship
Applicant must be at least one-quarter Native American and be an enrolled member of a U.S. tribe that is federally recognized, or terminated, with high GPA and test scores, and be enrolled in an accredited college or university.
NALE Scholarship
The Post-9/11 GI Bill
The Post-9/11 GI Bill provides financial support for education and housing to individuals with at least 90 days of aggregate service after September 10, 2001, or individuals discharged with a service-connected disability after 30 days. You must have received an honorable discharge to be eligible for the Post-9/11 GI Bill.
The Post-9/11 GI Bill
Resources
Clark, Kim. How to Get Financial Aid for Grad School. U.S. News & World Report. July 1, 2008.