Address
405 Rose Street, Lexington, KY 40508
A part of the College of Fine Arts and essential to the UK School of Music, the Otis A. Singletary Center for the Arts presents and hosts artistic, cultural and educational events for the University community, Lexington community and the Commonwealth of Kentucky.
Building Image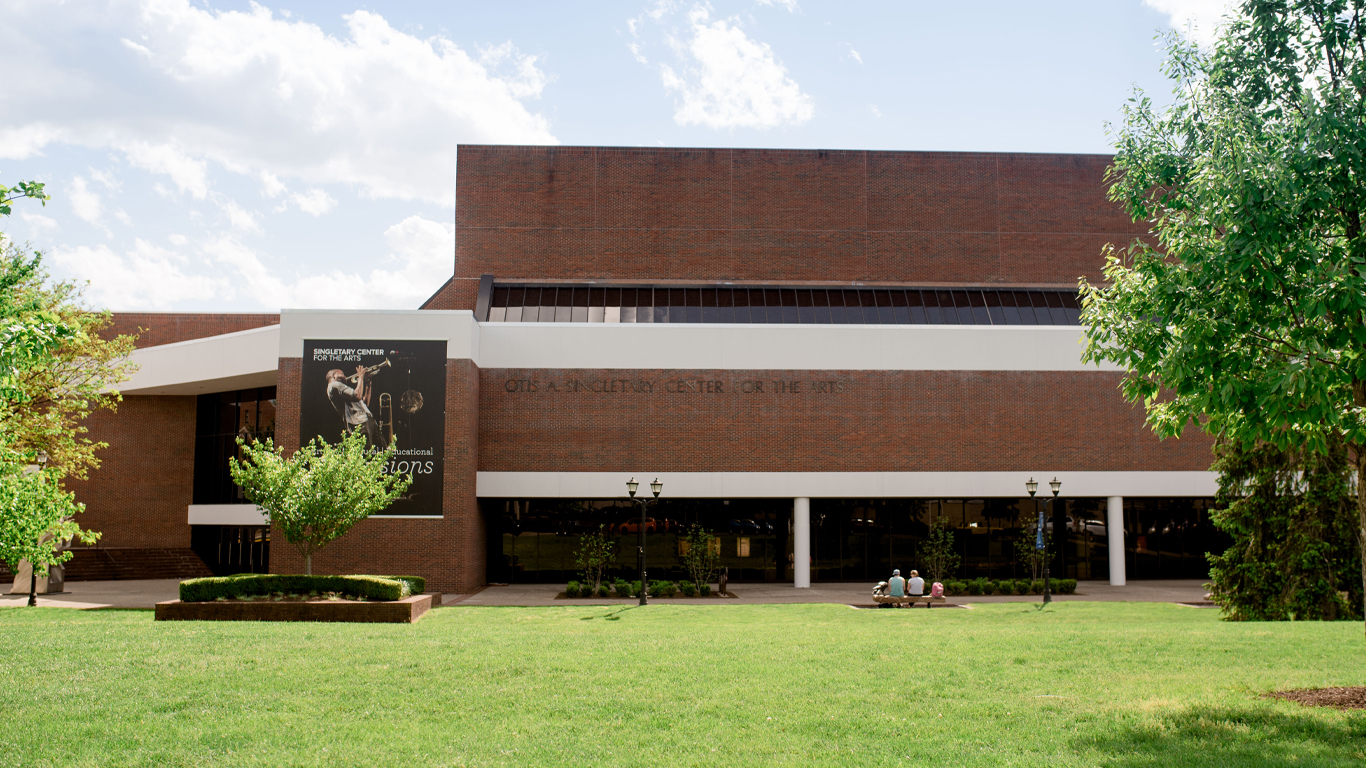 The Otis A. Singletary Center for the Arts at the University of Kentucky offers the promise of excitement and discovery that only great performances and art can provide. Named on April 16, 1987 for the retiring eighth President of the University, the Center has become a major cultural resource for the Commonwealth. From its opening on November 1, 1979, the Center has accomplished Dr. Singletary's wish to provide a succession of brilliant performances in our Concert and Recital Halls, which constitute impressive evidence of the University of Kentucky's continuing commitment to the arts. Hosting an average of 400 events annually, the Singletary Center has served over 3.7 million patrons in its history. The Center provides professional, full-service venues for the creation, practical application, and dissemination of artistic, cultural and educational expressions by international, national, regional, university, and student performers, artists, and speakers.
University Address: 126 Singletary Center for the Arts | Lexington, KY | 40506-0241
Phone: 859.257.1706
NAVIGATION ADDRESS:
MAPQUEST: Rose St./Euclid Ave, Lexington, KY
GPS: 405 Rose St., Lexington, KY
FROM I-64E, I-75N OR I-75S:
Take EXIT 115 - labeled AIRPORT/LEXINGTON - at the end of the ramp take a right. This will put you on Newtown Pike. Take Newtown Pike all the way to Main St. At that light take a left on to Main St. At Rupp Area/Triangle Park, Main St. will become Vine St.
Follow Vine St until you come to a light at Rose St. Take a right onto Rose St. Go through two lights and the Singletary Center will be on your right, on the corner of Rose St. and Euclid Ave.
FROM BLUEGRASS PARKWAY:
Turn right off the exit for Versailles Rd. Follow Versailles Rd. until it becomes a one-way street (W. Maxwell). Follow Maxwell until you come to Rose St. Take a right on to Rose. The Center is on the corner of Rose St. and Euclid Ave.
Click here for a map of all parking lots available on campus.
Click here for a link to the main UK PARKING website.
TICKET PURCHASE PARKING:
Parking is available to ticket purchasers in the semi-circular drive in front of the Singletary Center. It is metered parking and the maximum time allotted is 45 minutes.
EVENT PARKING:
Patron parking is available in most "E" Lots on campus after 7:30pm on M-TH and after 3:30pm on Friday, as well as all day Saturday and Sundays. Please check the signage as some E areas are controlled 24 hours for permits. Patrons are advised to allow ample time to find parking before the event start time.
SCHOOL BUS PARKING:
Please arrange this with the Patron Services Coordinator, Hong Shao: 859-257-2414 / hong.shao@uky.edu.
HANDICAP PARKING:
There are multiple spots on Patterson Drive which runs behind the Singletary Center and adjacent to the Fine Arts Building that are identified as handicapped accessible.
Accessibility
Reinforced headsets for hearing impaired patrons are available at coat check in the main lobby.
If a patron needs a wheelchair to assist them to their seat, they can also check with coat check.
All coats/purses/personal items may be left at coat check, however the Singletary Center is not responsible for lost items.
Handicap-accessible parking spaces are available along Patterson Drive behind the Singletary Center.
All first aid/emergency issues can be taken care of with our House Manager at coat check in the main lobby.