2022 - 2023 Season
Tickets available at singletarycenter.com. Click the event links to learn more about the works and buy tickets.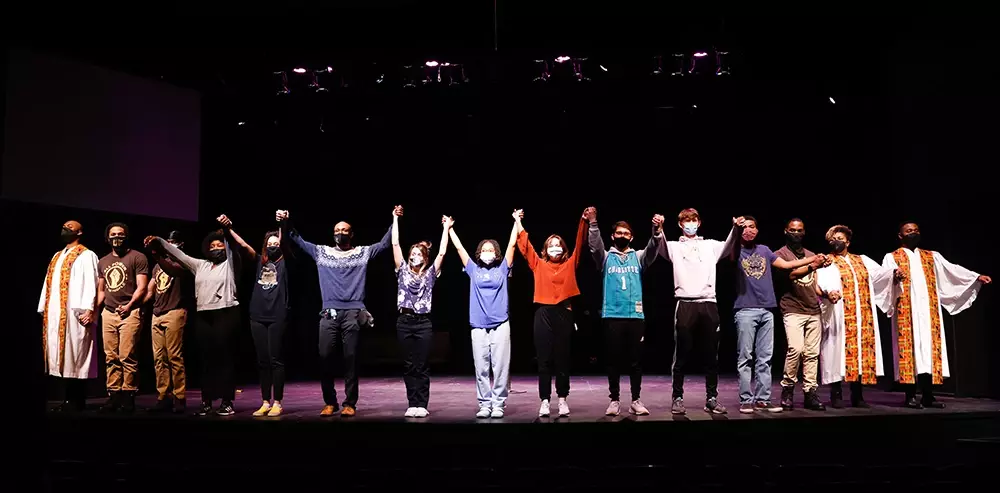 Actors on stage
ROOTED FORCES DANCE CONCERT
Featuring original works by faculty, guest, and student choreographers.
Guignol Theatre
The annual dance concert, Rooted Forces, features new dances by faculty, guest artists and student work. Aligned with UK as a leading research university, the choreography is rooted in inquiry, exploration, risk taking, and creativity. Through an extraordinary breadth of multi-faceted perspectives and creative processes, the concert is an eclectic mix of modern and contemporary dance.
BLOOD AT THE ROOT
By Dominique Morisseau
Briggs Theatre

A striking ensemble drama based on the Jena Six; six Black students from Louisiana who were initially charged with attempted murder for a school fight after being provoked with nooses hanging from a tree on campus. This bold play by Dominique Morisseau (Sunset Baby, Detroit '67, Skeleton Crew), whose title is inspired by the song Strange Fruit, recorded by Billy Holiday, examines the miscarriage of justice, racial double standards, and the crises in relations between men and women of all classes and, as a result, the shattering state of Black family life.
Presented by arrangement with Concord Theatricals on behalf of Samuel French, Inc. www.concordtheatricals.com
SHAKESPEARE IN LOVE
by Tom Stoppard and Marc Norman adapted for the stage by Lee Hall
Guignol Theatre

Based on the Academy Award-winning movie, this enchanting, hilarious, romantic stage play reimagines William Shakespeare's creative process – and explores his inspiration – as he writes Romeo & Juliet. Young Will Shakespeare has writer's block. The deadline for his new play is fast approaching, but he's in desperate need of inspiration. That is, until he finds his muse... the feisty, brilliant and beautiful Viola. This crafty young woman is Will's greatest admirer and will stop at nothing (including breaking the law) to appear in his next play. Against a bustling background of mistaken identity, ruthless scheming and backstage theatrics, Will's love for Viola quickly blossoms, inspiring him to write his greatest romantic masterpiece.
www.concordtheatricals.com