Auditions: The Thanksgiving Play
Ticket Price
Free, reservation required
Poster Image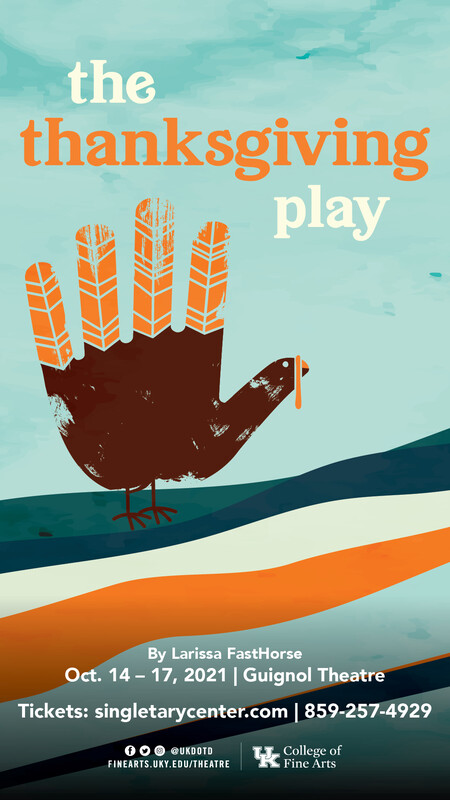 Auditions for "The Thanksgiving Play" by Larissa FastHorse
Production Dates: October 14-17th
Directed by Peter Allen Stone – Email questions to peter.stone@uky.edu
Stage Manager – Spencer Neichter – sneichter@uky.edu
To reserve an audition slot and to get the audition scenes, please contact the stage manager, Spencer Neichter, at sneichter@uky.edu.
CHARACTERS (from the Samuel French Edition)
Logan – Female, Caucasian looking, the high school drama teacher that's always pushing the envelope in potentially inappropriate ways. Earnest about theatre and proving herself.
Jaxton – Male, Caucasian looking, yoga practitioner/actor. Politically correct to a fault, a big one. He's that confident guy everyone loves, but his logical PC thinking takes weird turns.
Alicia – Female, brunette, Caucasian looking but has looks that would have been cast as ethnic in 1950's movies. Without guile. Sexy and hot, but not bright.
Caden – Male, Caucasian looking, the academic. Awkward elementary school history teacher with dramatic aspirations but no experience.
*CHORUS/ENSEMBLE – Four actors will be cast in ensemble roles for our production at UK.
Callbacks will be held on Wednesday, August 25th from 5:30-8:30pm at the Fine Arts Building in the Briggs Theatre, Room 127.
Contact Email
sneichter@uky.edu
Created 08/17/2021
||
Last Updated 08/31/2021