Ticket Price
$20, Registration Required
Poster Image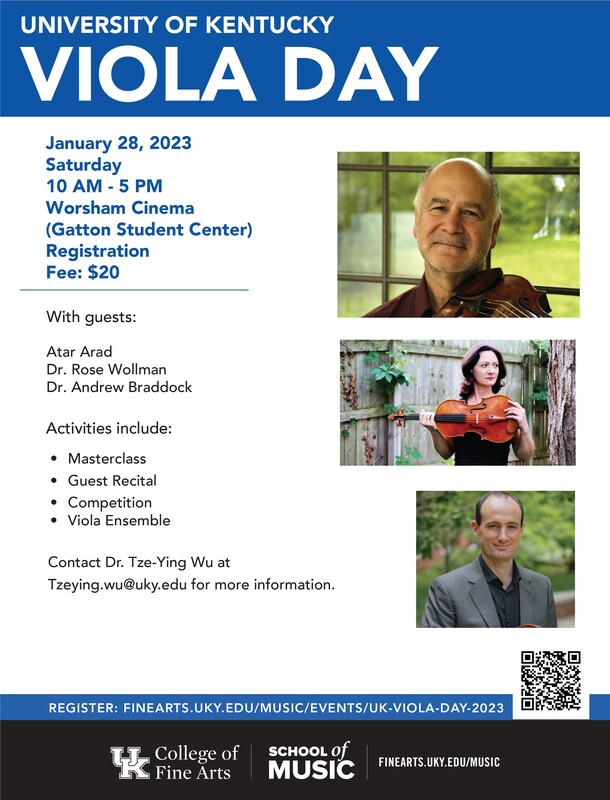 SCHEDULE OF THE DAY
9:30-10a Registration
10-10:50a Masterclass with Andrew Braddock
11-11:50a Masterclass with Atar Arad
11:50a Lunch break (lunch will not be provided)
12:30p LOOP: Ligeti's Inspiration & Legacy, a recital by Rose Wollman
1:45-3:45p Viola ensemble rehearsal
4p Final concert with performances from the viola ensemble, competition winners, and guest artists.
Lunch is not provided but is available for purchase at the Champions Kitchen in the Gatton Student Center.
GUEST CLINICIANS
Atar Arad, Indiana University
Dr. Andrew Braddock, Western Kentucky University
Dr. Rose Wollman, Saint Mary's College
COMPETITION
The UK Viola Day would like to invite viola students at all levels to participate in the Viola Day Virtual Competition. When registering, please identify your group division using the chart below (playing level compatible with the Suzuki system).
Upload a video to any online platform and submit the link to Dr. Wu at tzeying.wu@uky.edu. The recording needs to be in single take with no editing, and the camera should include both left hand and bow arm. Memorization is not required, and the recording is due January 14.
For the repertoire, select a single piece or a movement from a larger work. Because the venue can only provide an electronic keyboard, a work for unaccompanied viola is recommended but not required.
Adjudicators: Rose Wollman and Andrew Braddock
The winner of each group division and selected students will perform in the Final Recital and may be asked to perform for the masterclass. The competition result will be announced the day before the event.

GROUP DIVISIONS
Group A, Pre-College, Suzuki Book 1 and 2
Group B, Pre-College, Suzuki Book 3 through 4
Group C, Pre-College, Suzuki Book 5 and above
Group D, College Freshman and Sophomore
Group E, College Junior and Senior
Group F, College graduate level
VIOLA ENSEMBLES
Participants' playing level at Suzuki Book 1 through 4 will be invited to play in the viola ensemble A.
Participants' playing level at Suzuki Book 5 or higher will be invited to play in the viola ensemble B.
COVID POLICY
Masks will be optional but are strongly encourage for participants who want to do so to wear them as an added layer of protection. Please self-assess if there are any known symptoms of COVID-19 before attending the event, and notify Dr. Wu at tzeying.wu@uky.edu.
UK's Masks Optional Policy CDC Covid Symptom Guide
For questions, please contact Dr. Tze-Ying Wu at tzeying.wu@uky.edu
Contact Email
tzeying.wu@uky.edu
Created 11/11/2022
||
Last Updated 11/16/2022