UK subscribes to the philosophy that training in music education should be as practical and hands-on as possible.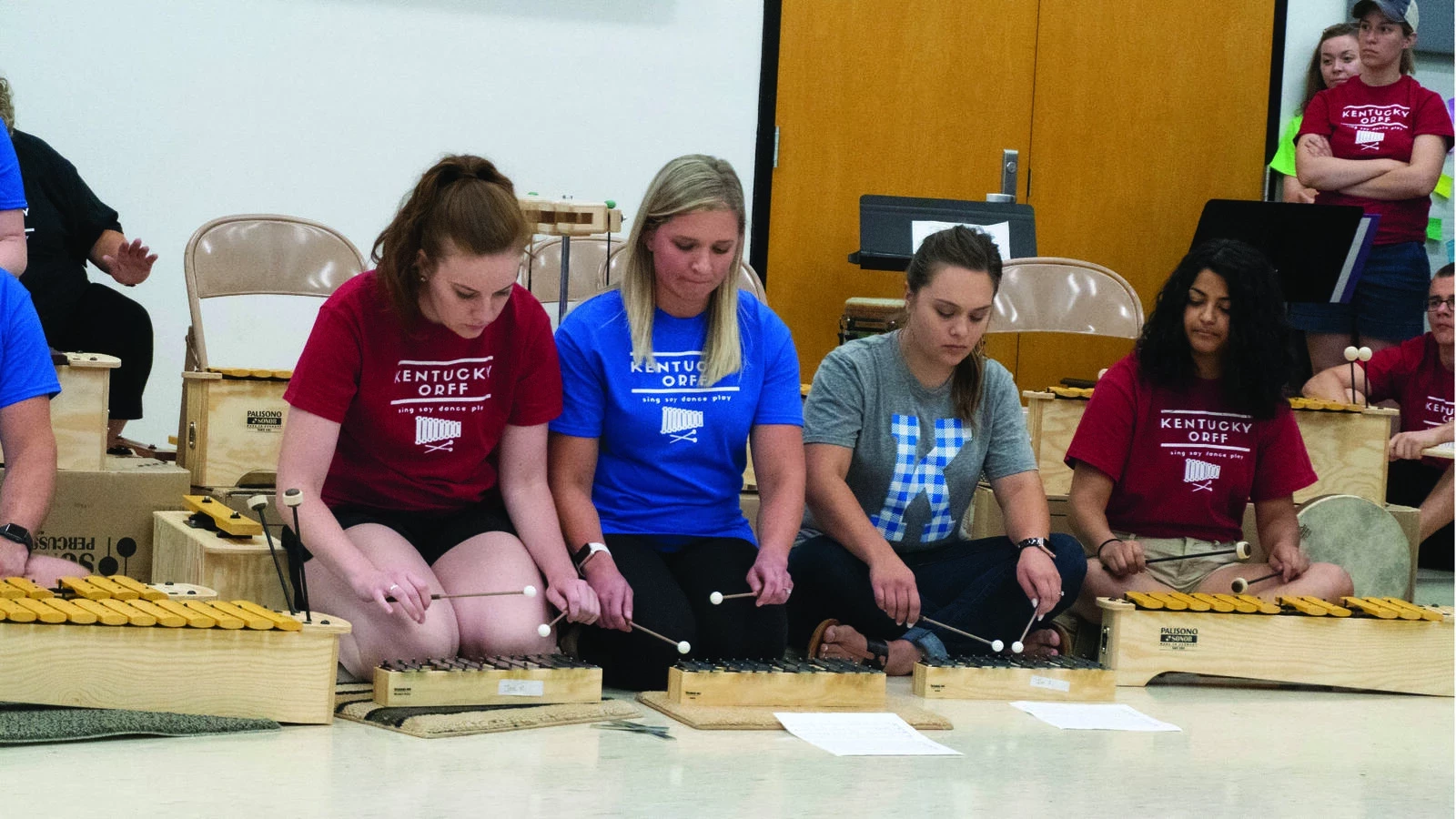 Teachers in Orff training
Alumni in music education are teaching in the public schools of some 26 states as well as in positions at universities such as UCLA, University of Florida, Syracuse University, and more.
Master of Music in Music Education
Delivered via: Internet, Practicum, Onsite Instruction
The School of Music offers courses leading towards the Master of Music Degree concentrating in Music Education. Requirements of 30 hours may be completed via Internet courses and summer offerings onsite. Students desiring concentration in Orff Schulwerk must spend at least two weeks on the UK Campus for three summers. Internet courses and other on-site courses are offered during regular semesters as well. Some courses require a few meetings. Many teachers keep their school jobs while completing this degree; however, careful course planning is crucial in order to enroll in specific courses during summers.
Certificates in Orff Schulwerk and Dalcroze Eurhythmics are available through our Music Education Summer Training Program.
Those interested in more details should contact either Dr. Martina Vasil.
PhD in Music Education
UK subscribes to the philosophy that training in music education should be as practical and hands-on as possible. From the practical experience of conducting and rehearsing the school band, chorus, or orchestra to the development of a highly personal philosophy of teaching music, these seminars provide a rich foundation on which to build a successful career. In addition music education students may also specialize in the teaching of general music with a Graduate Certificate in Orff Schulwerk and/or Dalcroze Eurythmics. An elementary music education laboratory, complete with instruments, music books, method materials, and technological equipment is part of the Lucille Little Fine Arts Library and is used extensively by music education students at all levels and by elementary education students from the College of Education. A rich environment of successful school programs in Lexington/Fayette County and surrounding counties provide students with a wealth of opportunities for observations, work, and study throughout their graduate career.
Application Requirements
CV Upload Required
Personal Statement Upload Required
Portfolio Upload Required
3 Letters of Recommendation
Spring Deadline: November 30
Summer Deadline: November 30
Fall Deadline: April 3
Program requirements may change at any time. Contact the DGS of your intended program or consult the official UK Catalog to confirm requirements.