Looking to join one of our curricular Choral Ensembles? Sign up for these classes during open enrollment:
Choristers: MUC 192-001 (SATB mixed choir)
Women's Choir: MUC 192-002
Men's Chorus: MUC 192-003
Chorale: MUC 174-001 (advanced SATB mixed choir)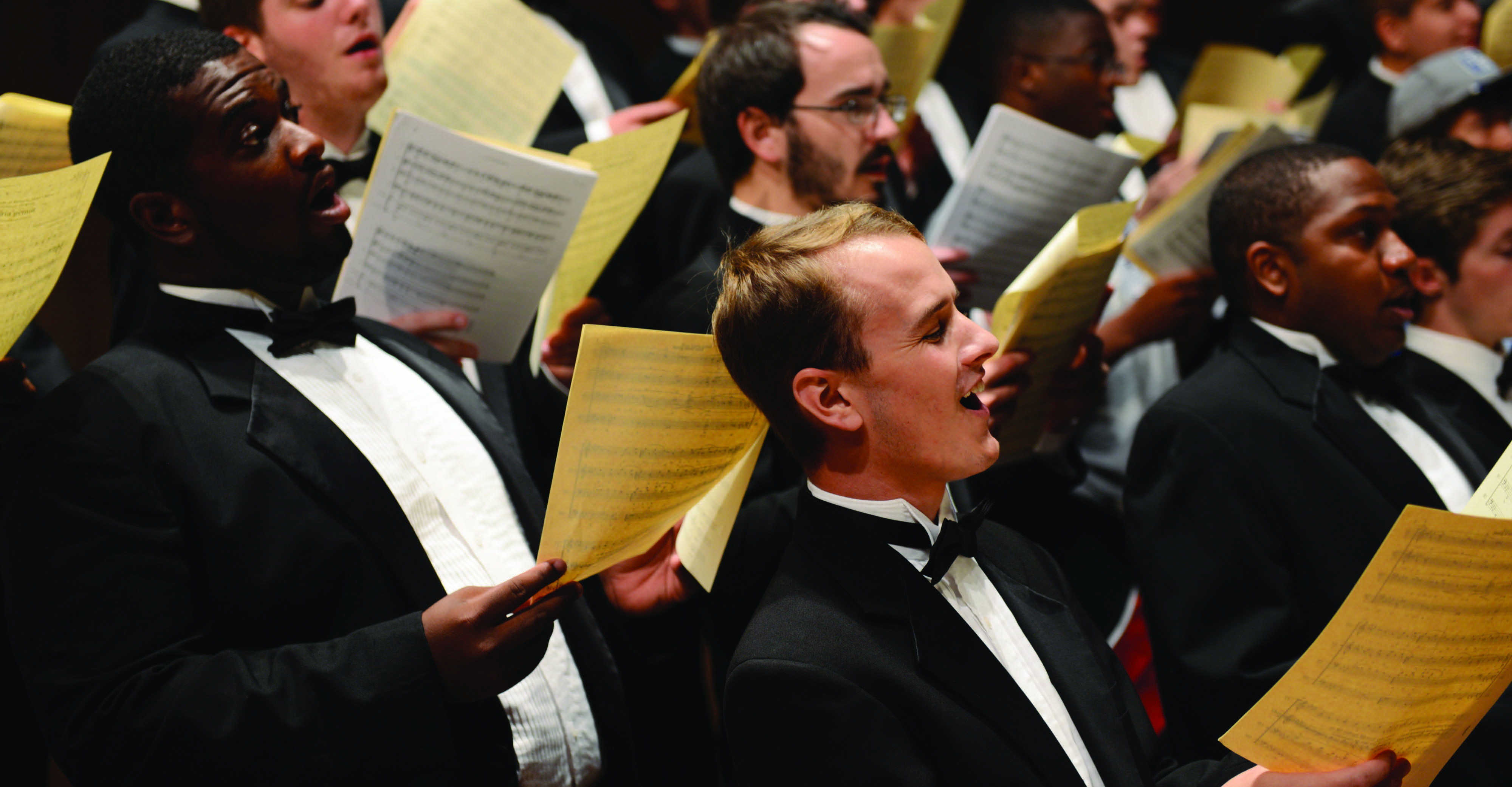 Men's Chorus
Men's Chorus
Director: Jefferson Johnson | Course No: MUC 192, 003
Class schedule: TTh, 2:00-3:15 p.m.
Audition Requirements: Includes majors and non-majors, freshmen through seniors.
The UK Men's Chorus is an 80-voice ensemble composed of students who range from freshmen to graduate students. These young men represent a variety of musical backgrounds and academic disciplines. Begun in the Fall of 2002, the Men's Chorus has grown in size and popularity each semester. The choir's challenging and diverse repertoire includes literature that spans from Gregorian chant to music of the 21st century. Rehearsing only twice weekly, the Men's Chorus maintains an active performing schedule throughout the state of Kentucky, touring each semester.
The Men's Chorus has achieved several distinguished honors in recent years. Most notably, the Men's Chorus was selected to perform at the prestigious 2011 American Choral Directors Association National Conference and at the 2012 ACDA Southern Division Conference. Both of these appearances earned standing ovations and national acclaim for the chorus.
In 2004 they were featured performers at the Kentucky Music Educators Association conference in Louisville, KY. In 2006 they were guest artists with the Lexington Philharmonic Orchestra in a performance of Brahms' "Alto Rhapsody" and that Spring they were the only Men's Chorus in the country to be selected to perform at the Music Educators National Conference (MENC) National Convention in Salt Lake City. In the Fall of 2006 the Men's Chorus was again honored by being the only Men's Chorus in the United States to be featured at the inaugural convention of the National Collegiate Choral Organization (NCCO) in San Antonio, TX.
The Men's Chorus is dedicated to promoting and celebrating male singing at all stages and for all ages. The group hosts an event each year called "Male Chorus Day" where hundreds of high school and middle school students come to campus and learn male chorus literature and techniques.
If you are interested in joining the UK Men's Chorus, contact our director Dr. Jeff Johnson at jeff.johnson@uky.edu.
"The University of Kentucky Men's Chorus has been a unique and rewarding experience for me, both musically and socially. It's a great way to get acclimated to college life, and the many performance and travel opportunities are a great way to stay involved and further develop the passion we all share." -Andrew, Vocal Performance major
"Men's Chorus is an amazing opportunity for male students regardless of musical background or knowledge to come together and create music." -Austin, Choral Music Education and Spanish double major
"Dr. Johnson really does an incredible job of conducting. These guys actually want to be here and make music. Over my first year, some of the most memorable moments have come from all of these guys. Men's Chorus is awesome!" -Bill, Biology major
ACDA 2011 National Convention Performance (iTunes)
ACDA Southern Division Conference 2012 Performance University of Kentucky Men's Chorus with Shorter University Chorale (iTunes)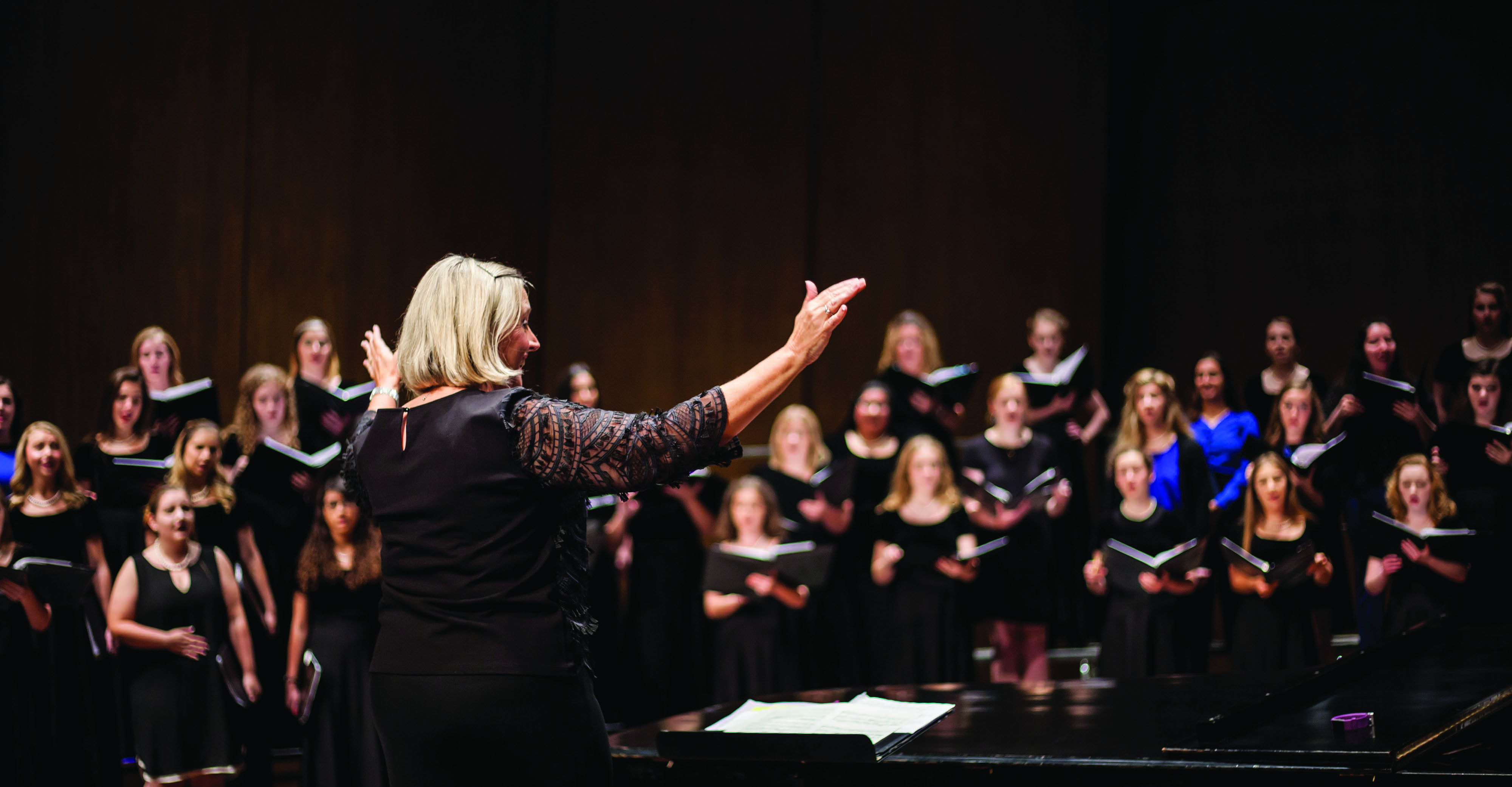 University of Kentucky Women's Choir
Women's Choir
Course No.: MUC 192-002, MUC 692-002 | Class Schedule: TR 2:00 PM to 3:15 PM
Open to all UK students by audition.
The University of Kentucky Women's Choir is a select ensemble composed of over 100 of the school's most talented female voices. These singers, ranging from freshmen to graduate students, represent a variety of musical backgrounds and academic disciplines. The choir's challenging and diverse repertoire includes literature spanning from Gregorian chant to eight-part music of the 21st Century. With an emphasis on music by female composers, the ensemble performs works of many different languages and compositional forms. Despite their limited rehearsal schedule of two and a half hours per week, the UK Women's Choir has achieved several distinguished honors in recent years. This prestigious group of young women, which has grown in size from 30 to more than 100 over the past 15 years, has been invited to perform at the ACDA National Convention (New York) in 2003, the MENC Southern Division Convention (Louisville) in 2001, the ACDA Southern Division Convention (Florida) in 2000. In 2008 the choir was featured at both the ACDA Southern Division (Louisville) and MENC National Convention in Milwaukee, Wisconsin. In 2013 the choir performed at the ACDA National Convention in Dallas, Texas. Additionally the choir has toured internationally including performances at Notre Dame Cathedral, Paris and St. Stephen's Cathedral, Vienna in 2005; St. Peter's Basilica, Rome and St. Mark's Cathedral, Florence in 2009; a tour of England, Ireland, and Wales with performances at Canterbury Cathedral, Ely Cathedral, Bath Abby and Evensong in St. Patrick's, Dublin, in 2012. And a tour of cathedrals in Spain in 2015.
The UK Women's Choir is an auditioned choir of over 100 students (freshman through graduate). Our conductor is Dr. Lori Hetzel, the Associate Director of Choral Ensembles at UK.
If you are interested in joining Women's Choir, contact Dr. Hetzel via email - lhetzel@uky.edu or phone - 859-257-8202.
Assistant Conductor: Nicole Sonbert | Accompanist: Mr. Brock Terry | Vocal Technician: Dr. Beth Arnold
Women's Choir Leadership Team - 2021-2022
Caitlin Flemm and Jessica Rogers - Co-Presidents
Katie Copland and Cassie Fullen - Wardrobe
Sierra Kidd - Historian
Elyse Pilcher - Social Media
Quotes from the Conductor:
"It is truly an honor to stand in front of such talented, young women. We make glorious music together and share special friendships."
"My goal for each and every rehearsal is to have a 'goose bump' moment, almost to be able to freeze time to experience nothing but true beauty around us. These moments happen by creating sound ideals together, usually not by words spoken but by the beauty of the musical composition."
Award Winning Tradition
The UK Women's Choir has been invited to perform at several prestigious events including the Music Educator's National Convention in Milwaukee, Wisc (2008), the American Choral Director's Association (ACDA) Southeastern Division Conference in Louisville (2008) and the ACDA National Convention in Dallas (2013). We also perform in local events including our Fall Concert and the Christmas Collage with the entire UK Choral Program, Lexington Singers Children's Choir and other outstanding UK and local music ensembles.
However, the most unique thing about the Women's Choir is not our accomplishments. Rather it is the atmosphere of sisterhood among its members. Unlike many other collegiate choirs, the group is diverse with nearly equal numbers of music majors and non-majors as well as freshman through seniors. Many students argue that the amount of work put into the program does not constitute the one credit point they receive. With Dr. Hetzel's encouragement, it is apparent that this fact does not matter. Each individual of this outstanding group of women unite with the same purpose: their passion for music.
Quotes from Members and Parents:
"I am so glad we set up that meeting with you when we came to campus for the first time. We were all so impressed with you and your program. You were the deciding factor and we made the right decision. Any student you gets the opportunity to be under your tutelage or sing in one of your choirs is truly blessed." Parent of a senior Women's Choir member, 2018
"If music has this awesome power to unite a diverse group of girls across a campus of 30,000, who is to stop it from uniting a world that's torn apart by terrorism and ravaging wars?" – Raye Maggard, Music Education
"I love Dr. Hetzel's energy in rehearsal; it makes me love to sing even more than I already do." – Michelle Taylor, Music Education
"It's great being with a group of women singers because there is a different energy and power. Very rarely do you get that same feeling with mixed choirs. I wouldn't trade that feeling for the world." – Jennifer Nantz, Vocal Performance
---
Chorale
Director: Dr. Jefferson Johnson | Course No: MUC 174
Audition Requirements: Auditions are held at the beginning of each semester.
"I feel strongly compelled to write to you after having witnessed Chorale's performance. As a relatively new teacher teaching in [an] at-risk school, I have been struggling with feeling disconnected from music-making. I have not made an emotional connection to music in quite some time because I feel as though I simply have nothing left to give at the end of the day. In light of that, Chorale's performance was like a wake up call. The entire set was beautifully and artfully done, of course, but what spoke to me - what brought tears to my eyes - was Indodana. I cannot tell you the last time that music resonated with me so strongly as to bring forth physical tears. Chorale's performance restored my soul and helped to renew my faith in what I do every day. So powerful. So wonderful. Thank you for making music."
—High School Choir Director
University of Kentucky Chorale Mission Statement: The University of Kentucky Chorale fosters excellence in music, service, and comradeship. We strive to blend our diverse voices into one choir that achieves the highest level of professionalism and musicianship. Through our unparalleled discipline and dedication, we proudly extend our reach beyond the boundaries of our campus and into our community, our country, and our world.
The UK Chorale is the premier mixed choral ensemble at the University of Kentucky. It consists mostly of upperclassmen and graduate students. While the majority of singers are music majors, there are a number of other academic disciplines represented in this group. The Chorale prides itself in performing a wide variety of choral literature from Renaissance to 21st Century. The UK Chorale has been fortunate enough to work with many talented composers, conductors and performers. Their most recent experience included meeting and working with composer Stacey V. Gibbs, and with Ivo Antognini the preceding summer during their international trip to Italy. Prior to that they were invited to sing with the Boston Pops in a massive collaborative concert, singing everything from Bohemian Rhapsody to the You're a Grand Old Flag, and they were led by the illustrious Keith Lockhart. In 2010, the UK Chorale was given the opportunity to perform in what seemed like a once in a lifetime event: the FEI World Equestrian Games. During the rehearsal period, they met many celebrated performers. They worked closely with opera greats Denyce Graves and Cynthia Lawrence, classical musician Ronan Tynan and country singer Wynonna Judd, just to name a few. Chorale has received regional and national awards, and has toured extensively with recent performances in Italy and Switzerland, France (Cathedral of Notre Dame, Chartres Cathedral, American Cathedral in Paris, and La Madeleine Church; Washington, D.C. (Kennedy Center); the Bahamas (private performance in the Presidential Palace); and New York City (Carnegie Hall). They have collaborated with numerous artists including The King's Singers, violinist Mark O'Connor, the Boston Pops Orchestra, and tenor Ronan Tynan. For years, the choirs at the University of Kentucky have made a commitment to acts of service within the Lexington area. During the holiday season, members of the Chorale carol at the Markey Cancer Center and the UK Children's Hospital. Each member takes great honor in serving and inspiring the community.
---
Choristers
Director: Elizabeth L. Wilson, Conductor
Course No: MUC 192-001, MUC 692-001
Audition Requirements: Auditions are held at the beginning of each semester.
The Choristers is the oldest performing organization on campus. Filled with enthusiastic underclassmen and representing a wide variety of majors, the group frequently performs on and off of campus. The 80-voice mixed choir specializes in choral repertoire of all periods and styles, both a cappella and accompanied and also performs a major work each year with the UK Orchestra. They have also been featured with the Lexington Philharmonic Orchestra in the LPO's Unplugged and Untied Concert Series. The Choristers tours frequently throughout the region.
---
acoUstiKats
The acoUstiKats are a select a cappella ensemble of 16 voices from the Men's Chorus. They perform numerous concerts each semester for university, church, and community functions as well as at every Men's Chorus concert. Specializing in doo-wop and a cappella pop styles, they have recorded two CD's and are one of the university's most visible ensembles. These dedicated students have performed at dozens of prestigious events on campus and throughout the state of Kentucky. In 2007 the acoUstiKats were featured at the Kentucky Derby Gala celebration at the Governor's Mansion, and in 2006 they were selected to perform at the Kentucky Music Educators Association (KMEA) state conference. They also frequently perform at elementary and middle schools throughout Kentucky. These young men commonly use their musical gifts to make our community a better place to live.
---
Blue Note
Blue Note is the University of Kentucky Choirs' newest a cappella group and is open to all UK Choirs members. The group appears every year at UK's special evening of a cappella, After Dark, and are featured during the annual Collage performances.
---
Paws & Listen
The University of Kentucky Paws and Listen are an a cappella singing group of 16 women auditioned from the Women's Choir. They perform pop music as well as a mix of doo-wop, vocal jazz, and show tunes. The ensemble is coached by undergraduate music education majors and advised by Dr. Lori Hetzel, Associate Director of Choirs/Choral Music Education. This group is highly esteemed both on and off campus. They perform for numerous prestigious events throughout the year and are often featured at high profile events at the home of the UK President. The group consists of both music majors and majors from across many disciplines. The women must be academically astute as they also participate in one or more of the other choral ensembles at the University.