The UK School of Music offers many opportunities for students to participate in various wind, brass, and percussion focused small ensembles as well as large bands and symphonies. Select the ensemble below to learn more.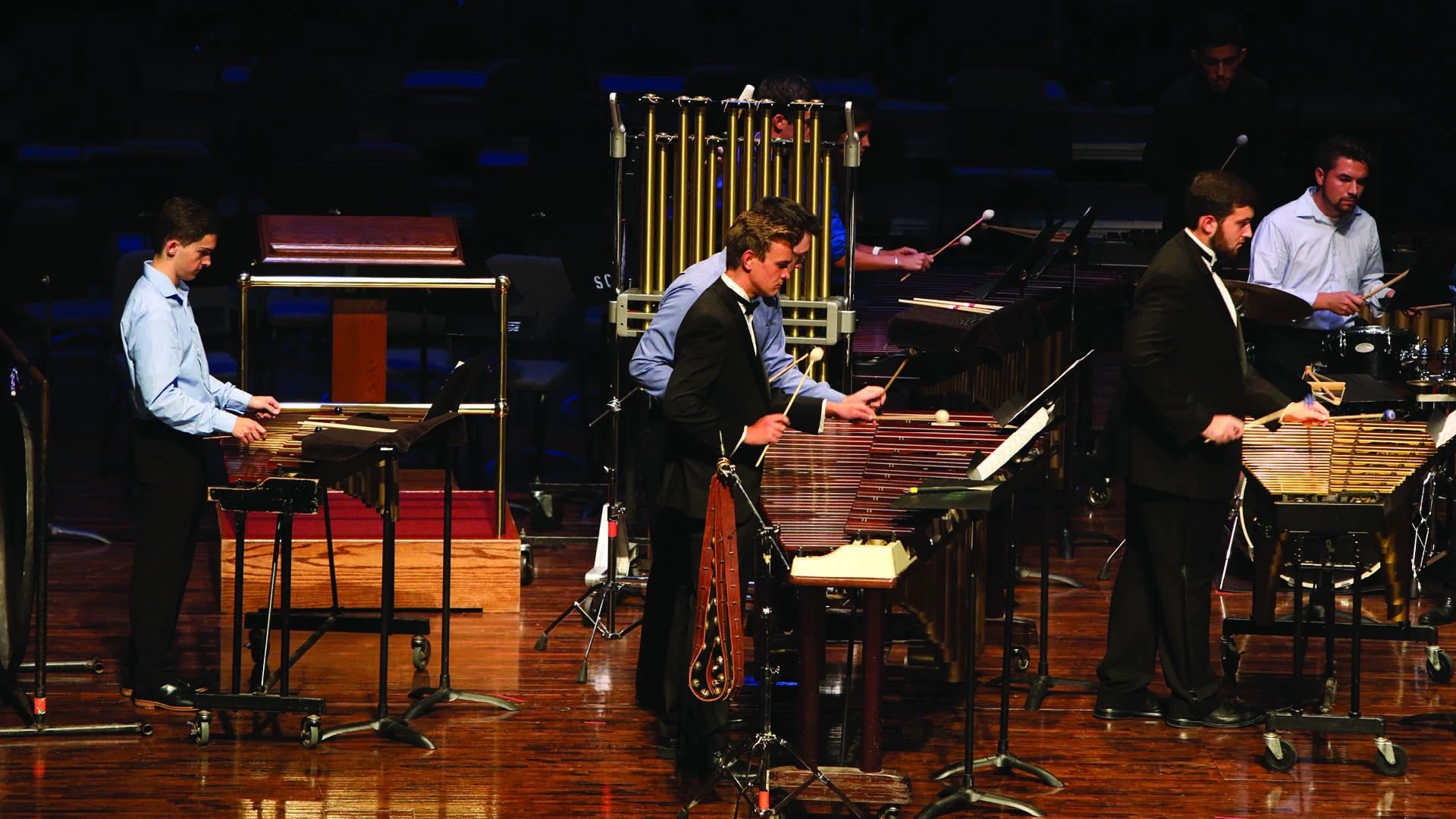 UK Percussion Ensemble
Under the direction of James Campbell, the UK Percussion Ensemble has won the prestigious Percussive Arts Society Collegiate Percussion Ensemble Contest five times. They have also performed at several Percussive Arts Society International Conventions, the Lotus World Music and Arts Festival, The Bands of America Percussion Ensemble Festival, and alongside international guest artists such as Robin Engelman, Glenn Kotche, Steve Houghton, John Bergamo, Michael Burritt, Bob Becker, William Cahn, Michael Spiro, Chalo Eduardo, Ney Rosauro, Liam Teague, Dick Schory, Anders Åstrand, Richie Garcia, Dave Samuels, Danny Gottlieb, Glenn Velez, Emil Richards, Joe Porcaro, Jerry Steinholtz, David Johnson, Rich Holly, Dean Gronemeier, Fred Sanford, Thomas Burritt, John Parks, J.B. Smith, N. Scott Robinson, Andy Harnsberger, and many others.
The University of Kentucky Percussion Group (UKPG) is a smaller chamber group that performs cutting edge percussion literature written for smaller forces than the standard percussion ensemble. The repertoire demands unflinching intensity of concentration, sustained, vigorous athleticism and, at times, the quiet intensity and slow balance of martial arts. Although a UKPG concert is visually and sonically dramatic, it is not so much theater as it is ritual -- performers in search of a shared experience. James Campbell, director of percussion at UK states, "Chamber percussion performance is a specialized field, and requires a number of skills not normally required for the performance of symphonic or solo music. These percussionists develop a close intimacy of shared musical experience, they move into a zone that is not often experienced when a conductor is leading them. They make on-the-spot musical decisions and perform spontaneous gestures, which turns the music into a conversation between the performers." The members of UKPG are drawn from the UK Percussion Ensemble, nationally recognized for its excellence and innovative programming.
The University of Kentucky Trombone Ensemble meets as a chamber ensemble in both the fall and spring semesters. The ensemble explores all genres and styles of music from baroque to jazz and is comprised of music majors as well as students from other colleges within the University. Recent invitations and performances include the 2013 Eastern Trombone Workshop, the 2013 International Trombone Festival, the 2014 Kentucky Music Educators Conference, the 2014 International Trombone Festival, the 2016 American Trombone Workshop, the 2016 Great American Brass Band Festival, the 2018 Southeastern Conference ALDP, and the 2019 American Trombone Workshop.
The ensemble regularly hosts Guest Soloists. Among these include world class musicians Cynthia Lawrence (former MET Soprano), Douglas Rosenthal (Kennedy Center Opera Orchestra), Tim Smith (Buffalo Philharmonic), Joseph Rodriguez (Cincinnati Symphony), Ben van Dijk (Rotterdam Philharmonic Orchestra), Joseph Alessi (New York Philharmonic), Scott Hartman (Yale University), Wycliffe Gordon (Jazz Soloist), Alaina Alster (West Point Academy Band), Matt Neiss (US Army Blues), Peter Ellefson (Northwestern University), Clint Woltering (United States Naval Academy Band), and Michael Davis (Rolling Stones) to name a few.
Director: Jason Dovel | Course No.: MUC 171-002
Normal Rehearsal Schedule: MW 1:00-1:50 PM
Audition Requirements: Trumpet Ensemble is open to the entire university community. There is no formal audition to participate in trumpet ensemble. Please contact Dr. Jason Dovel.
The University of Kentucky trumpet studio regularly premieres and performs the latest repertoire for trumpet ensemble. The UK Trumpet Ensemble has won many coveted awards, most recently winning Second Place in the 2014 National Trumpet competition. They have also performed at the 2014 and 2009 International Trumpet Guild Conferences.
In 2015, The UK "Shades of Blue" Trumpet Ensemble recorded a disc of some of the most difficult music for trumpet ensemble, "Competition Pieces for Trumpet Ensemble." This disc is commercially released by New Branch Records and is available through CD Baby and most online retailers. The UK press release for this disc can be found on UKNow. We believe this to be the only commercially released CD ever produced by a university trumpet ensemble.
The UK trumpet ensemble took Second Prize in the 2014 National Trumpet Competition.
UK Trumpet Quintet received the Fourth Place Ensemble Award at the National Trumpet Competition in Washington, D.C., both March 2010 and 2011
UK Trumpet Ensemble performed by invitation to open for the New York Philharmonic Brass concert at the 2009 International Trumpet Guild Conference (May 2009)
UK Trumpet Sextet, Third Place the National Trumpet Competition in Washington DC (2008)
Course No.: MUC 171 | Director: Matthew Hightower
Audition Requirements: Check with the director for details
The University of Kentucky Tuba-Euphonium Ensemble is a regularly meeting performing organization within the UK School of Music that performs many concerts each year including Children's Concerts, Lexington's annual Octoberfest, as well as formal recitals. The group has appeared in concerts in New York City, Washington, D.C., Chicago, and Minneapolis. Particular high points in the group's performing experience were an appearance on the "Lonesome Pine Christmas Special" at the Kentucky Center in Louisville and their concerts at International Tuba-Euphonium Conferences in 1992, 1998, and 2002. The UK Tuba-Euphonium Ensemble performance repertoire is, because of the wide demands of their performing venues, eclectic — ranging from J.S. Bach to Duke Ellington with Sousa Marches in between!
When people normally think of a group of tubas playing together, thoughts of massed pachyderms come immediately to mind. Tuba-Euphonium Ensembles possess a remarkably sonorous timbre and wide dynamic range from extremely soft to brutally loud. The UK Tuba-Euphonium Ensemble is actually comprised of both tubas and euphoniums. The euphonium is half the size of a tuba, has a higher, lighter sound, and plays most of the melodic parts within the group. There is a continually expanding repertoire of works written specifically for the tuba-euphonium ensemble by some well-recognized composers. A great deal of tuba-euphonium ensemble music was originally written for other musical ensembles and specially arranged for the group.
Director: Lisa Osland | Course No. MUC 172
Rehearsal Schedule: Quartets rehearse two hours per week
Audition Requirements: The audition process consists of performing a prepared piece and sight-reading. Auditions are held at the beginning of each semester and are open to the entire university community.
The UK Saxophone Quartet program is a comprehensive and active course of study that provides a progressive performance experience in saxophone chamber music. The four quartets prepare and perform repertoire covering a variety of genres from classical transcriptions to contemporary works and jazz pieces.
Under the direction of Lisa Osland, the premier UK Saxophone Quartet has been a two-time DownBeat Award winner in the Classical Chamber Music category. They have also performed at the International Saxophone Symposium in Washington D.C. and the North American Saxophone Alliance Conference.
The University of Kentucky Steel Band, directed by Professor James Campbell, was formed in 1992 as part of the Percussion Studies Program in the School of Music. The UK Steel Band annually performs for over 5,000 elementary and secondary school students with their acclaimed program, Drums: West Africa to Trinidad.
The UK Steel Band presents this exciting school program that engages, educates, and enlightens students, faculty, and parents. Your school will follow a historical time-line that traces the roots of Afro-Caribbean music and society from West Africa to the New World. Much more than an exciting concert, this complete program emphasizes the nature of communication by allowing students to gather information through listening, participating, observing, and visualizing.
Often hailed as "…the best school assembly we've ever seen!"
Drums: Africa to Trinidad allows students to:
Demonstrate an understanding of, appreciation for, and sensitivity to a multi-cultural and global view.
Experience and participate in a "Call and response" musical demonstration.
Appreciate cultural differences and the value of the arts.
Recognize continuity and change in historical events.
Bring the UK Steel Band to your school. We offer a 55-minute school assembly program that will inspire your students and staff. The UK Steel Band also offers an expanded evening program for families, churches, and communities. Looking for entertainment for that special event? Inquire about the intimate, festive sounds of Blue Steel, our small group.
For information regarding bookings and fees contact James Campbell, 859-257-8187, j.b.campbell@uky.edu