The Voice Program at the University of Kentucky School of Music boasts renowned faculty who have performed at the Metropolitan Opera, conducted at Carnegie Hall, and more. Our distinguished alumni have performed across the globe. Opportunities for current students include participation in our award-winning UK Choirs ensembles as well as numerous high quality productions with UK Opera Theatre, a Richard Tucker Foundation Recommended Program.
For any questions concerning auditions or scheduling, contact Cynthia Lawrence, cynthia.lawrence@uky.edu.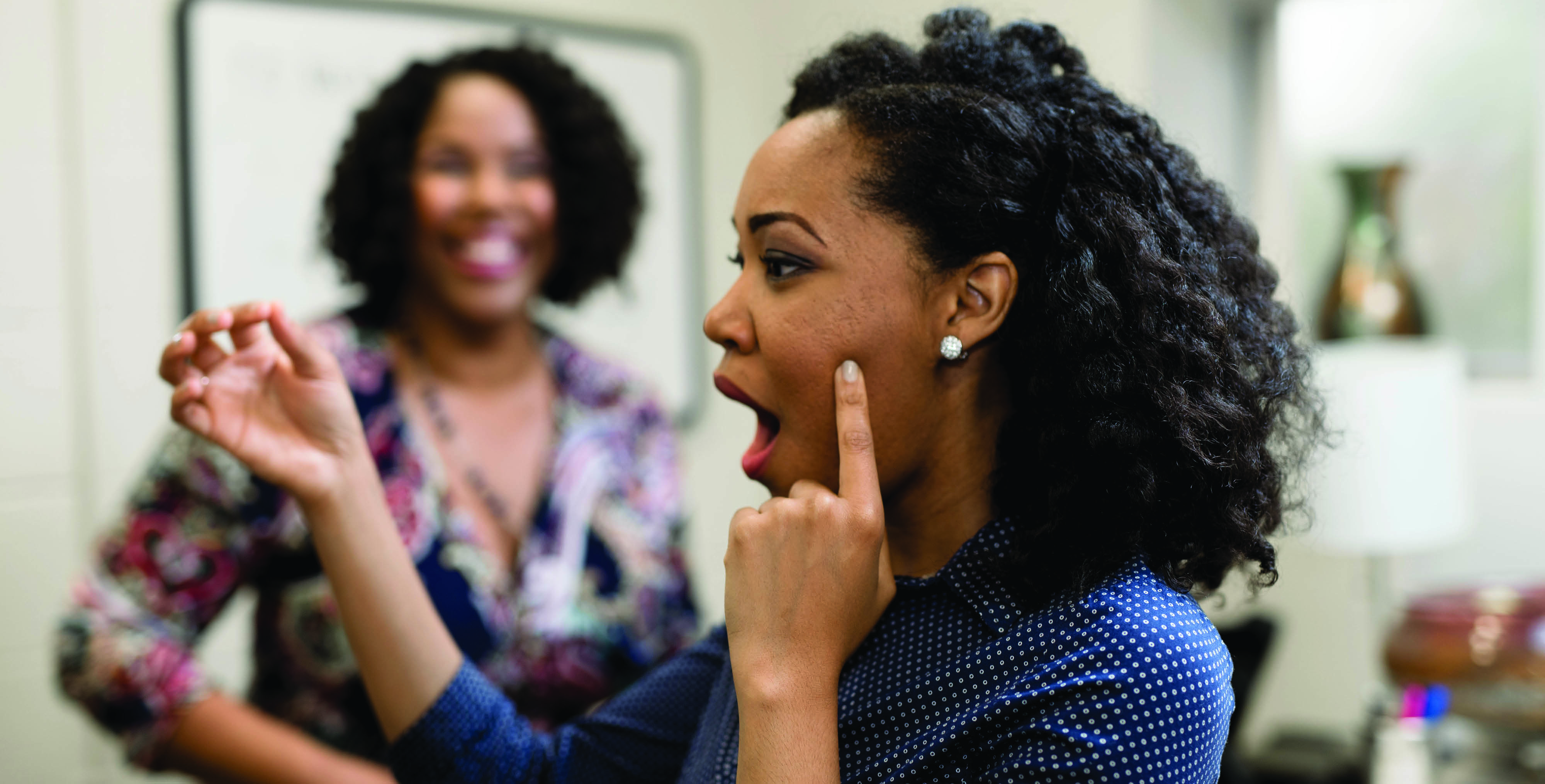 School of Music Voice studio
Undergraduate Voice Auditions

The spring audition dates for undergraduate voice are shown on the Admissions & Auditions page. Let us know which dates you would like to audition for admission using the online School of Music Audition/Exam Request Form. If you are not able to audition on any of these dates, contact us to arrange another time. For information on parking and where to stay during your audition, check the resources from the UK Visitors Center.

Undergraduate General information:

All students must make an application to the University of Kentucky as well as the UK School of Music (via the audition).
The University requires that every undergraduate student take either the ACT or the SAT as part of the entrance requirement.
We cannot accept you officially into the program or recommend you for scholarships until your applications are complete. Information about undergraduate admissions at UK can be found online. Information about music scholarships can be found on the Scholarships & Financial Aid page.

Audition Information:

Once we receive your audition registration, you will be assigned an audition date in time to make flight arrangements. If for some reason you will need to arrive at UK on the same day as you plan to audition, particularly if flying, please let us know. You will be sent the exact time of day and audition location approximately one week before your scheduled visit.

Auditions will be in the Singletary Center for the Arts Recital Hall.
Please plan to arrive 30 minutes ahead of your scheduled time.
Provide one copy of music for the accompanist (an accompanist will be provided)

Audition Requirements:

Please prepare (at least) two vocal selections which are varied in style/language and display a range of technical facility.
You will start with one piece and the Vocal/Choral faculty will choose from one of your other selections to be heard.
For Performance and Music Education majors you will also be asked to sight sing and show rhythm and tonal memory skills.
The purpose of the voice audition is for admission into the program and for Choral Grant-in-aid consideration, including the nomination to Alltech Opera Scholarship Competition.

For any questions concerning the audition itself or about scheduling, contact Cynthia Lawrence, cynthia.lawrence@uky.edu.

Due to the number of auditionees on audition weekends, we are not able to schedule individual lessons, however, if you are interested in a certain teacher, contact that teacher to schedule a time that you can meet later in the semester.

Cynthia Lawrence
Coordinator of Vocal Auditions
859-257-8597

Dr. Jefferson Johnson
Director of Choral Activities
859-257-5897

Choral Graduate Admissions Pre-Audition Screening

A pre-screening DVD is required for both MM and DMA Choral Conducting applicants. Submission Deadline: December 15. Send all materials to Jefferson Johnson.

A short video of the candidate rehearsing (not conducting) a choir or choirs (10-15 min).
A resume or vita
For DMAs only: a brief writing sample of an academic nature, e.g. an excerpt from a master's level research paper.

After reviewing these materials, successful applicants will be invited to campus for a live audition.

Voice Graduate Admissions Pre-Audition Screening

Complete the Audition Request Form, including your preferred live audition date.
A pre-audition screening DVD

DVD must be postmarked by December 1.
Content should be no older than one (1) year and contain at least three (3) contrasting pieces.
Please write your name, phone number, voice type and the degree program you are applying to on the DVD.

Headshot (publicity photo)
Statement of Purpose. Describe your career goals and why you think UK can help you achieve them.

Master's Program word length: 250 - 500 words
DMA Program word length: 500 - 750 words

Send these materials to the Coordinator of Voice Area Auditions, Cynthia Lawrence.

If your pre-audition DVD and other materials pass screening by our faculty, you will then be notified by email by December 30 that you are invited to a live audition at UK.

When you come to audition at UK:

Arrive at least 15 minutes early.
Once you have passed your audition, you will be required to take entrance exams in Music History, Theory, and Vocal Studies

MM Audition Repertoire:

One (1) aria from an oratorio or opera
Two (2) foreign language art songs
One (1) piece in English (may be an aria)

DMA Audition Repertoire:
Must prepare a set equivalent to a thirty (30) minute recital, which must include:

One (1) aria from an oratorio or opera
Three (3) Foreign Language art songs
One (1) piece in English (may be an aria)
Any additional pieces required to present thirty (30) minutes of repertoire are left to the auditioner's discretion, but should be largely pieces from classical repertoire.