Professional Development and Music Education Training Program information and registration has moved to cfapay.uky.edu!
Summer
Orff Schulwerk is "Music for Children", a way to teach and learn music using poems, rhymes, games, songs, and dances as basic materials. The Schulwerk was created by composers Carl Orff and Gunild Keetman in Europe. The emphasis is on students as improvisers and performers. Daily sessions follow the curriculum approved by the American Orff Schulwerk Association and will focus on ensemble playing, lessons and pedagogy, recorder techniques, dance and movement, and special topics.
Dalcroze Eurhythmics is an approach to music education created by Emile Jaques-Dalcroze. The Dalcroze approach has three branches: Eurhythmics trains the body to respond kinesthetically to rhythmic and dynamic concepts. Solfège trains the ear, eye, and voice in pitch, melody, and harmony. Improvisation enables students to respond to concepts according to their own invention, through movement, voice, and at an instrument. The Dalcroze Institute at the University of Kentucky emphasizes music-teaching strategies to develop imagination, coordination, and expression.
Modern Band music programs teach the popular music styles of the past 60 years, from rock and reggae to Latin and R&B, among other genres, with a heavy focus on improvisation, composition, and getting kids to play on day one. Modern Band complements existing programs such as jazz band, choir, concert band, and orchestra.
If you have any questions about these programs, please contact Dr. Martina Vasil: martina.vasil@uky.edu, 859-257-8203.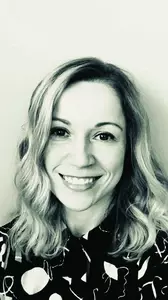 Music
Associate Professor
Undergraduate Studies