Children and Schools
UK String Project
UKSP provides low-cost instrument instruction on violin, viola, cello and bass for children from age 8 and up. The teachers are UK music students working with the assistance of experienced mentor teachers. Classes start in September.
Schmidt Opera Outreach Program (SOOP)
Taking opera to K - 6 students and communities across Kentucky that may not otherwise have opportunities to experience it. The program's goal is to increase the impact of the arts within the Commonwealth, providing improvements to the quality of life across the state.
UK Steel Band
The UK Steel Band has played for over 5,000 students annually since 1992.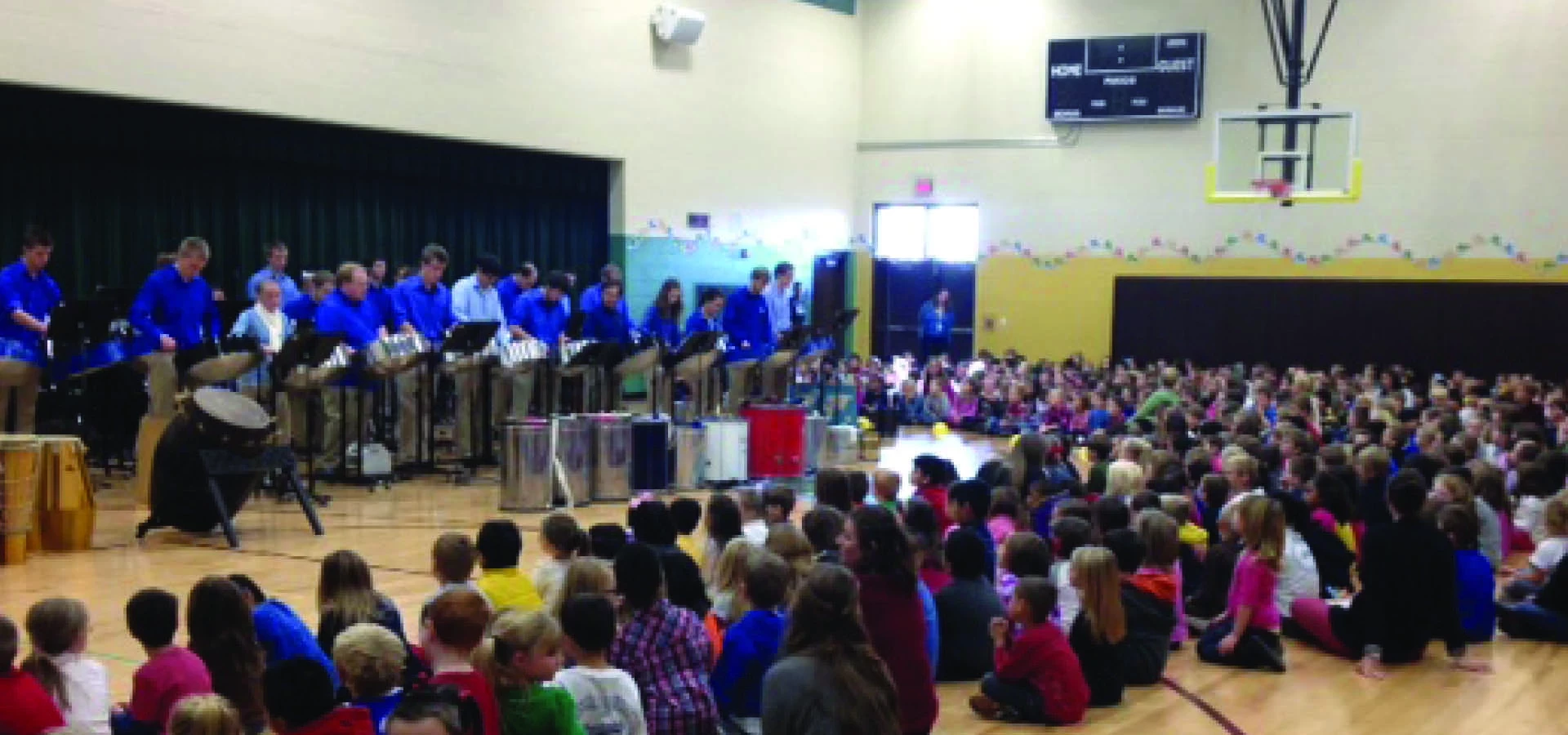 UK Steel Band performs for Kentucky schoolchildren
Tubas Around the World - A musical tour of countries and cultures
Presented by the UK Tuba-Euphonium Ensemble. This program presents a guided world tour that discusses people and places using music as the inspiration and link. In addition to cultural aspects of each nation, specific musical terms and concepts are discussed and demonstrated. Geared towards K-5, also adapted to Middle and High School levels. The approximate time required for performance is adaptable from 45 to 70 minutes; a typical presentation lasts 55 minutes. Study guide materials are provided. 859-257-8822
George Boulden Honor Band Festival
859-257-BAND
BrassFest
A day of workshops, concerts and clinics: 859-257-7177
Woodwind Day
A day of classes, clinics, rehearsals, and performances, led by UK's Woodwind Faculty. Open to middle and high school students and their teachers.
Male Chorus Day
Workshops and performances for choral ensembles featuring the UK Men's Chorus and acoUstiKats. 859-257-5897
Teachers/Professionals
Orff-Schulwerk and the Dalcroze Institute
The Music Education Summer Training Program is for music and non-music educators seeking to sharpen their classroom skills and available teaching tools, as well as current graduate students seeking special certifications with their professional degree.
Adults
Annual Big Band Blast
A concert with middle and/or high school jazz bands, University of Kentucky Jazz Ensemble and Bluegrass Area Jazz Ambassadors. 859-257-8173
Annual Big Band Showcase
Free and open to the public. Features Jazz Arts Foundation Youth Ensemble, University of Kentucky Jazz Ensemble, Bluegrass Area Jazz Ambassadors. 859-257-8173
New Horizons Community Music Ensembles
The New Horizons Community Music Ensembles include a band that rehearses on Tuesdays from 7–8 p.m. and an orchestra that rehearses on Saturdays from 10–11 a.m. Musicians of all playing abilities are welcome and encouraged to join! Participation costs $80, but it is free to try out a rehearsal. For more information, please visit our Facebook. If you have any questions, please get in touch with David Dockan at david.dockan@uky.edu.
Register Online Now
mUsiKcare
A recreational music making program to enhance student training, wellness and community engagement.
Opera 101 Lecture Series
Tedrin Blair Lindsay, instructor. Presented by UK Opera Theatre and OperaLex. 859-257-9331.