Address
Lucille Little Fine Arts Library, 160 Patterson Dr, Lexington, KY 40506
The Niles Gallery is the heart of the John Jacob Niles Center for American Music. Located off the lobby of the Lucille Caudill Little Fine Arts Library, the Gallery provides an elegant space for lectures, colloquia, readings, recitals, and other small musical events.
Building Image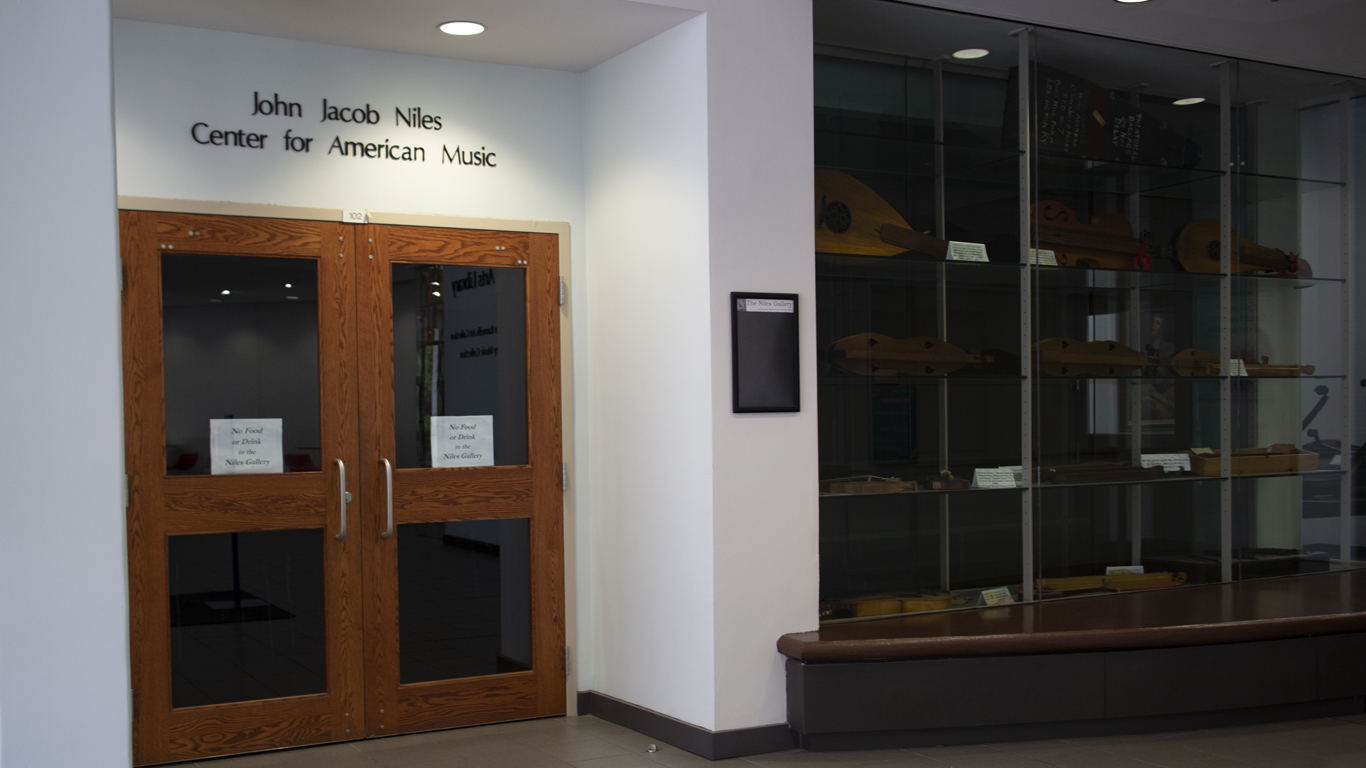 The John Jacob Niles Center for American Music
The John Jacob Niles Center for American Music is a collaborative effort of the University of Kentucky School of Music, College of Fine Arts, Appalachian Studies Program, and the University Libraries. It is named for Kentucky folklorist and composer John Jacob Niles whose family provided a generous gift to help establish the Center and its collections. Niles was an early and influential collector of Kentucky folk music, but he was also a pioneer among musicians and composers who used American folk music as a wellspring for their own compositions, inspiring the likes of Bob Dylan, Joan Baez, Jerry Garcia, and many others. Because of these two sides of Niles' work and life, the John Jacob Niles Center embraces both the traditional and the innovative, the conservative and the progressive tendencies in American Music. The Center provides a focal point for the research and performance of American music, from the early Colonial period through the present, with special emphasis on the indigenous culture of the southeastern United States. The Niles Center serves as a repository for primary and secondary research materials, and actively supports the development and dissemination of scholarly research in American Music.
The Niles Gallery is the heart of the Niles Center. Located off the lobby of the Lucille Caudill Little Fine Arts Library, the Gallery provides an elegant space for lectures, colloquia, readings, recitals, and other small musical events. The display cases facing the Library lobby contain changing exhibits, but are often occupied by a collection of unique dulcimers made by Niles, as well as other instruments and objects relevant to the Niles collections. Featured in the gallery are panels made from rough-hewn doors carved by John Jacob Niles.
The Reading Room is used by scholars who are exploring the collections of the Niles Center and other special collections in the Fine Arts Library. It is also used for meetings and student conferences. The Reading Room is decorated with paintings and portraits from the Niles Collection, as well as tables that once furnished Boot Hill Farm, the home of John Jacob Niles and his wife Rena. One of the tables is decorated with the titles of some of the traditional ballads that Niles collected in Kentucky, carved by Niles in his distinctive hand. The reading room also houses a Steinway baby grand that belonged to the Niles family.
Composer, collector, and balladeer John Jacob Niles, was born in Louisville, Kentucky April 28, 1892. Twelve years later, Niles's family moved to a farm in rural Jefferson County where John Jacob began collecting folk music. By 1907, Niles composed his first song, "Go 'Way from My Window," based on a line of song collected from an African American farm worker.
Upon graduation from DuPont Manual Training High School and work with the Burroughs Adding Machine Company, Niles enlisted in the U.S. Army Signal Corps and served as a reconnaissance pilot. The war enabled him to continue collecting folk songs, resulting in the publication of two books, Singing Soldiers (1927) and Songs My Mother Never Taught Me (1929). Returning to the United States, Niles studied at the Cincinnati Conservatory and moved to Chicago where he sang with the Lyric Opera and performed on Westinghouse radio.
In 1925 Niles moved to New York and published his first music collections, Impressions of a Negro Camp Meeting (1925) and Seven Kentucky Mountain Songs (1928). Niles also initiated an innovative performance career which featured traditional mountain and African American material in concert with contralto Marion Kerby. At the same time, Niles worked with photographer Doris Ulmann and accompanied her on four trips into the southern Appalachian Mountains which allowed him to continue the ballad collecting that eventually culminated in The Ballad Book (1961).
In 1936, after a brief tenure as Music Director at the John C. Campbell School in Brasstown, North Carolina, Niles married Rena Lipetz and moved back to Kentucky, settling at Boot Hill Farm in rural Clark County. Here he launched his recording career with the compilations Early American Ballads (1938) and Early American Carols and Folksongs (1940) for RCA Victor's "Red Seal" label. By this time he had composed the songs "I Wonder As I Wander," "Black is the Color of My True Love's Hair," and "Jesus, Jesus, Rest Your Head." In the 1950s he turned his attention to art song and extended concert works, such as the oratorio Lamentation (1951) and the remarkable Niles-Merton Songs (1967-70) based on the poetry of Thomas Merton.
Niles maintained an active performance, composition, and recording career until his death March 1, 1980. He is buried next to his wife, Rena, in the graveyard of St. Hubert's Episcopal Church in Clark County, Kentucky.
The first comprehensive biography of Niles, I Wonder as I Wander: The Life of John Jacob Niles, by former Niles Center director Dr. Ron Pen, was published in 2010 by University Press of Kentucky.
James Revell Carr, Assistant Professor of Ethnomusicology and Musicology , studies the importance of travel and commerce in the development of hybrid music and dance cultures. His major interests include sea chanteys, Anglo-American balladry, Hawaiian music, folk music revivals, and improvisational rock. Carr's first book, Hawaiian Music in Motion: Mariners, Missionaries, and Minstrels(University of Illinois Press, 2014), about the musical exchange between American sailors and Hawaiian musicians in the nineteenth century, was a co-recipient of the Society of Ethnomusicology's Alan P. Merriam Prize for outstanding book in ethnomusicology for 2015. Before coming to University of Kentucky, Dr. Carr was Associate Professor of Ethnomusicology at the University of North Carolina at Greensboro, where he founded the UNCG Old Time Ensemble. Before that he was an Interpretive Specialist Park Ranger at San Francisco Maritime National Historical Park, an educator at Mystic Seaport Museum in Connecticut, and curated major exhibits at the Columbia River Maritime Museum in Oregon.
Accessibility
Events scheduling for the Niles Gallery is managed by the Little Fine Arts Library. There is configurable chair seating for 50, a baby grand piano, podium, projection screen, and movable divider panels.