UKNow recently caught up with doctoral student Wagner Mauricio Pástor while he was performing in New York City to learn a bit more about his journey to his D.M.A. and his time at UK.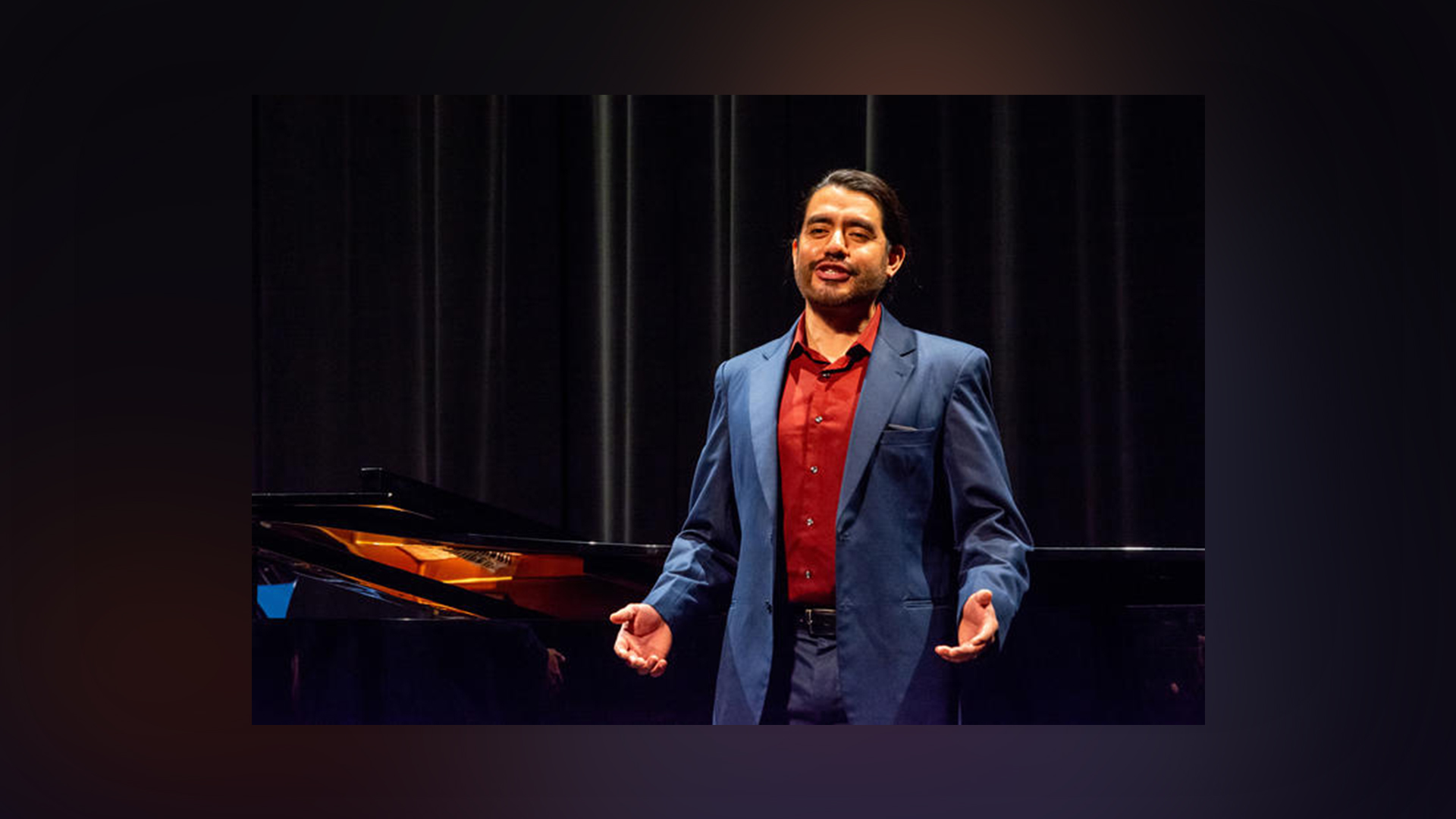 Story originally appeared in UKNow on May 5, 2023 by Jenny wells-hosley and Whitney Hale.
---
It will be time to take another well-deserved bow this weekend as University of Kentucky music doctoral student Wagner Mauricio Pástor receives his degree on the commencement stage in Rupp Arena. But for this College of Fine Arts graduate, success in opera took a long journey from his home in Ecuador to the Bluegrass State.
Pástor not only put in the years to pursue his passion for a life in the world of music with studies through the graduate level, but he also had to overcome many obstacles and diligently make the right connections to make his dream come to life.
UKNow recently caught up with the talented graduate while he was performing in New York City to learn a bit more about his journey to his D.M.A. and his time at UK.
UKNow: Take us back to the beginning. You are originally from Ecuador. How did you first discover a passion for singing?
Pástor: I was born in the heart of the historic center in Quito, the capital city of Ecuador but I grew up in a small town around an hour away from Quito. I discovered my passion for singing when I was in elementary school because of my father's love for music, especially Mexican ranchera music. Later, when I was in high school, I joined a musical ensemble as vocalist which encouraged me to learn about the possibilities of my voice.
UKNow: Tell us about your educational journey before coming to UK. What brought you to the U.S. to pursue your passion?
Pástor: 2013, I came to study English at the University of Idaho as an exchange student to improve my language skills as a geography engineer student from the Pontificia Unversidad Católica del Ecuador. I met Dr. (James) Murphy singing for him at the Chamber Choir from U of I.
2015, I came to audition for several universities such as Indiana University, University of Idaho, The New School and Boston University to pursue the master's of music degree. 2016, I moved to Moscow, Idaho, with a full ride to pursue the master's of music in voice performance with Dr. Christopher Pfund.
2018, I moved to Winston-Salem, North Carolina, with a full ride to pursue the professional artist certificate in voice performance as a Fletcher Fellow.
2019, I met Dr. Everett McCorvey (director of UK Opera Theatre), and I came to UK as a doctoral student in voice performance.
UKNow: Why did you decide to pursue a D.M.A, at UK?
Pástor: I wanted to study with Dr. Everett McCorvey because he has a long history of success in his vocal pedagogy approach and in his mentorship skills to enter in the professional entertainment industry. I wanted to have the experience of performing opera and applying my skills as voice teacher as well.
UKNow: Tell us about some of the opportunities you've had during your time at UK.
Pástor: I won a full assistantship to study what I love at the same time as teaching what I love. I have performed leading tenor roles in and out of school such as Alfredo in Verdi's "La Traviata," Tamino in Mozart's "Die Zauberflöte," Rodolfo in Puccini's "La Bohème" as well as performing three times for the Metropolitan Opera National Council Auditions, where I got awarded an Encouragement Award in 2020. I got several grants to cover the expenses to travel for auditions and competitions in San Francisco, Chicago, New York, Los Angeles, Lima, Perú, etc.
I offered free online voice lessons for Ecuadorian singers with Dr. McCorvey and other faculty from other universities during the beginning of COVID from March to December 2020, with this connection I met Andrea Salazar from Ecuador, my wife who is graduating this year with a master's of music in voice performance. We got married in November 2021.
UKNow: Who have been some of your mentors along the way?
Pástor: My grandmothers, Nelly and Bachita, because they were models of hard work and love after their financial and social challenges that left them out to raise their children as single mothers.
My mother and father, María and Juan, because they always made sure I knew everything is possible when one commits and focus on a specific dream.
My voice teachers in different stages of my life at the conservatory — Nancy Yánez, University of Idaho; Dr. Christopher Pfund, University of North Carolina; Dr. Marylin Taylor, and at the University of Kentucky, Dr. Everett McCorvey and Professor Cliff Jackson. They always believed in my potential not only as a nice voice but also as a kind and hard worker. Thanks to their guidance I have performed several leading roles and advanced in my vocal athlete journey.
My choir conductors, Maestro Juan Carlos Velasco and Dr. Michael Murphy. Maestro Velasco helped me to decide that a life in singing was for all. When I was 22 years old, I met him as the choir conductor at my undergraduate program in Ecuador. I was in a difficult financial and psychological stage of life. He not only helped me artistically but also professionally. He invited me to be part of the artistic team of the first professional choir for the blind in Ecuador as a voice assistant and opened opportunities for me to perform for several presidents of South America and the Ecuador National Symphony.
Dr. Murphy was the choir conductor who recommended me for a full teaching assistantship at the University of Idaho after a semester as exchange student where he introduced me to Hayden's "Creation" and German repertoire.
UKNow: What is your favorite memory during your time at UK?
Pástor: Rehearsing and performing with Professor Cliff Jackson. We offered two doctoral recitals, we worked together almost every day during lock down to polish music from several styles and languages such as Benjamin Britten, Richard Strauss, Reynaldo Hahn, Mozart, Bellini, Donizetti, etc.
I remember working with Professor Jackson when COVID made close the boarders of Ecuador and the U.S. I thought I was never going to be able to sing again, I was very afraid. However, Professor Jackson called often because he knew I had no family in the U.S., after a few months we started again coaching and we offered a recital product of lockdown practice. He used to tell me that no matter what happened to the world I need to keep doing what makes me happy which was, and is, singing.
UKNow: Who has supported and encouraged you along your journey?
Pástor: My family, friends and professors. I consider myself a shy person, but my mother and father always encouraged me to put myself out and trust on my instincts. All of my friends and professors because they always offered me wise guidance, and when I had no means they also offered me food.
UKNow: What advice do you have for future students who are considering a degree/career in musical arts? And what advice do you have for international students who are pursuing education here?
Pástor: Music is a wonderful way of living. We live to communicate but it requires highly disciplined habits. Make sure you are curious, and you always read the university or graduate school newsletter because they always have useful information from free dentistry appointments at the student clinic to grants to cover audition or competition experiences.
UKNow: Why do you keep doing what you do, day after day? What motivates you?
Pástor: I wake up every day and I express my gratitude to life by singing because life is too short to waste a day with no music. I am fortunate my wife Andrea is a singer too. Good singing requires practice because as Dr. McCorvey says "we are athletes and as highly trained people we have the responsibility to offer the best, but the best is a reflection of our kind and passionate heart on a voice, an instrument, or a poem."
My motivation is to become the best vocal performer to encourage fellows from countries with no tradition in professions in arts as Ecuador, to encourage them and show them with my example that financial or social challenges are overcome by honest, hard work along with wise guidance and opportunities.
UKNow: What's next after graduation?
Pástor: Performing and learning new opera roles and performing other musical genres such as jazz, musical theater, at my current job Heartland Sings in Fort Wayne, Indiana.
On my 32nd birthday (05/27/2023), I will be performing in San Francisco, California, for the National Conference at the Classical Singer Magazine Vocal Competition.
I am working on a publication for my doctoral dissertation about "Ecuadorian Vocal Repertoire," I am considering a postdoctoral degree in ethnomusicology to share the music from my homeland.