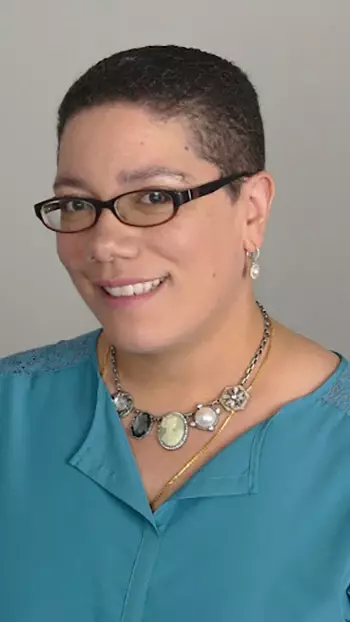 Department
Department of Arts Administration
Position
Adjunct
Assistant Professor
Heather Hope Kuruvilla, M.A., J.D., museum professional who challenges what a museum can and should be. A strong speaker, dedicated team member, and accomplished writer, she questions what role our cultural organizations play in communities and what they can mean to individuals.
Kuruvilla is an instructor in the graduate arts administration programs at the University of Kentucky and Kutztown University of Pennsylvania, teaching ethical and legal issues in the arts and civic engagement. Her work ranges from rights management and collections management to museum education and administration for museums. She is published in museum deaccessioning and the Visual Artists Rights Act and the 2nd edition of her book, A Legal Dictionary for Museum Professionals, is available from Rowman & Littlefield.
Kuruvilla is active in the museum field, participating in panels at conferences of the American Association for State and Local History and the Mid-Atlantic Association of Museums, and at the New Jersey History and Historic Preservation Conference and the Collective Liberation virtual convening. She is a member of AASLH Standards & Ethics Committee, assisting in the drafting of "Valuing History Collections" (2020) and "What's Next? A Guide to Museum Transitions and Closures" (2021). She worked with Family Race Exhibit Collective, assisting in their start-up phase to create a non-hierarchical collective of under- and unemployed museum professionals. She is a founding member of Agate Creatives, an Illinois nonprofit which seeks to develop revolutionary experiences in museum spaces that amplify the voices and experiences of marginalized communities.
She has served as the Interim Director of the Meadowlands Museum, Rights Manager at the Newark Museum, in the education department at Save Ellis Island, and as a consultant to Museum Partners Consulting and the Institute of Museum Ethics. She worked as a law clerk to the President of the Chicago History Museum and for the Chicago Public Art Group and as a research assistant to Patty Gerstenblith.
Kuruvilla earned a J.D. and certificate in Intellectual Property: Art and Museum Law from DePaul University. She earned an M.A. with distinction in Museum Professions from Seton Hall University, a Post-Baccalaureate in Italian Renaissance Art History from Studio Arts Center International, and a B.A. in Art History and Psychology from Rutgers University. She clerked for the Honorable La Quietta Hardy-Campbell, Circuit Court of Cook County, the Honorable Arlander Keys, U.S. Federal District Court, Northern District of Illinois, and the Honorable Melvin Gelade, Middlesex Vicinage (NJ) Law Division.