The field of arts administration is largely considered to have been formally developed in the United States in the 1960s. The institutionalization of the field has continued to solidify and expand well into the 21st century.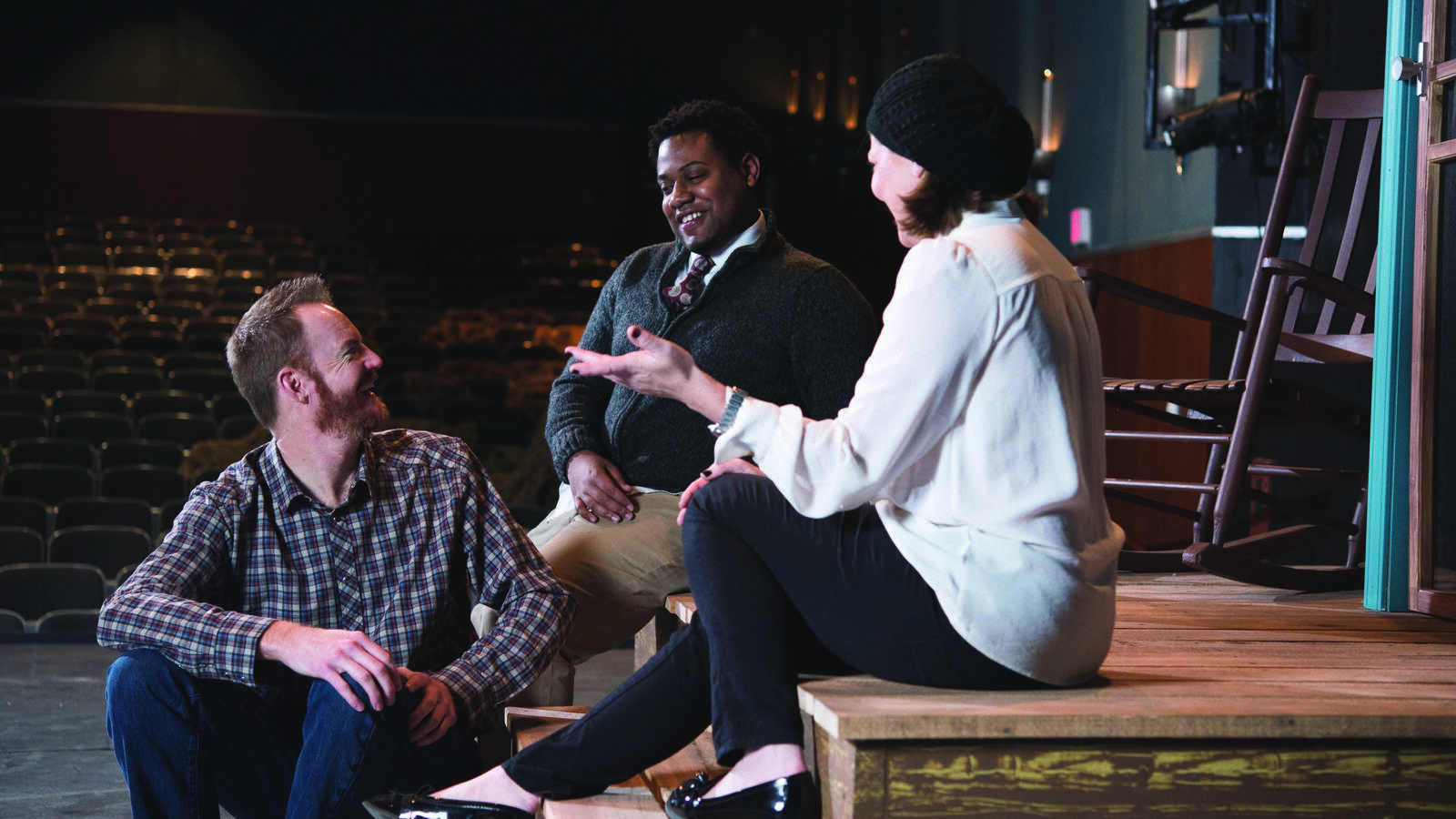 Students gather in the Guignol Theatre
The 21st century has shown significant increase in the nonprofit arts and culture industry. According to the Americans for the Arts most recent economic impact study, the nonprofit arts sector generates $166.2 billion in economic activity each year and according to the National Endowment for the Art's 2008 Public Participation in the Arts survey, about 35% of all U.S. adults attended a museum, gallery or performing arts event in 2007. Arts and cultural organizations are increasingly seeking trained professionals to provide vision and leadership. The University of Kentucky prepares the next generation of arts leaders through its innovative online M.A. in Arts Administration.
Ideal candidates for the M.A. include individuals who have experience in the arts or arts management and have the desire to supplement this experience with more in-depth training in the form of an advanced business and nonprofit arts-focused degree. These include persons who have graduated with a bachelor's degree in Arts Administration or a related field and professionals with experience in the arts or arts management.
UK offers its M.A. in Arts Administration as a completely online program. Students are accepted for the fall, spring, and summer semesters. This provides several benefits to UK graduate students:
Flexibility - For working professionals, an online program is ideal to provide the flexibility needed to balance work, school and personal obligations. Thanks to asynchronous communication, students complete assignments and engage with their peers without the conventional restrictions of time and place.
Time and location - There is no residency requirement. The program is designed for students to have equal access no matter where they are located. There is no advantage to living close to campus unless a student has a personal preference. We have had students come to campus to meet faculty in person but it is certainly not necessary. The majority of our students are out-of-state.
Affordability - All students accepted into the Arts Administration M.A. program pay the in-state tuition rate regardless of residential location. Additionally, there are a number of financial aid options available to students who meet the requirements.
Quality instruction - Students who attend online classes will receive the same quality instruction as those who would attend class on-campus. The Arts Administration Program has dedicated considerable time and effort to insuring that our online courses are functional and understandable to both the student and instructor, regularly updated and aesthetically pleasing.
Application Deadlines
Applications are accepted for the MA in Arts Administration on a rolling basis for fall and spring semesters. Applicants will receive a decision letter within two weeks of the submission of all application materials including letters of recommendation. The final deadlines for admission are as follows:
Fall: July 15
Spring: December 1
Summer: April 1
State Authorization & Licensure
If you plan to complete a University of Kentucky online program while living outside of Kentucky, you should check the Out-of-State Students page to determine if the University of Kentucky is authorized to provide this program in your state of residence. If you plan to use the degree to seek licensure, you should also determine if the degree meets the educational requirements for licensure in your state.
NOTE: For the most up to date information please speak with an advisor.
AAD 500 The Arts and Artists in Society

The arts and artists have influenced concepts of love, war, religion, race, ethnicity and gender and helped societies face problems, celebrate accomplishments, mourn losses, beautify environments and drive economies. The course will investigate the intersection of arts and civic life. Through writing research papers, exploring topics including the intrinsic and extrinsic value of the arts, and through analyzing social, economic and political trends, students will learn the role of the arts and artists in historical and contemporary society.

Note: Restricted to AAD majors. All registered students are required to attend an orientation for online courses prior to the start of classes.

AAD 531 Social Media Marketing, Promotion, and Branding

For most people, social media has become a place for news, networking, and keeping in touch. Today's arts organizations have a golden opportunity to tap into this hybrid form of word-of-mouth marketing to promote their own brands, share news and events, and tap into the wants and needs of their patrons and donors. In this course, students will learn the foundations of social media marketing through platform selection, content management, and posting techniques. Additionally, students will explore how to engage with an online audience and encourage user generated content by using various tools and techniques. Lastly, students will learn to read analytical data received from online engagement with digital marketing content.

Note: Restricted to AAD majors. All registered students are required to attend an orientation for online courses prior to the start of classes.

AAD 535: Brand Development for Arts Organizations

A powerful brand can propel a business, entrepreneur, or non-profit to reach its full potential. By connecting simple concepts to complex practices in the arts, strategic branding enables patrons, donors and stakeholders to better connect, and ultimately give, buy, and participate on a higher level. Elements such as writing tone and style; logo and its specific applications; use of color, pattern and spatial organization; social media practices; and public outreach events can either build a more powerful, clear brand or distract from that desired brand and mission. In this course, students will learn how to effectively assess existing arts brands and identify techniques to improve upon them, as well as learn how to build a new arts brand.

Note: Restricted to AAD majors. All registered students are required to attend an orientation for online courses prior to the start of classes.

AAD 542: Grant Writing for Nonprofit Organizations

The competitive grant proposal process is the ultimate exercise in organizational capacity, yet the process itself can be elusive. In AAD 542 Grant Writing for Nonprofit Organizations, students will develop proposal writing, development, and research skills. Specific topics will include writing style and format, advanced analysis of tone, institutional prospect research, program design, strategic planning, building a case for support, identifying funding sources, creating the letter of intent, evaluation, sustainability, organizational capacity, and grant writing ethics. During this course, students will identify, work closely with, and write a complete grant proposal for a nonprofit organization of their choice.

Note: Restricted to AAD majors. All registered students are required to attend an orientation for online courses prior to the start of classes.

AAD 555: Fundraising: Identifying and Cultivating Individual Donors

Building on the general fundraising knowledge from AAD 640, this course will help students develop the necessary skills for soliciting contributions from individuals by focusing on the identification, cultivation, solicitation, and acknowledgement of contributions to arts organizations. Students will learn how to identify potential donors and create a "case for giving" that aligns with the arts organization's mission before creating targeted fundraising campaigns. The course will also include creative and effective methods of retaining donors. Students will not only be thinking about how to present an "ask" to potential arts donors but actually demonstrating it through real-world activities.

Note: Restricted to AAD majors. All registered students are required to attend an orientation for online courses prior to the start of classes.

AAD 560: Teaching Artistry for School-based Programs

By giving students both the understanding and skills necessary to create engaging artistic experiences, AAD 560: Teaching Artistry for School-based Programs provides students preparation for reaching out to people and communities of diverse backgrounds. Participants will learn the essential skills, strategies and through processes of teaching artistry and arts education for arts organizations. Building from a historical perspective of teaching artistry, students will practice teaching artistry by learning how to "open up works of art" and create interactive performances and art exhibits. Course content will also include classroom lesson and assessment creation as well as models of education utilized in professional arts organizations.

Note: Restricted to AAD majors. All registered students are required to attend an orientation for online courses prior to the start of classes.

AAD 565: Community Engagement in the Arts

All arts programming activities are meant to engage attendees at some level. Using an intensive case study* approach, this course uses theory and practice to explore various ways arts administrators provide community engagement activities within their cultural organizations and how they are essential to meeting any institution's mission, goals and objectives. Students will learn theories and strategies for program engagement, relevancy and meaning; explore ways to consider risks people take to participate in the arts and how to target constituents; critique why and how community engagement is important to an institutional mission, artists, goals and the public; organically create and assess community engagement activities; and develop an engagement plan, including activity evaluation and assessment.

*NOTE: This course requires each student to choose one cultural organization in their community to research and serve as a case study throughout the entire course.

Note: Restricted to AAD majors. All registered students are required to attend an orientation for online courses prior to the start of classes.

AAD 585: Arts Emergency Management: Creating a Resilient Organization

The frequency of natural disasters, terrorist attacks, and data breaches across the globe and the dramatic retelling of them on various media outlets has created an expectation that emergency plans be developed and routinely updated for areas of public assembly, including arts and culture venues. This course provides a sociological overview of community actions and reactions to disasters as well as a customized planning approach for arts managers and artists in preparing for emergencies.

Note: Restricted to AAD majors. All registered students are required to attend an orientation for online courses prior to the start of classes.

AAD 600 Arts Administration Technologies

From brochures to websites to video, arts organizations are investing more time and resources in effectively communicating with the public. As such, arts administrators must be skilled in utilizing current technology to convey messages. In this course, students will learn a variety of software applications that will aid in the successful creation of print materials, websites, video and other multi-media presentations. Additionally, the course will introduce concepts of design principles and relevant theories.

Note: Restricted to AAD majors. All registered students are required to attend an orientation for online courses prior to the start of classes.

** AAD 600 is a prerequisite course for AAD 630 and AAD 640

AAD 620 Management and Leadership in the Arts

People are the basis of arts organizations. Understanding the factors that determine individual actions and interactions, being able to solve problems, capitalize on new opportunities and reach goals is necessary for being a successful leader in a work environment. As such, this course focuses on the planned, systematic process in which applied organizational theory and behavioral science principles and practices are introduced into organizations, toward the goal of increasing organizational and individual effectiveness. The course prepares students to organize and motivate people within an arts organization, manage social environments, and execute strategic change. Topics explored include organizational design, decision-making, conflict resolution, designing effective reward systems, team building, and organizational dynamics and culture. Additionally, students will focus on reflecting upon their own leadership skills and abilities.

Note: Restricted to AAD majors. All registered students are required to attend an orientation for online courses prior to the start of classes.

AAD 625 Financial Management for Arts Organizations

Financial management is a central function of successful arts management. It is the foundation in which human, physical and financial resources are maintained and monitored. In the nonprofit sector, the relationship of "mission to money" is a key conceptual framework that must be understood by arts managers. Arts managers are the source of financial information to both internal and external stakeholders and successful financial analysis is essential for sound strategic planning and governance. This course guides students through key topics of financial management including accounting practices, interpreting financial statements, creating mission-driven budgets, analyzing cash-flow, developing cost-benefit analyses and managing investments.

Note: Restricted to AAD majors. All registered students are required to attend an orientation for online courses prior to the start of classes.

AAD 630 Marketing Research and Planning for Arts Organizations

Arts managers are consistently faced with the challenge of connecting arts offerings with an audience. Understanding the possible markets and developing strategies to reach the desired audience are part of every arts organization's primary administrative activities. Throughout this course, students will explore theories and frameworks crucial to the marketing function including product development, market research, consumer behavior, pricing strategies, brand integration and promotion techniques. Student will utilize the knowledge to analyze marketing strategies, investigate consumer behavior and conduct primary and secondary marketing research for an arts organization.

Note: Restricted to AAD majors. All registered students are required to attend an orientation for online courses prior to the start of classes.

Prerequisite: AAD 600 Arts Administration Technologies

AAD 640 Principles of Fundraising

Most nonprofit organizations earn more than half of their total annual revenue from contributed sources, including funds from businesses, foundations, government, and individuals. This course will examine how each of these entities are identified, researched, cultivated, solicited, and stewarded, in context of the organization's fundraising cycle. Students will learn practical development techniques such as crafting a case for support, how to identify government and foundation grant programs, the basics of planned giving, donor research and solicitation plans, and carrying out both fundraising and stewardship events. The philosophies and theories that underlie the concept of charitable giving will also be examined, as will the ethical considerations inherent in the development process. During this course, students will identify, work closely with, and write a complete strategic development plan for a nonprofit organization of their choice.

Note: Restricted to AAD majors. All registered students are required to attend an orientation for online courses prior to the start of classes.

Prerequisite: AAD 600 Arts Administration Technologies and AAD 625 Financial Management for Arts Organizations

AAD 650 The Arts and the Law

How does art interact with law? How does law impact artistic creation? How can arts administrators ensure that their organization legally protects itself? Understanding the legal environment in which arts organizations exist and artists create empowers arts administrators to make sound and reasoned decisions. Throughout this course, students will be exposed to a variety of legal topics related to artistic creation and the managing of arts organizations. The course will provide historical and contemporary introduction to the laws and policies related to intellectual property, First Amendment, cultural property, human resource management, labor relations, immigration and cultural exchange, and contract development and enforcement.

Note: Restricted to AAD majors. All registered students are required to attend an orientation for online courses prior to the start of classes.

AAD 660 Social and Cultural Entrepreneurialism

Utilizing entrepreneurial concepts, social entrepreneurs use innovative solutions in order to achieve social change. Social entrepreneurialism is a burgeoning field that is garnering attention from investors, philanthropists, foundations and nonprofit leaders in order to achieve meaningful social returns while maintaining financially viable organizations. This course introduces students to the field of social entrepreneurship and explores how to start, grow and maintain successful mission-driven cultural ventures.

Note: Restricted to AAD majors. All registered students are required to attend an orientation for online courses prior to the start of classes.

AAD 690 Creating and Evaluating New Arts Programs

Successful programs that meet the needs of current and potential audiences are the cornerstone of arts organizations. This course includes the necessary skills for designing, implementing, and evaluating a mission-based program for the arts. Students will utilize research techniques to determine the feasibility of a new program, both internally and externally. While developing an operating budget, students will include expenses from both earned and unearned revenue sources. Students will learn the process of implementing a new program and applying audience development strategies. Finally, students will use various evaluation tools and create a timeline to evaluate the program for its effectiveness. Throughout the course, students will create a new program for an actual non-profit arts organization by preparing a proposal for board approval.

Note: Restricted to AAD majors. All registered students are required to attend an orientation for online courses prior to the start of classes.

AAD 699 Internship in Arts Administration

An internship in arts administration provides students the opportunity to work with an arts organization on contemporary, relevant issues in the field. In the course, students will develop their knowledge in the chosen arts discipline, enhance their skills in working with superiors and colleague and build their professional network.

Note: Restricted to AAD majors. All registered students are required to attend an orientation for online courses prior to the start of classes. Arts Administration Learning Contract required.

AAD 730 Marketing Strategies and Applications for Arts Organizations

Effective implementation of a marketing plan and marketing strategies brings an audience and arts organization together. During this course, students will learn the components and construction of a strategic integrated marketing communications plan. The process will allow students to make reasoned and sound marketing decisions for an arts organization based on marketing research conducted in AAD 6530: Marketing Research and Planning for Arts Organizations. Additionally, students will utilize their skills in writing, graphic design and communications to create effective marketing messages in a variety of mediums.

Note: Restricted to AAD majors. All registered students are required to attend an orientation for online courses prior to the start of classes.

Prerequisite: AAD 630 Marketing Research and Planning for Arts Organizations

AAD 740 Fundraising Techniques

This course will explore how the development theories examined in AAD 640 Principles of Fundraising are organized into actionable fundraising techniques and products. Students will continue working with their chosen organization from AAD 640 to create the many projects conceived in the strategic development plan. Emphasis will be placed on fundraising device creation, goal setting, case development, the donor-centric communication style, prospect identification, pre-campaign testing, campaign execution, practicing the major gift ask, and donor stewardship devices. The course will also cover how these campaigns are supported by planned giving methods, databases, and web-based applications, as well as related legal and ethical issues.

Note: Restricted to AAD majors. All registered students are required to attend an orientation for online courses prior to the start of classes.

Prerequisite: AAD 640 Principles of Fundraising