Arts Administration alumni Alexandra Burns and Tommy Townsend made lemonade out of lemons when the COVID-19 pandemic sent many of us into isolation. What began as a hobby is now the fully-formed LLC With Love Candle Company, with orders shipped throughout the United States and pop-up shops at many locations in Lexington.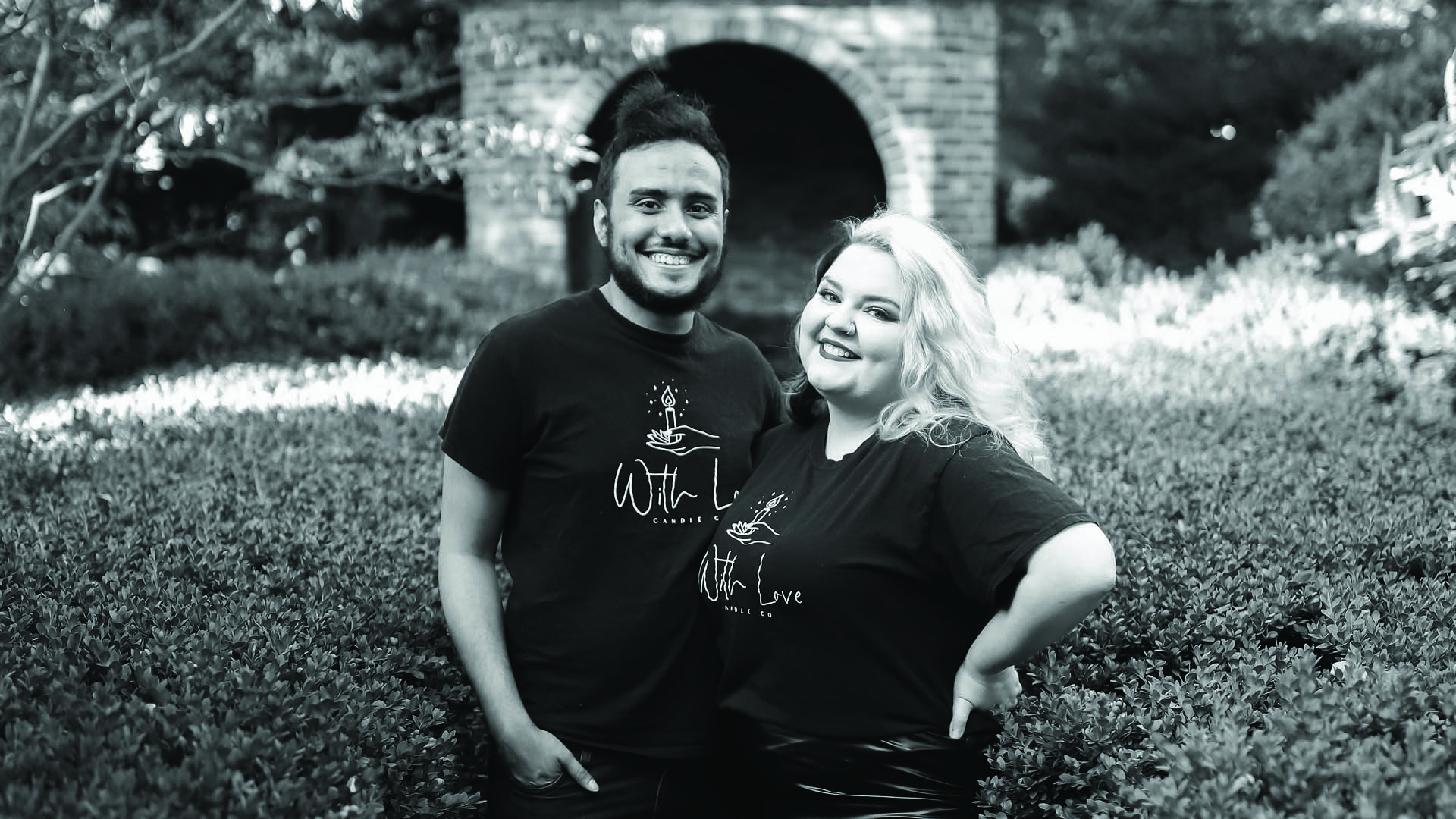 Alexandra graduated with her BA in arts administration in 2018. While at UK she was also a student ambassador and peer mentor in the Creative Arts Living Learning Program. She's currently working on her MS in Retailing and Tourism Management.
Tommy transferred from UK's arts administration program to marketing at Arizona State University to take advantage of an employer tuition reimbursement.
We recently ask Alexandra and Tommy a few questions about their entrepreneurial endeavor, With Love.
---
Did you two meet in the arts administration program? Tell me how you connected.
Tommy Townsend: We knew the same people and knew of each other, but didn't really talk during our time at UK.

Alexandra Burns: Kind of?? You know the 6 degrees of Kevin Bacon phenomenon? It was kind of like that. We have literally all of the same friends and mutual acquaintances. We just never personally connected until 2020. I saw him around Fine Arts and my friends would talk about going to parties at Tommy's house and I thought he was so good looking and cool and way out of my league. He also had a girlfriend at the time so that was off the table, obviously.

In 2019 / 2020 he ended up following me on social media. We would interact and my hands would get sweaty...whenever I saw he liked my pictures. In true millennial fashion, I would post stuff I directly wanted him to interact with to see if he was also "feelin' it". He took the bait every time.

I saw what was happening with COVID and also remembered that Tommy had sent me a message that I never responded to. Oops. So, around the second week of March 2020 I said "ok, the outlook on society right now is bleak. I'm just gonna do it." So, I slid into his DMs and literally said "hey would it be weird if I slid into your DMs."
What made you want to start a business during lockdown?
TT: The stress of being cooped up at home all the time except for being at work. We needed some form of creative outlet!

AB: By the end of May, I kind of had a mental breakdown. I needed something creative to do. This was the stage of lockdown that people were learning to bake bread and brew kombucha and every other skill you could imagine.
It didn't start as something that I was like "yup, I'm going to start a business that makes $30,000 in sales in its first year during a global pandemic where the next Great Depression seems imminent!" I just looked at Tommy one day and said, "I want to make candles." We had been officially dating for just over a month. I had no idea he would be like "let's do it together!" But he did. So, we spent hours and hours and hours binge watching candle making tutorials and I picked my mom's brain, she also used to make candles. We got set up on social media and told our friends we were going to be making and selling candles as a little side hobby because we knew we wouldn't need that many candles for personal use. We made like 30 something candles in 18 scents and did a "presale" and sold out within hours. We thought those candles would last a month. Then we saw "oh, we could like - DO THIS for real." We filed for LLC status in July 2020.
Why candles?
TT: Alex's mom used to make candles when she was little, so she already had fond memories of that process.

AB: My mom used to make candles. It always seemed super therapeutic to me and something that didn't require a robust amount of skill. I can't sing, dance, draw, play an instrument, or sew or any of the other stuff people do for creative release. This seemed like something that I would be capable of doing and succeed at being creative at. I'm one of those people that if I'm not good at something immediately I get mad and throw it down. This really just comes pretty naturally to me.
How did this help you cope with the pandemic?
TT: With my band not meeting during the pandemic, it was really nice to have another creative outlet that I could share with people.

AB: It kept my hands and mind busy. I was coming up with scent ideas, names, looks and designs. All of these things were something I could control in a time when I had no control. It helped me mentally to feel in control of something. As an arts administrator, I do love having control over situations, LOL.
How did the arts administration program help you with your small business?
TT: While I didn't finish it, the time I spent and a lot of the tools that were presented helped push our abilities to communicate with the community at large.
AB: Running a small business isn't too different than running a nonprofit. The budgets are often similarly razor thin and the only difference really is the fact I have to pay taxes. Honestly, a lot of things from the BA in Arts Admin come in handy: design, financial management, marketing and social media!!!!! We're in some maker groups on Facebook and it amazes me how little of a concept people have of social media management and marketing. I would say the business side of it is harder for some people than actually making. You could have an excellent product but if you don't make it LOOK good and don't know how to get people excited about it and WANT to consume it, who cares?
"I truly believe that our success boils down to being surrounded by other artists who show up for us and celebrate us. They know how important it is for someone to share their work and they give out that support endlessly. I am so thankful for all of the artists in our lives." Alexandra Burns
You've done so much in so little time! How do you channel your creativity into coming up with new candle scents and concepts?
TT: We stay in the vein of things that we love and remind us of the people we love.

AB: Our tagline is "creating scents based on the people + things we love most."

My first line and one of our permanent collections is based on the Zodiac. I came up with it by thinking about each sign. Researching each sign. Taking into consideration the time of year each sign falls in. Thinking of the people I know with those signs and my favorite things about them. I saw someone who made their Aries candle a PEPPERMINT MOCHA scent. Who the heck wants to smell peppermint mocha in MARCH OR APRIL?

Time of year and season impacts our collections a lot. We make things limited collections, so the inventory moves fast and people feel a call to action to buy. If I'm making 1,000 of these fall candles and they'll be available all year, why would I buy it now? We limit most of our limited and seasonal collection to certain numbers and make people aware of that. For our Brand Birthday we only had 10 of each of the smaller ice cream scoop candle we did and 22 of the full-size birthday cake scented ones. The vanilla ice cream scoop candle sold out in under 24 hours. We did a limited restock on those because we didn't even get to take them to Julietta Market! Limited stock also cuts down on cost of supplies for us.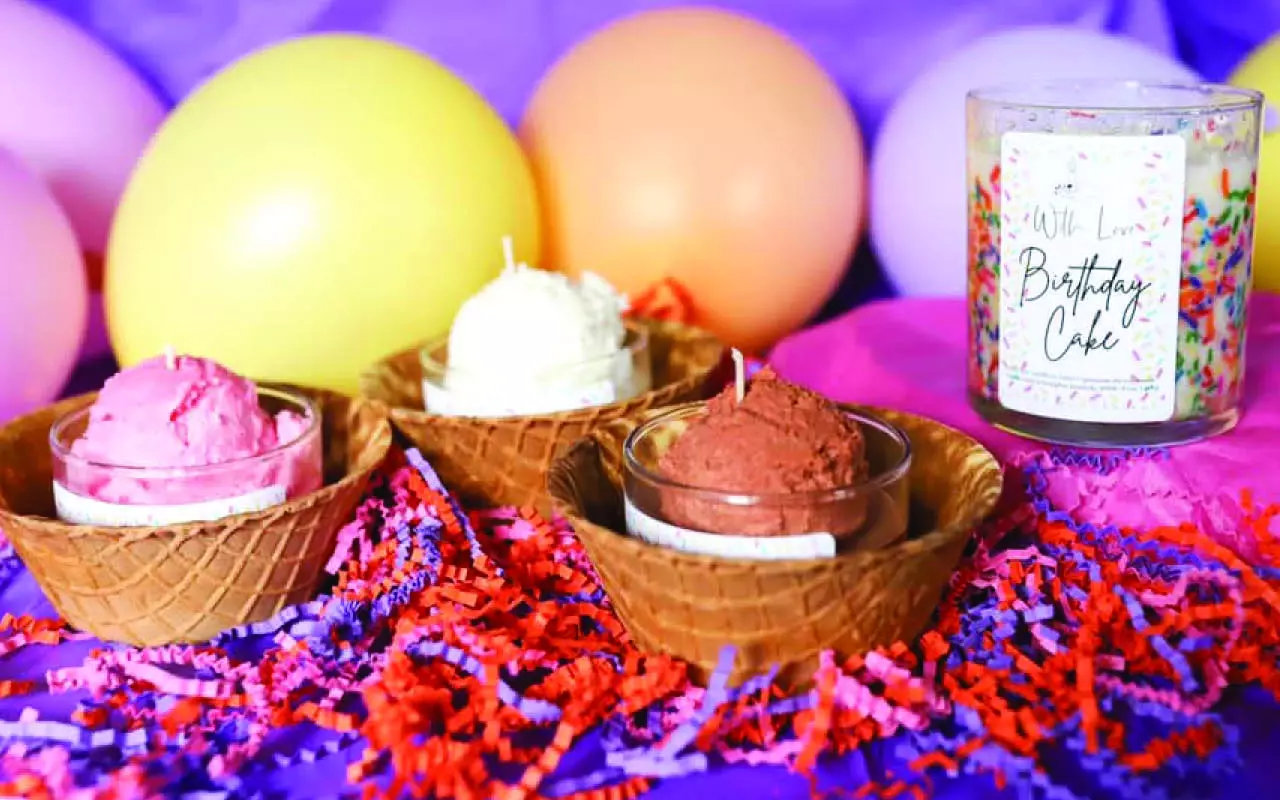 With Love birthday candle, celebrating the business' one-year anniversary
Is there an art form or artist that especially inspires you?
TT: There were a lot of Chandlers (candle makers) that we read blog posts from and watched video's from. Getting started, Tiana Coats was a major contributor to how I approached the candle making process before we did our own testing and developed our personal brand!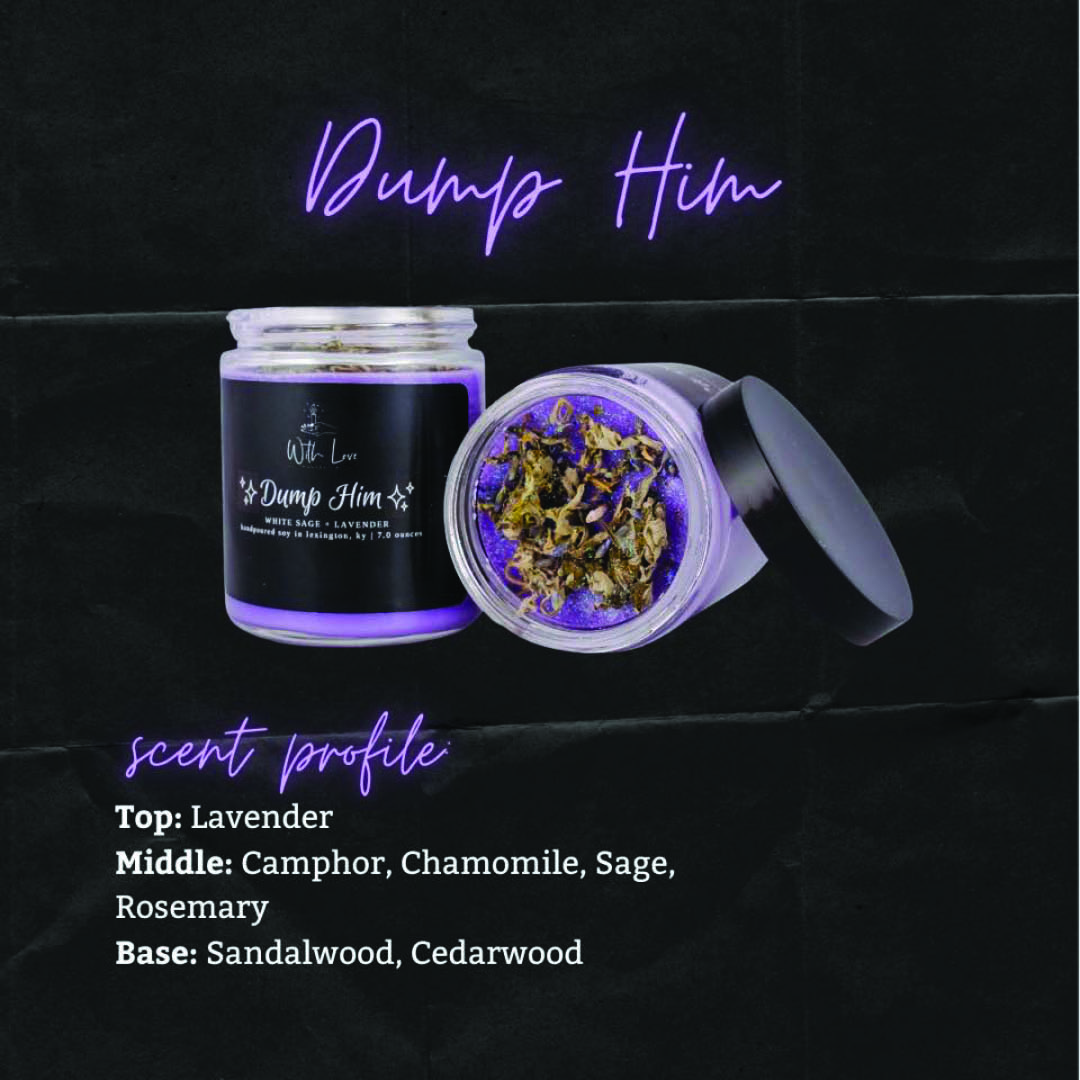 AB: Honestly, I take inspiration from pop culture, music, movies, anything, really. Our most popular candle is called Dump Him and was inspired by a meme of Britney Spears wearing a shirt that says Dump Him as well as an acquaintance's boyfriend. I wanted something that would cleanse the negative energy of a bad boyfriend. It's a white sage and lavender scent. That scent alone has sold over 100 units since it was launched in August 2020. I know you probably were expecting something more sophisticated than memes and pop culture.
You celebrated your one-year anniversary of the business in summer 2021. What are you most proud of?
TT: There's no prouder thing to me than how much we've managed to donate back to the community. In a year we managed to donate almost $2,000 and plan to keep growing that number as fast as our business!

AB: This one's hard. Probably the fact that we were able to create such a special brand story that people identify with. People see a piece of themselves and their identity or their loved ones in our products. Solid branding is so hard to nail and grow organically and we've been able to do that through love and transparency. Oh, and the fact that we have been able to raise so much money for causes that are important to us. We raised $810 in our first six months of business. We want to raise $1,620 (double) in 2021. As of writing this, we have already donated $1,200 to various causes we care about this year.
What's next for 'With Love Candle Co.'?
TT: We have two major goals next. The first is to get a house with a built in work space. The second is to have our own brick and mortar space. Ideally we'd like to have the shop be in the Distillery District.

AB: We want to grow this brand into a retail workshop space where we host candle making events and people can come in and make their own candles and drink local brews while they do it. My dream location is the Distillery District.

Then we want to grow into a candle SUPPLY company. There really isn't one in Kentucky. 

I love mentoring other candle brands. We've got two other brands that talk with us regularly seeking advice on how to grow. We also have interests in starting a brewing / hard cider company and a music venue too. The sky is the limit, truly.
What advice would you offer to people who want to start their own business?
TT: The two things that I think really helped us were research and marketing. We're continuously studying the art of candle making and finding ways to improve our product and our lineup of products. On the marketing aspect, studying your community and finding what channels will really catch the most attention. Also in the vein of marketing, making sure your products match what you're expanding and evolving towards.

AB: Do research. Don't go in blind. I feel like a lot of people in our industry just buy low quality supplies and waste a bunch of money. We found quality suppliers right from the jump and spent a lot of time researching what wicks work with what waxes and jars. This business has always paid for itself once we truly launched. I read that it usually takes businesses two years to be profitable. It doesn't have to be that way if you take the time to really study and focus on carving out your niche. Know how much it costs you to make something and properly price your goods to make profit. Also, please talk to a tax professional and protect yourself and your assets. Get a legitimate business structure and license. Collect sales tax. Set aside money from your revenue for taxes. It's no joke!
---
Learn more about With Love by visiting their website, liking them on Facebook, or following on Instagram.