Spaces – Bodies – Objects
Ticket Price
Free, Reservations Required
Poster Image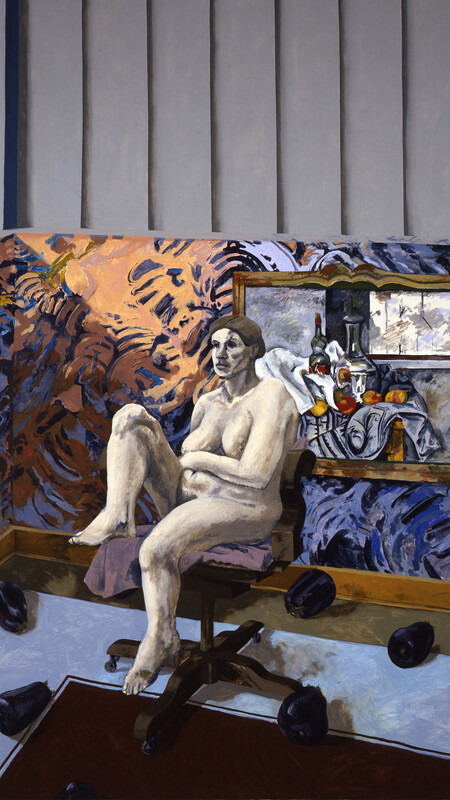 This exhibition includes several paintings that locate human or animal figures along with enigmatic objects in varied architectural settings. While the works are representational, they are much more confounding than traditional realism, and the artists utilize both close observation and the "anything is possible" fluidity one associates with dreaming.
The spaces depicted combine aspects of inside and out, nature glimpsed through open windows and porticos, and interiors of uncertain scale. Still-life elements are referential and suggestive, as in James McGarrell's quotation of a Cezanne canvas behind a seated female nude, and Sheldon Tapley's jam-packed studio arrangement of flowers, fruits, tools, and stacked playing cards. In Visitation, Dale Daniel Leys shows a decomposing bird specimen as seen through an aperture in a crumbling wall in a room of fluctuating dimensions. Joseph Vavak's Department Store presents a cross section of a building with eager shoppers on different floors holding fabrics and trying on shoes; the quality of color and overall composition has the feel of a religious dollhouse. Richard E. Mize's interior seems to show a decorative lamp simply illuminating a domestic setting, except that the curved symmetry of the composition and four photographs collaged onto the canvas complicate the reading with shifts of figure-ground.
IMAGE CREDIT: James McGarrell, Cezanne, 1963-64, oil on canvas. Collection of the UK Art Museum, given in memory of Robert B. Mayer by his wife and children, December 1976.
Created 09/21/2021
||
Last Updated 01/27/2022