Guided tours can be scheduled for groups and classes of all ages during museum hours on Tuesdays through Fridays. We offer a variety of tours to choose from, including options for first-time museum visitors and customized tours for classes and groups with specific learning objectives. Some tours can be arranged as Virtual Tours for remote engagement. Tours are FREE but must be scheduled at least 2 weeks in advance.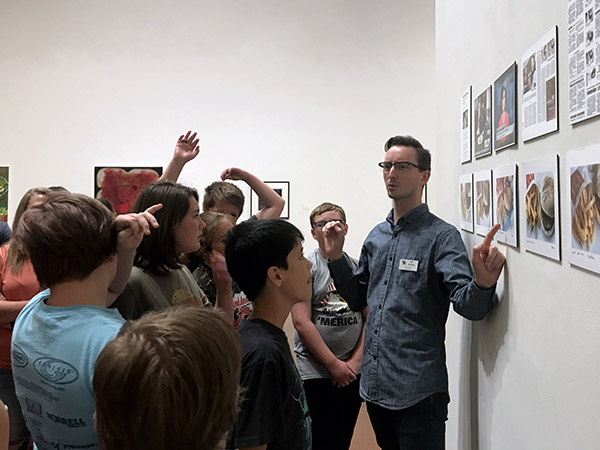 If you have questions about scheduling your tour, contact our Education Coordinator Dan Solberg (dan.solberg@uky.edu / 859-562-2353) 
---
Tour Options 
First Impressions (30 mins):
A tour for first-time art museum visitors covering basics of art interpretation.
The Big Idea (30-45 mins):
Tour of hand-picked artworks from two or more current exhibitions, linking common themes and artistic elements.
Full Museum Experience (1 hr):
This tour examines pieces from most of our current exhibitions, including outdoor sculptures (weather permitting).
Customized Tour (30 mins-1 hr):
For specific class or group projects, customized tours can be developed with museum staff to suit your educational goals (2 weeks advance notice required).
Self-Guided Tour (1 hr):
Self-guided materials allow your group the freedom to explore the galleries at their own pace, offering activities and engagement to enhance your experience (scheduling a tour is not required to use self-guided materials).