PANEL DISCUSSION: It's Complicated: Championing "Self-taught" Artists
Poster Image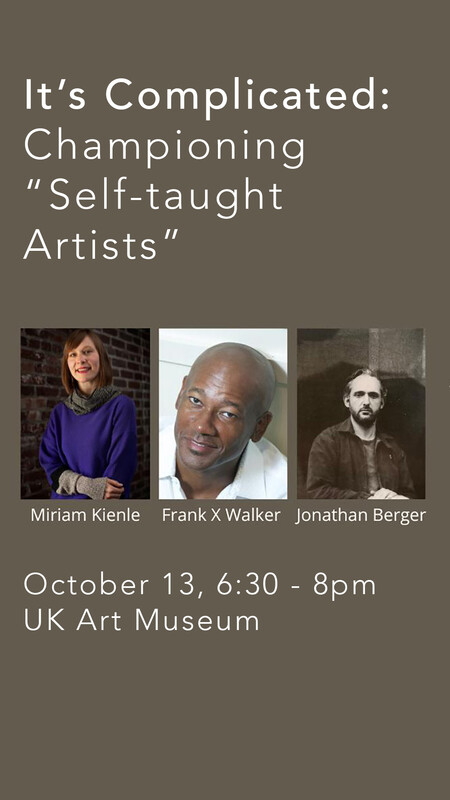 This panel is organized in conjunction with our exhibitions featuring Charles Williams, James "Son Ford" Thomas, and David Farris. For the most part, these artists were/are self-taught, with little or no formal training, or they come to artmaking from another discipline.

How are such artists understood, critically assessed, and contextualized in artworld frameworks? How does race, sexual identity, and other factors further complicate these considerations?

Director Stuart Horodner will moderate a discussion with artist and curator Jonathan Berger, artist and poet Frank X Walker, and art historian Miriam Kienle.

Jonathan Berger's work centers around the practice of exhibition making and ways in which sites can be repurposed to allow for an expansion and reconsideration of what art can be and how it can be made. He maintains an interest in abstract and experimental forms of both archival work and non-fiction, including embodied biography, portraiture, oral history, and documentary His collaborative and curatorial projects have been presented at venues including Museum of Contemporary Art, Los Angeles; The Hebbel Theater, Berlin, Germany; The Queens Museum of Art, New York; and Performance Space 122, New York, among others. Berger is a Clinical Associate Professor in the Department of Art and Art Professions at New York University, where he also served as Artistic Director of 80WSE gallery from 2013-2016.

Miriam Kienle is an Associate Professor of Art History at the University of Kentucky, specializing in modern, contemporary, and American art. Her current book project, Queer Connections: Ray Johnson's Correspondence Art Network (forthcoming from University of Minnesota Press), analyzes Johnson's role as an initiator of the international correspondence art movement through the lenses of network studies, queer theory, and histories of interpersonal communication. Kienle has curated exhibitions at venues such as the Smithsonian Archives of American Art's Fleischman Gallery (Washington, DC), Krannert Art Museum (Champaign, IL), São Roque Museum (Lisbon, PT), Dorsky Curatorial Projects (New York), and Parachute Factory (Lexington, KY).

A native of Danville, Kentucky, Frank X Walker is the first African American writer to be named Kentucky Poet Laureate. He has published eleven collections of poetry, including Turn Me Loose: The Unghosting of Medgar Evers, which was awarded the 2014 NAACP Image Award for Poetry and the Black Caucus American Library Association Honor Award for Poetry. A lover of comics, Walker curated "We Wear the Mask: Black Superheroes through the Ages," an exhibit of his personal collection of action figures, comics, and related memorabilia at the Lyric Theatre and Cultural Arts Center in 2015. He is the founding editor of pluck! The Journal of Affrilachian Arts & Culture and serves as Professor of English and African American and Africana Studies at the University of Kentucky in Lexington.
Created 09/12/2022
||
Last Updated 09/12/2022