UK Opera Theatre presents "LA BOHEME"
Ticket Price
$47-$87, plus additional ticketing fees
Poster Image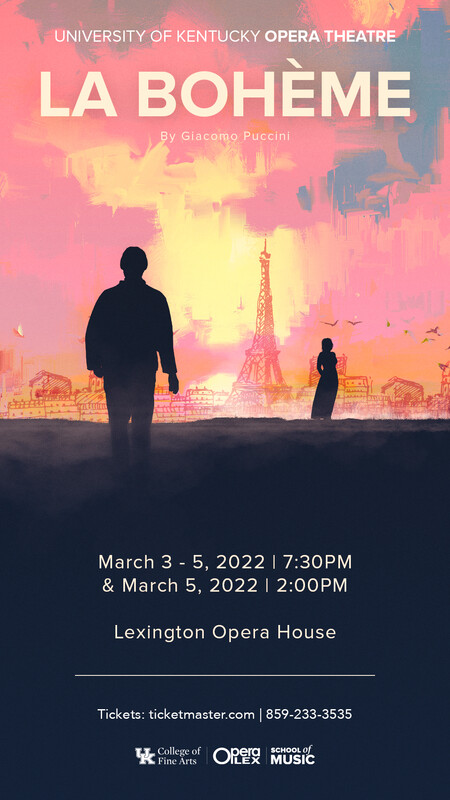 The University of Kentucky Opera Theatre presents
La Boheme
March 3-5, 2022 at the Lexington Opera House, Performances: 7:30 p.m. March 3-5 and 2 p.m. March 5.
Love. Triumph. Tragedy. One of the most popular operas of all time, and the inspiration for the smash hit Broadway musical "Rent," La Boheme tells the story of a group of young bohemian artists on their escapades through love and death. Puccini shows us exactly what love is about through music that captures both the rush of love at first sight, and the devastation of loss. With a cast that features award-winning students, this is a performance you don't want to miss.
LEARN MORE ABOUT THE PERFORMANCE
Tickets
Central Bank Center Ticket Office
Walk-Up Hours
Wednesday: 12:00pm - 4:00pm
Friday: 12:00pm - 4:00pm
Phone Hours
Monday - Friday: 10:00am - 4:00pm
The Ticket Office has occasional Saturday and Sunday hours, which vary depending on scheduled events and ticket on sales. Please contact our ticket office to confirm hours of operation for the weekend.
Lexington Opera House Branch Office opens 90 minutes prior to show time.
Contact
Call: (859) 233-3535
(All phone orders include a per ticket service fee.)
boxoffice@lexingtonoperahouse.com
Location
During daily operation, the Central Bank Center Ticket Office is located across the street from the Gate 2 entrance of the High St. parking lot.
The ticket office at the Lexington Opera House opens inside the Short Street entrance beginning 90 minutes prior to show time.
Created 12/01/2021
||
Last Updated 02/24/2022