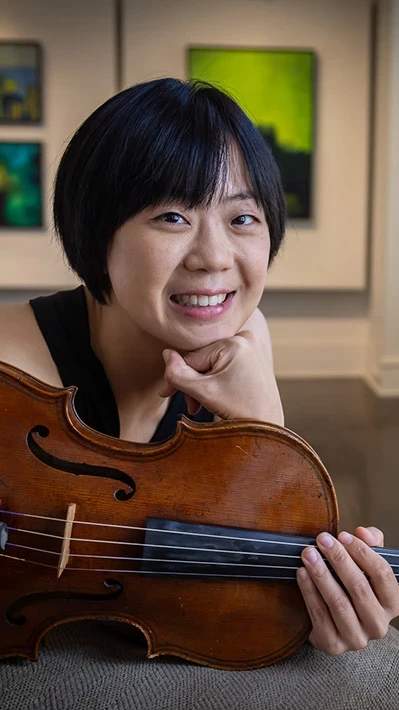 Viola and String Education
Area
Music
Music Performance
Strings
Viola
Dr. Tze-Ying Wu is a violist, educator, and director. She is the Assistant Professor of Viola and String Education at the University of Kentucky, director of the UK String Project, and instrumental music faculty for the Kentucky Governor's School for the Arts. Before coming to Kentucky, she was the founding director of the Sturgis Music Academy of the Arkansas Symphony Orchestra. Dr. Wu received her Doctor of Music and Master of Music degrees in viola performance from the Jacobs School of Music, Indiana University, under the tutelage of Professor Atar Arad. She has worked closely with Mimi Zweig and Dr. Brenda Brenner as a violin/viola instructor at Indiana University's pre-college string program, Indiana University String Academy. She earned her BFA at National Taiwan Normal University and has performed with the Arkansas Symphony Orchestra, Indianapolis Symphony Orchestra, Singapore Symphony Orchestra, Louisville Orchestra, and Lexington Philharmonic.
As a chamber musician, she performs extensively with her harp trio, the Formosa Trio. Their recent activities include premiering two commissioned works by Zhou Tian and Hsieh Tsung Jen at the American Harp Society 2023 Summer Institute in Colburn School, and giving a recital at the National Taichung Theater in Taiwan. They have also given perforamcnes at the 13th World Harp Congress in Hong Kong, the University of Illinois, Western Illinois University, Central Michigan University, Shanghai Concert Hall, and the National Concert Hall in Taipei. Their recorded album, "First Impression," was released in 2018.
Dr. Wu is a proud member of the American String Teacher Association, American Viola Society, and currently serves as the treasurer/secretary for the National String Project Consortium.