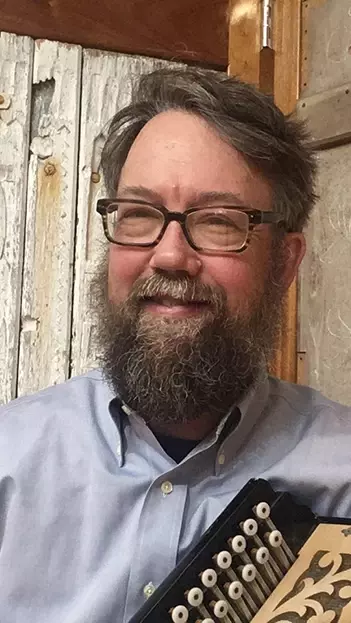 Director of the John Jacob Niles Center for American Music
Area
Music
Musicology and Ethnomusicology
James Revell Carr, Associate Professor of Ethnomusicology and Musicology and director of the John Jacob Niles Center for American music, studies the importance of travel and commerce in the development of hybrid music and dance cultures. His major interests include sea chanteys, Anglo-American balladry, Hawaiian music, folk music revivals, and improvisational rock.
Carr's first book, Hawaiian Music in Motion: Mariners, Missionaries, and Minstrels(University of Illinois Press, 2014), about the musical exchange between American sailors and Hawaiian musicians in the nineteenth century, was a co-recipient of the Society of Ethnomusicology's Alan P. Merriam Prize for outstanding book in ethnomusicology for 2015. Carr has articles and reviews in the Journal of American Folklore, The Yearbook for Traditional Music, The Oxford Encyclopedia of Maritime History, The Journal of British Studies, American Historical Review and others. He has also published essays in numerous books about The Grateful Dead and their fans, the Deadheads, which will be the topic of his next book.
Before coming to University of Kentucky, Dr. Carr was Associate Professor of Ethnomusicology at the University of North Carolina at Greensboro, where he founded the UNCG Old Time Ensemble. Before that he was an Interpretive Specialist Park Ranger at San Francisco Maritime National Historical Park, an educator at Mystic Seaport Museum in Connecticut, and curated major exhibits at the Columbia River Maritime Museum in Oregon. He was the music supervisor for the English Broadside Ballad Archive (http://ebba.english.ucsb.edu/), an online database of seventeenth century print ballads funded by the National Endowment for the Humanities, where he can be heard singing many of the ballads to their historically accurate melodies. Dr. Carr served as the president of the Southeastern and Caribbean Chapter of the Society for Ethnomusicology in 2010-2011, and is currently the chair of the Historical Ethnomusicology Section of the Society for Ethnomusicology. He presents his work at the conferences of the Society for Ethnomusicology, the Society for American Music, the Southwest Popular Culture Association, and the International Council for Traditional Music, and other national and international symposia.