"From the master's degree, to the Grammy, to Cardiff? I have no words."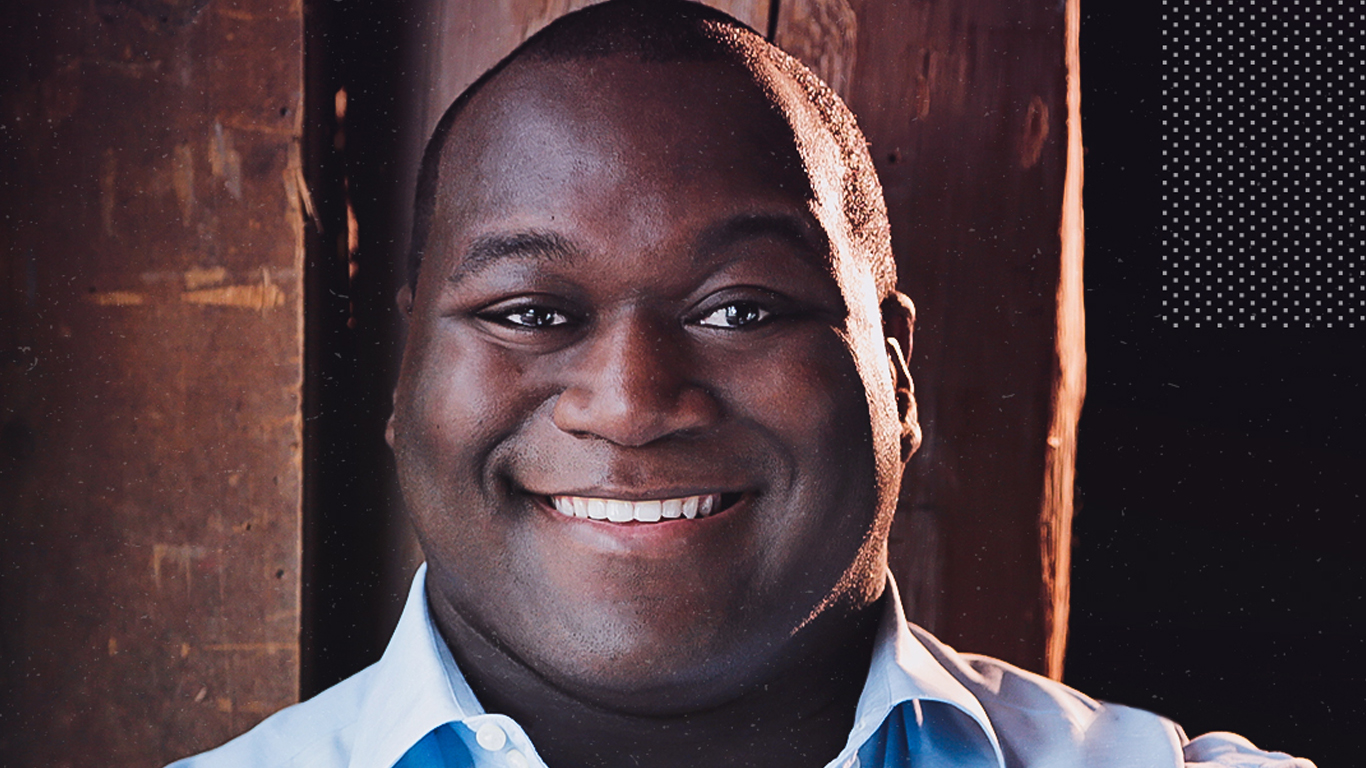 By Whitney Hale
---
Less than a month after crossing the stage to receive his master's degree from the University of Kentucky, Reginald Smith Jr. will step on a very different UK stage this weekend — at the United Kingdom's St. David's Hall — where the baritone has been selected to represent the United States in the 20th BBC Cardiff Singer of the World competition. As part of the prestigious vocal competition in classical music, Smith will compete against 15 of the world's most outstanding rising stars in international opera and song on BBC TV, radio and iPlayer beginning June 12.
Smith will compete in the biennial event against vocalists from 14 other countries: Austria, China, Denmark, England, Georgia, Iceland, Mongolia, Republic of Korea, Russia, South Africa, Venezuela, Wales, and, represented for the first time, Madagascar and Republic of Kosovo. BBC Cardiff Singer of the World, staged this year at St. David's Hall without an audience due to COVID-19 protocols, will run June 12-19 with the first round scheduled for June 13.
"BBC Cardiff Singer of the World has long been a vital launchpad for world-class singers at the beginning of their careers, and after one of the most difficult years for all performers this is more true than ever. We hope that this year's edition will be a beacon of hope for all young singers — those competing and those possibly watching from home — as we show our support for up-and-coming artists, provide a much-needed showcase for their extraordinary talent and revel for a few days in live music-making of the very highest order," Artistic Director of BBC Cardiff Singer of the World David Jackson said.
This year's singers were selected during three stages from a record-breaking pool of applicants. The main jury is chaired by General Director of Welsh National Opera Aidan Lang and includes two celebrated opera stars: Welsh bass-baritone Neal Davies and U.S. soprano Roberta Alexander. Accompanying the vocalists for performances will be the Welsh National Opera conducted by Michael Christie and BBC National Orchestra of Wales led by Andrew Litton.
BBC Cardiff Singer of the World and its Song Prize are presented by BBC Cymru Wales in association with Welsh National Opera and is supported by Cardiff Council. The BBC Cardiff Singer of the World, Song Prize winner and Audience Prize winner will receive trophies and a cash prize.
UKNow recently caught up with Smith, as he quarantines leading up to this weekend's competition. Smith talked about his most recent success on the Metropolitan Opera stage in "Porgy and Bess" and in online classes during the COVID-19 pandemic, as well as shared his thoughts on the upcoming competition.
"From the master's degree, to the Grammy, to Cardiff? I have no words."
UKNow: Performing at The Met in 2019, winning a Grammy, earning a master's degree, and competing in Cardiff, you have quite a good streak running! How has the rollercoaster ride been?
Smith: I was fortunate to have some free time to return to UK and complete a master's degree in vocal music performance. The School of Music faculty is top-notched and learning from each and every one of them has truly been a highlight of my year. From the master's degree, to the Grammy, to Cardiff? I have no words. All I can say is when you pray for God to order your steps, be willing to follow the path that he lays before you.
UKNow: You just earned your master's degree, what made you interested in "returning" for graduate studies? How was the experience during a pandemic?
Smith: I earned two bachelor's degrees from UK, and I always wanted to pursue a master's degree. However, I was always too busy to return to campus full time. I enjoy learning and expanding my knowledge of things in my content area. You can take all of those things with you on stage and in the private studio.
Because of the pandemic, I was able to take my courses in a hybrid/online manner. Although I was still working, this allowed me the opportunity to work and pursue my degree at the same time. Working with this faculty and my tremendously gifted colleagues really pushed me beyond my comfort zone. I will take this experience and this knowledge with me all over the world.
UKNow: How did it feel to be selected to compete for BBC Cardiff Singer of the World and represent the U.S.?
Smith: It is truly a dream come true! This competition has launched the careers of so many singers around the world. To be considered among this year's finalists, and to be the lone representative from my country, is remarkable to say the least.
UKNow: When did you first learn of the Cardiff competition?
Smith: I first learned of the BBC Cardiff Singer of the World Competition in high school. I remember watching the rounds and waiting to see who would move on. With so many extraordinary musicians from all over the world, it is almost like the opera Olympics! It is thrilling to watching, and I have kept up with the competition each time.
UKNow: How do you select the music for a competition of this kind?
Smith: In each round, the singer can select up to 18 minutes of music. For me, I strive to present a well-rounded program, rather than one of just home runs one after the other. I want to show different sides of my artistry.
UKNow: There is a second competition in art song, will you be participating in it as well?
Smith: Yes, I am also competing in the Song Prize Competition. I have always loved art songs, recitals, and more intimate musical presentations as well as the bigger operatic presentations. I am looking forward to both competition rounds.
UKNow: As you pursue your career, are there UK mentors/contacts you continue to work with or keep in touch with still today?
Smith: Although I currently study voice with a different teacher, I am eternally grateful to my forever mentor and teacher, Dr. Everett McCorvey, for all that he has done for me. His immeasurable generosity and wisdom sustain me no matter where I go. I would not be the man that I am today if it were not for Dr. McCorvey's constant commitment to the greater good of his students, UK Opera Theatre, the university, the greater arts culture of Lexington, and artistic impact that Kentucky has on the world.
Along with McCorvey's incredibly supportive voice faculty and voice coaches, particularly Nan McSwain and Professor Cliff Jackson (now emeritus), I have been blessed with the most exceptional "team" that anyone could ask more. I am deeply grateful for their impact on my career and my life.
Prior to his earning his master's degree this May, Smith earned his two bachelor's degrees in choral music education and vocal performance from UK in 2013. Smith came to UK Opera Theatre as a 2007 Alltech Vocal Scholar where he studied under Director Everett McCorvey during his undergraduate years. While at UK, he compiled several performance and competition credits including solos in Wolfgang Amadeus Mozart's Coronation Mass and Fauré Requiem with the UK Chorale and a solo performance with the Lexington Philharmonic.
Local audiences may also remember Smith from UK Opera Theatre productions of "Falstaff," Porgy and Bess," "Romeo and Juliet," "Pirates of Penzance," "Die Fledermaus," "The Magic Flute," "La Bohème" and "River of Time." He also performed every season of his college years in "It's a Grand Night for Singing" and earned an invitation to attend an elite summer program at the Seagle Music Colony, the oldest summer vocal training program in the U.S.
After finishing his undergraduate degrees, Smith has forged an exciting path in the opera world joining the young artist program at Houston Grand Opera, winning the Metropolitan Opera National Council Auditions in 2015 and most recently singing on the Grammy Award-winning recording of the Metropolitan Opera's 2019-20 production of "Porgy and Bess." To see video of some of his previous performances, visit his website at www.reginaldsmithjr.com/videos.
---
Story originally appeared in UKNow on June 8, 2021.