UK Mega-Sax has released their latest album, "Stink, Stank, FUNK - 4.0," the follow up album to the "Stinkin'" series featuring UK students.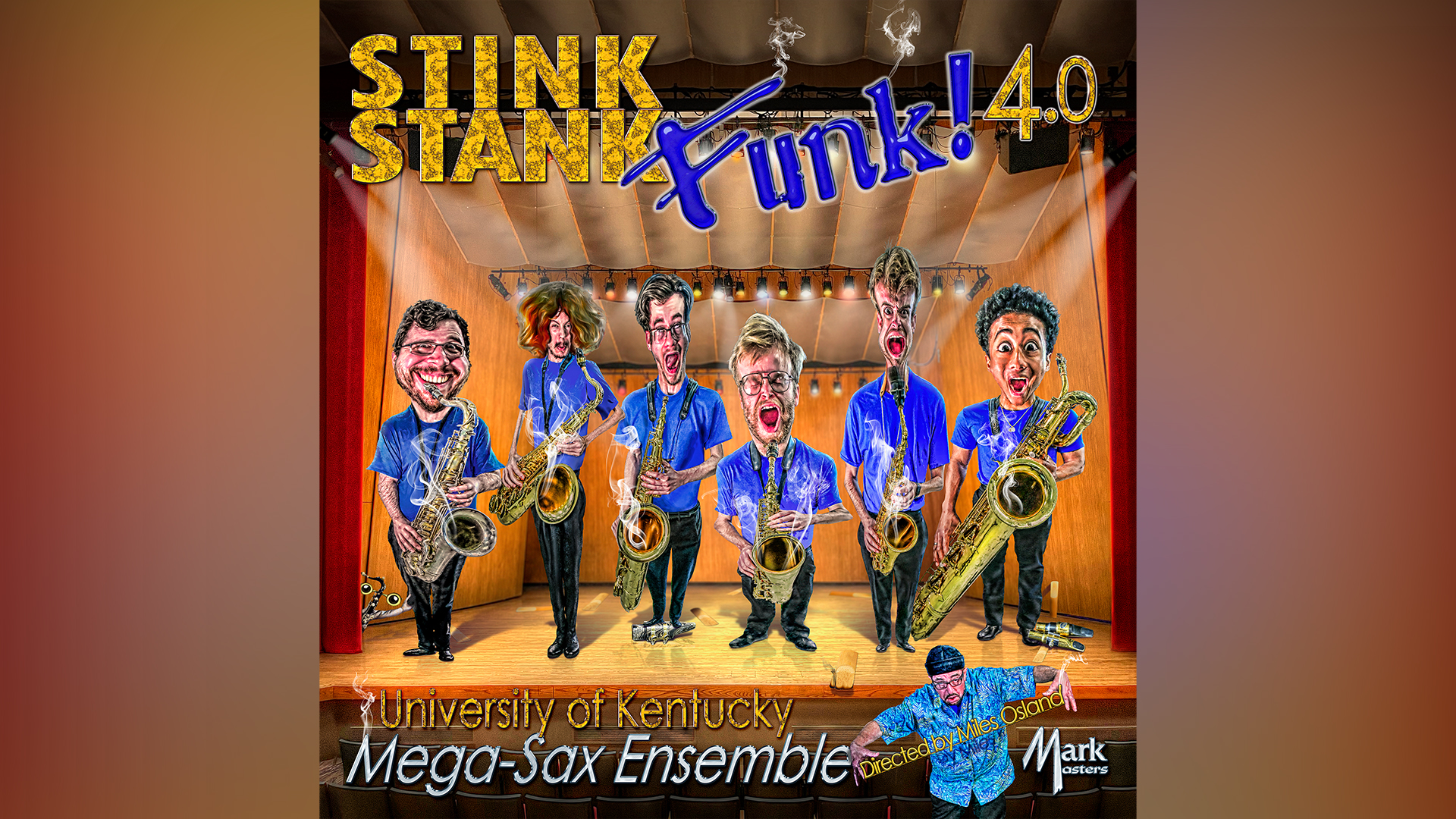 Story originally appeared in UKNow, Sept. 29, 2023. By Whitney Hale.
---
A new release featuring the musical talents of University of Kentucky students in UK Mega-Sax has dropped. "Stink, Stank, FUNK! — 4.0," features 10 rousing arrangements with raucous performances in the group's signature style.
This is the latest from UK's Mega-Sax "Stinkin'" series, which includes "We Don't Need No Stinkin' Rhythm Section" (1996), "Stinkin' 3.0" (2017) and "Stinkin' Up the Place" (2000). "Stink, Stank, FUNK! — 4.0" features the following UK students: music education senior Will Baumann, of Lexington, on alto saxophone; music senior Trevor Bowling, of Lexington, on tenor saxophone; Nick Foster, of Lexington, mon soprano and alto saxophone; finance senior Hiroshi Hunter, of Lexington, on baritone saxophone; music performance senior Dalton Stanland, of Lexington, on alto and tenor saxophone; and music education junior Trevor Wheatley, of Lewisport, Kentucky, on tenor saxophone, under the direction of Miles Osland, director of UK Jazz Studies.
The CD includes compositions and arrangements by Bobby Watson, Greg Yasinitsky, Larry Nelson, Andy Weiner, Rick Hirsch, Derek Brown, Miguel Zenón and Mike Mower.
"It was a lot of fun composing 'Hey There' for University of Kentucky's incredible Mega-Sax ensemble," saxophone player Derek Brown said. "…The saxophone isn't usually thought of as a harmonic or rhythmic instrument, so I love the challenge of covering all the rhythm section elements with more typically-melodic-only instruments like the saxophone. And the incredibly spirited way Miles Osland's student play here, who needs a rhythm section? Not me!"
Award-winning composer, arranger and saxophonist Rick Hirsch, per the CD liner notes, was also excited to team up with UK. "What a privilege to compose for musicians who relished the challenge of being pushed out of their comfort zones! These guys are the real deal."
The CD has already received positive feedback. A review from The Art Music Lounge had this to say about the release, "Although they occasionally play with some nuance, for the most part this music isn't subtle. It's emotionally powerful, hot jazz that really cooks, based largely on the kind of bands that were around from the late 1960s through the early '90s. You won't find any tender, soft-grained 'ambient jazz' here, thank goodness. This is in-your-face music, and they always sound as if they're having a ball playing it."
Miles Osland, professor of saxophone, established the Mega-Sax program at UK School of Music in 1989. This creation was inspired by his experience as a member of the SuperSax group led by Lanny Morgan at the Los Angeles Jazz Workshop and Saxology directed by Ramon Ricker at Eastman School of Music.
The UK program consists of Mega-Sax ensembles performing in quartets and quintets, with and without a rhythm section. It is Osland's intent to increase the awareness of this musical genre through live performances and recordings by Mega-Sax. The top Mega-Sax group has already made great strides towards this goal with featured performances at the Elmhurst Jazz Festival, the New England Saxophone Symposium, and a standing room only concert at CAV Nite Club in Providence, Rhode Island. Elmhurst Jazz Festival saxophonist Gary Smulyan had this to say about the ensemble, "Mega-Sax is a breathtaking example of musicianship, artistry, craftmanship, showbiz and creativity."
The group is a three-time winner of the prestigious Downbeat Student Music Awards in both classical and jazz categories.
"Stink, Stank, FUNK! — 4.0" is available from Amazon.