From Oct. 16 – 20, 2023, eight faculty members from the University of Kentucky School of Music traveled to Ionian University in Corfu, Greece, to participate in the first full exchange as part of a new bilateral relationship between UK and Ionian University.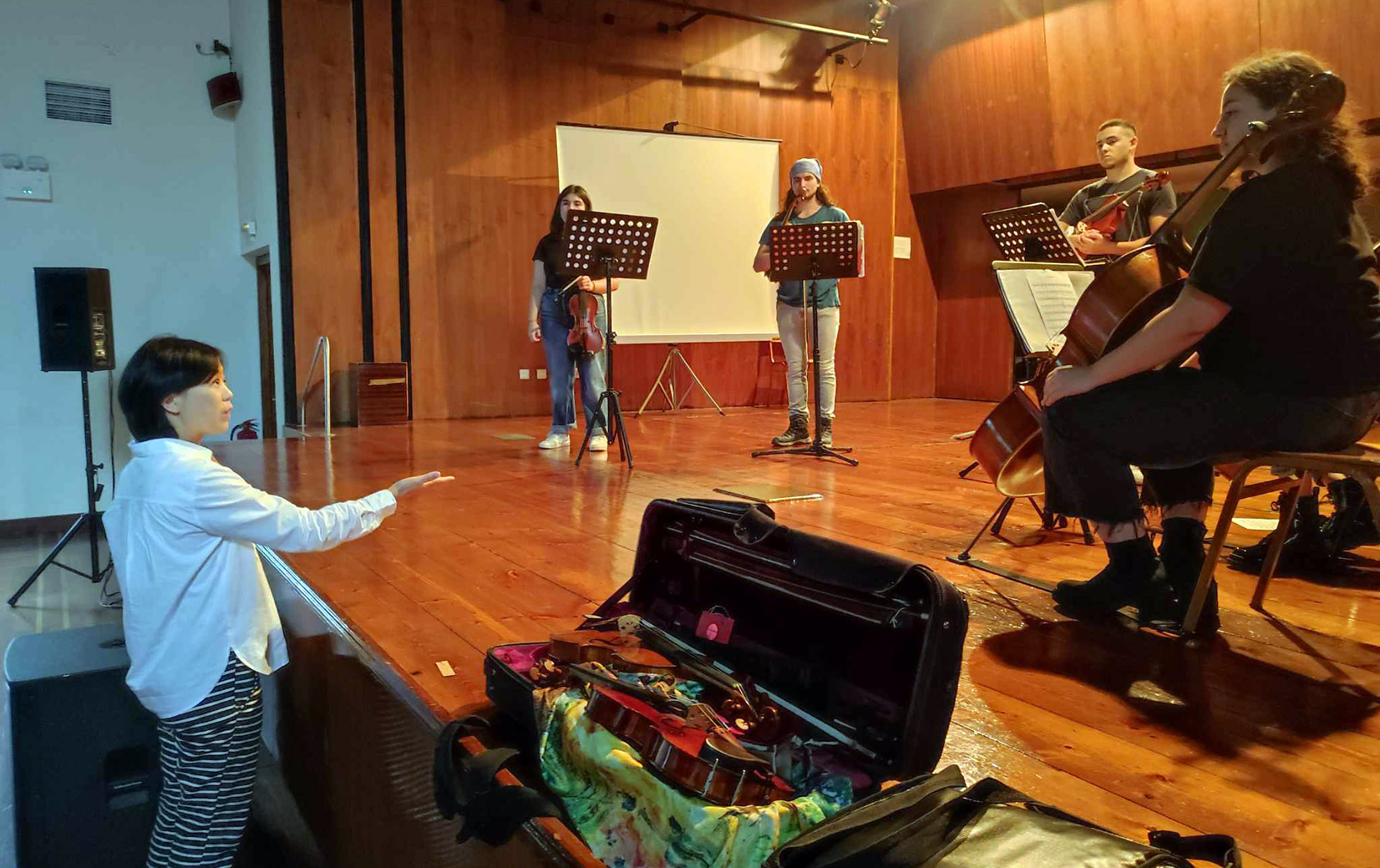 Corfu is an island west of mainland Greece and east of Italy. The Ionian Academy, the precursor to Ionian University, was the first Greek academic institution established in modern times.
This trip was made possible when Dr. Jason Dovel, associate professor of trumpet, was selected as one of UK's inaugural class of UKinSPIRE fellows. UKinSPIRE (Seeding Partnerships for International Research Engagement) is intended to stimulate high-impact research projects linking UK faculty and international collaborators.
This specific bilateral relationship began when Dr. Jason Dovel spent his 2021 sabbatical teaching at Ionian University. Based on this relationship, he brought UK trumpet students to Corfu in June 2023 as guests of the Mantzaros Philharmonic, organized as a study abroad through UK Education Abroad. The recent October week in Corfu was the third visit of UK SOM faculty to Ionian University in the past two years.
During their week in Corfu, the UK faculty members taught private lessons, presented master classes and workshops, and presented concerts. Their visit was organized by Anastasia Siopsi, head of the music department at Ionian.
The week's activities culminated in two major concerts:
A faculty showcase featuring seven UK SOM faculty in a gala recital was held Thursday night.
A collaborative concert featuring UK faculty, Ionian faculty, and Ionian students was held Friday night.
Both concerts were held in Ionian University's historic Ceremonial Hall.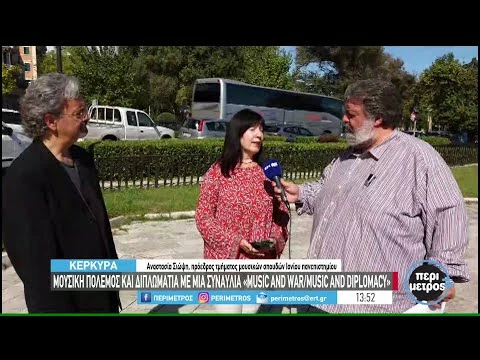 In addition to concerts, master classes, and private lessons, several faculty participated in other endeavors:
Drs. Benjamin Arnold and Jennifer Campbell presented a musicological lecture on Wednesday night which received media coverage on the local Greek television station.
Dr. Elizabeth Arnold presented two "Mindfullness Seminars" which were well-received by Ionian students and faculty alike.
Profesor Bradley Kerns organized jazz concerts in local jazz clubs with Ionian faculty and students.
Dr. Tze-Ying Wu actually participated in a tri-lateral exchange, as she was in Corfu the same time as Fabrizio Scalabrin, a visiting viola professor from Padua, Italy. Wu also coached the Ionian Camerata, a string ensemble led by Professor Gikontis.
During their visit, they also held meetings with Ionian University's Rector and Cabinet, Music Department leadership, and planned further collaborations to strengthen the bilateral relationship.
The next phase of the exchange will be in spring 2024, when the UK School of Music welcomes several Ionian University to Lexington as guest artists on UK's campus. Future collaborations include summer programming in 2024.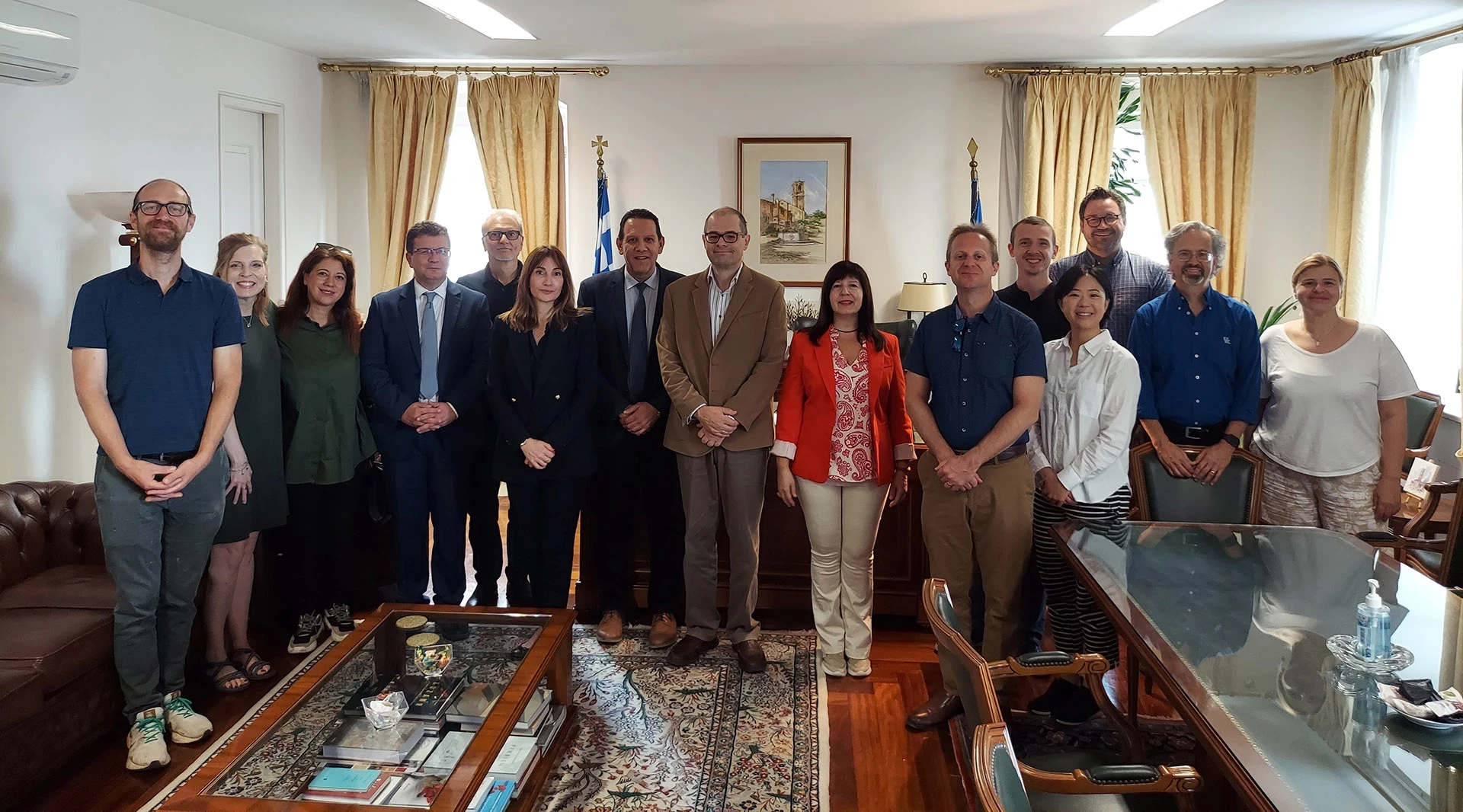 UK faculty in the Rector's Office at Ionian University, Greece
The eight UK SOM faculty participating in the October residency include:
Dr. Jason Dovel (trumpet) is associate professor of trumpet at the University of Kentucky, and Chair of the Division of Winds, Percussion, and Jazz.
Dr. Tze-Ying Wu (viola) is the Assistant Professor of Viola and String Education at the University of Kentucky and director the UK String Project
Dr. Ben Arnold (piano and musicology) is professor of musicology
Dr. Elizabeth Packard Arnold (soprano and Mindfulness) is a Professor of Voice at the University of Kentucky
Bradley Kerns (trombone and jazz studies) is associate professor of trombone at the University of Kentucky.
Dr. Jacob Coleman (piano) is associate professor of piano at the University of Kentucky.
Ethan Young (cello) part-time UK instructor and cello director for the University of Kentucky String Project
Dr. Jennifer L. Campbell (music theory) is assistant professor of music theory.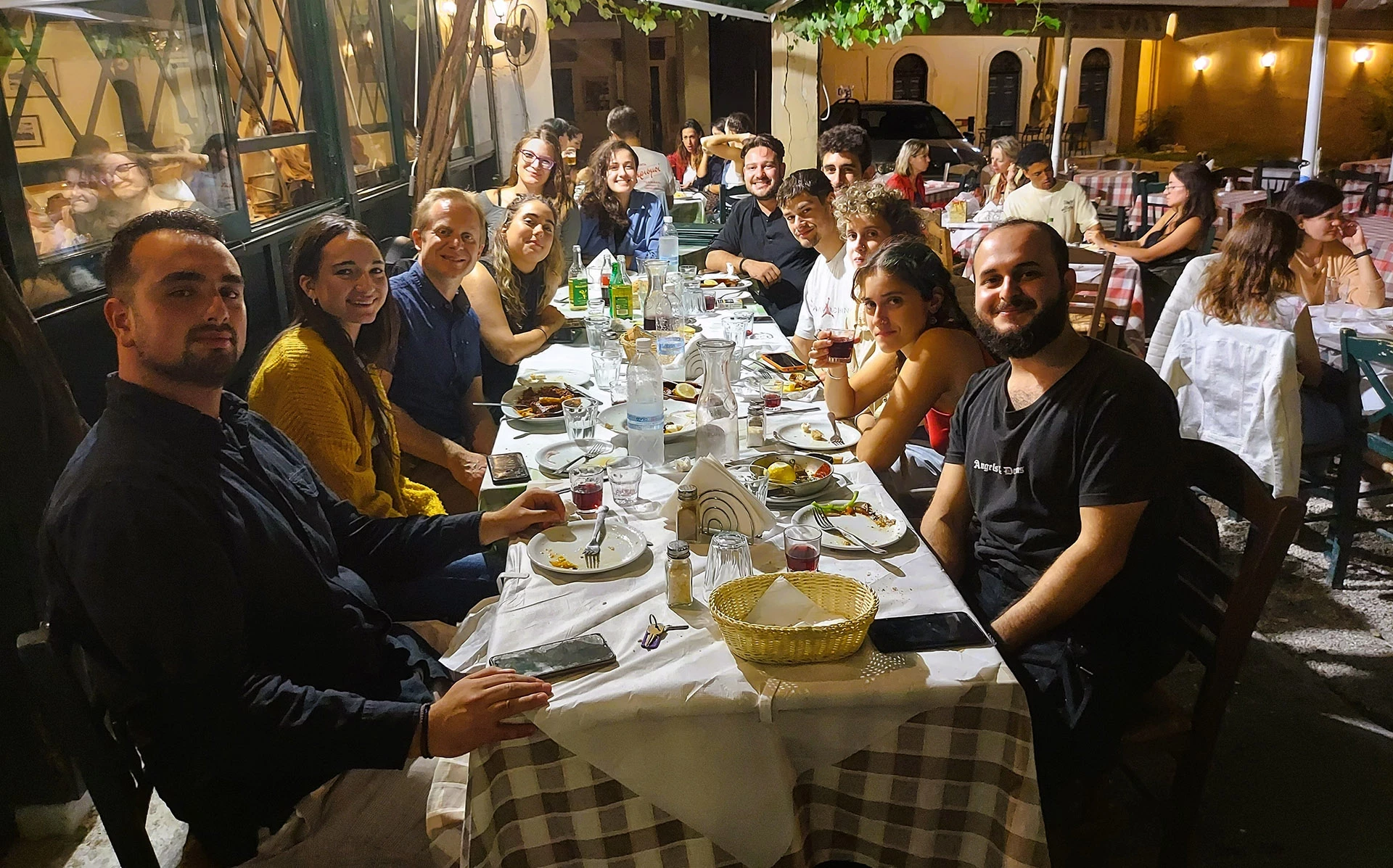 Jason Dovel with IU trumpet students in Corfu, Greece