Juan Saldivar, Jr., DMA student in the University of Kentucky School of Music, is elevating opportunities for Mexican and Mexican American composers through a new initiative. Through Border Bones, Saldivar and Velarde aim to increase trombone duet repertoire from rising marginalized and underrepresented composers.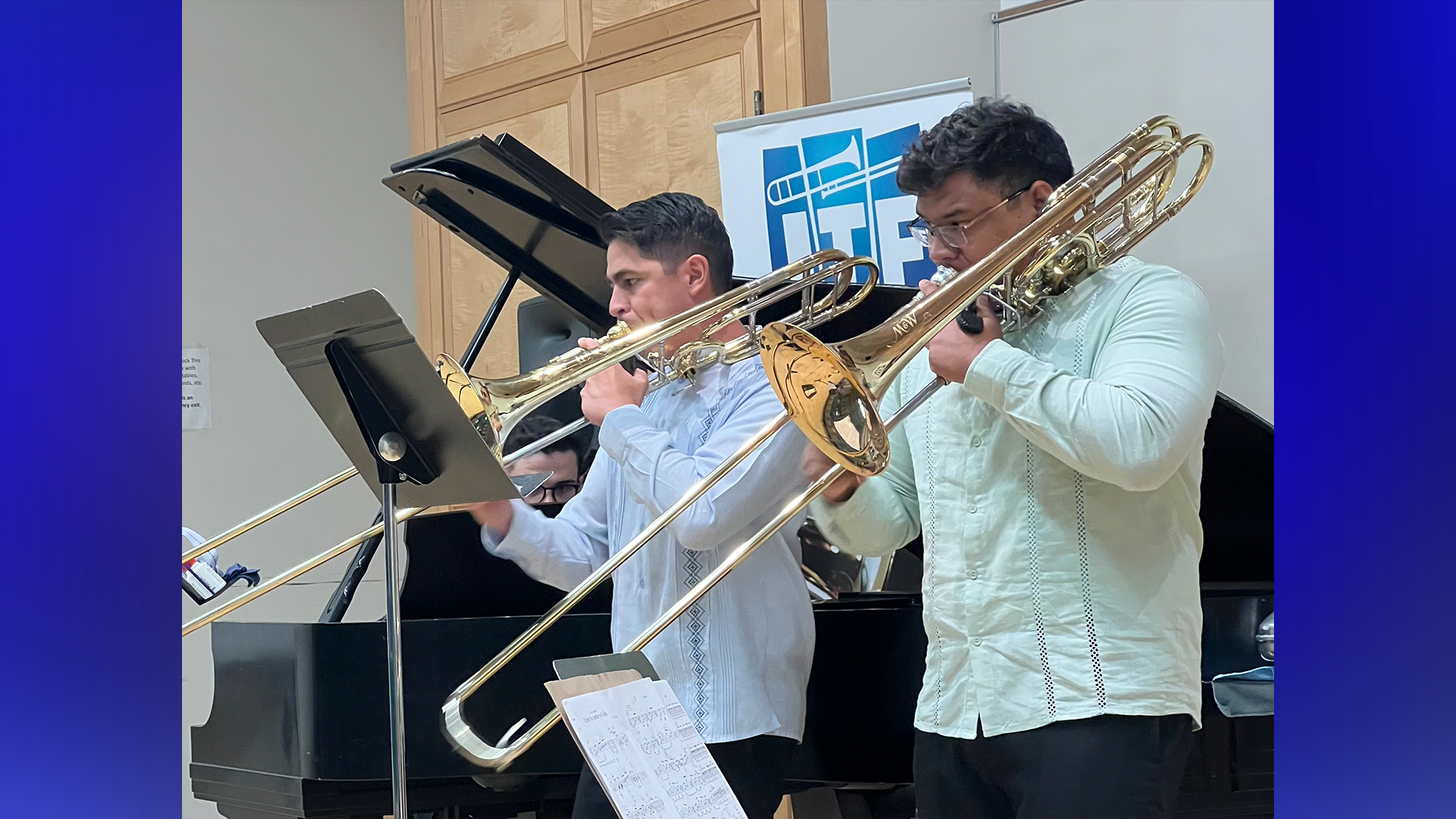 Saldivar, a native of border town Laredo, Texas, co-founded the trombone duo, Border Bones, with friend Alex Lopez Velarde, principal trombonist of the Orquesta Sinfonica Nacional de Mexico. Through Border Bones, Saldivar and Velarde aim to increase trombone duet repertoire from rising marginalized and underrepresented composers. Saldivar's decision to focus on such composers came from years of studying music and realizing that his knowledge of composers from his own heritage was limited. He discovered there was little of this type of repertoire in the United States being used to teach trombone.
This year, Border Bones was invited to commission new trombone duets by Mexican and Mexican American composers, leading to ten world premieres at the International Trombone Festival in Salt Lake City, Utah, in July 2023. Featured composers included Uriel Imriffnol, J. Andres Ballesteros, Stephen Bachicha, Paulina A. Monteon, Arturo M. Zanabria, U. Odin Zamorano Reyes, Matthew Acosta, Jonathan Figueroa, Seferina Baca, and Mica Redden.
"I knew many of these composers from past commissions that I have premiered," Saldivar explained. "But I would also state that the concept of this first album came from us being able to represent our nationality, seeing how Alex [Lopez Velarde] is a well-established Mexican trombonist and me being a Mexican American bass trombonist."
The International Trombone Festival requires a highly selective proposal process. Saldivar's mentor Bradley Kerns, associate professor in the School of Music, said that Border Bones' invitation to the festival was a significant accomplishment.
"The festival was a true honor for any professional trombonist, as this is the premiere international event for the instrument," said Kerns. "I was fortunate enough to be in attendance and it was a brilliant and inspiring event and one of the most creative during the four-day festival."
Saldivar returned the praise for his mentor. He said he chose to pursue his doctorate at the University of Kentucky because of Kerns, "a man who is well known in the trombone community as a fantastic musician, a kind and humbling individual, and an incredible trombone pedagogue," Saldivar said. "He has been a mentor that I wish to reach at some point in my career and be able to do the same for my future students as he has done for me."
Juan and Alex were also joined by colleagues earlier this summer and recorded all of the works that premiered in Salt Lake City. The album "Beyond Borders" will be released in January 2024, available on all streaming platforms. Along with the album, the ensemble will launch a tour through Kentucky in the spring with future tours planned for Texas and Mexico.
"I am very grateful to be able to play alongside some fine musicians and great friends as well," Saldivar said in a social media post following the festival. "Thank you to all the composers who trusted us to share their music and represent them at this year's festival!"
Learn more about Saldivar and Border Bones on Instagram.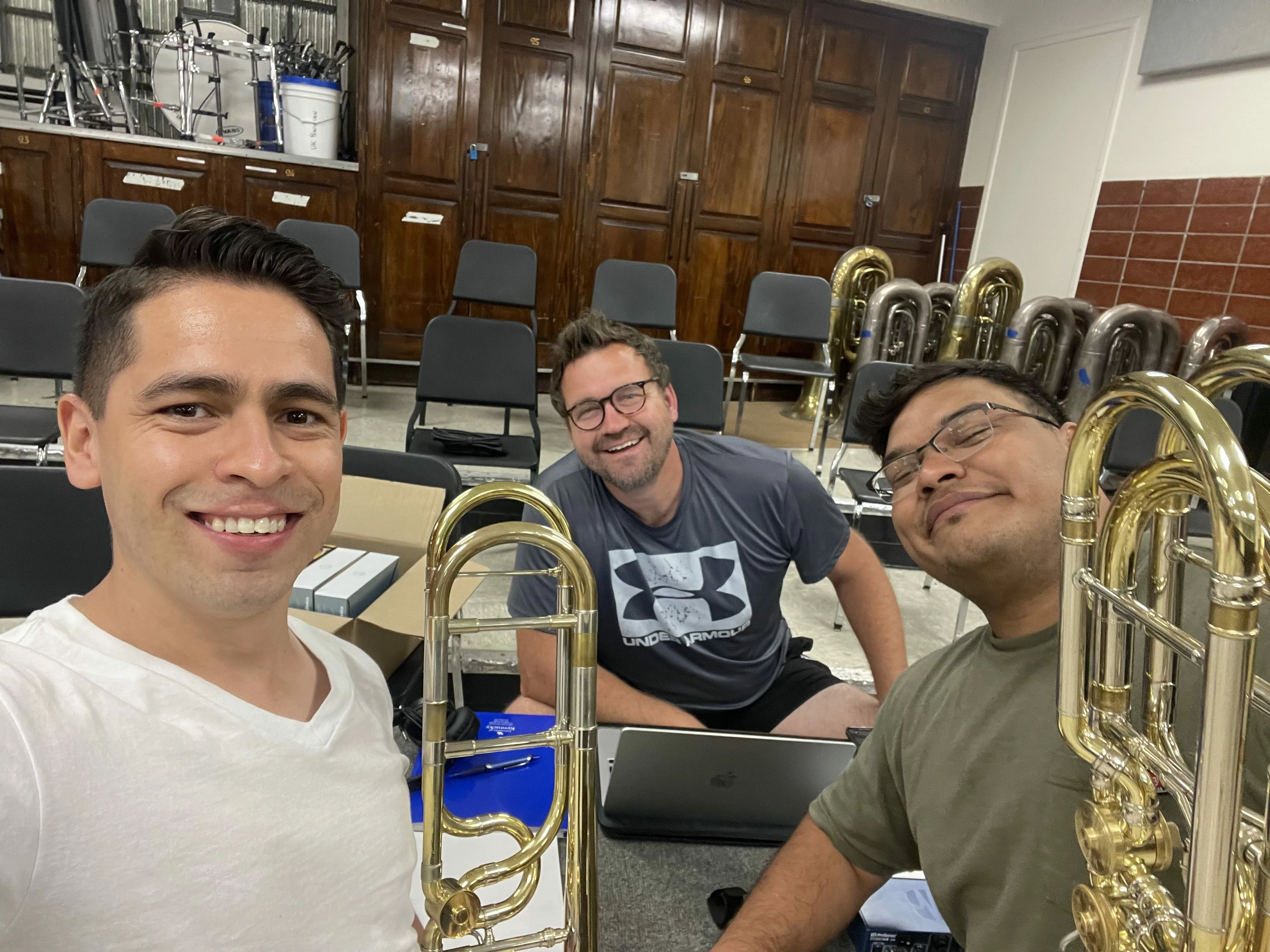 Juan Saldivar, Jr., Bradley Kerns, associate professor in the School of Music, and Alex Lopez Velarde