Osland is recognized for his work as a jazz educator in the November issue of DownBeat magazine.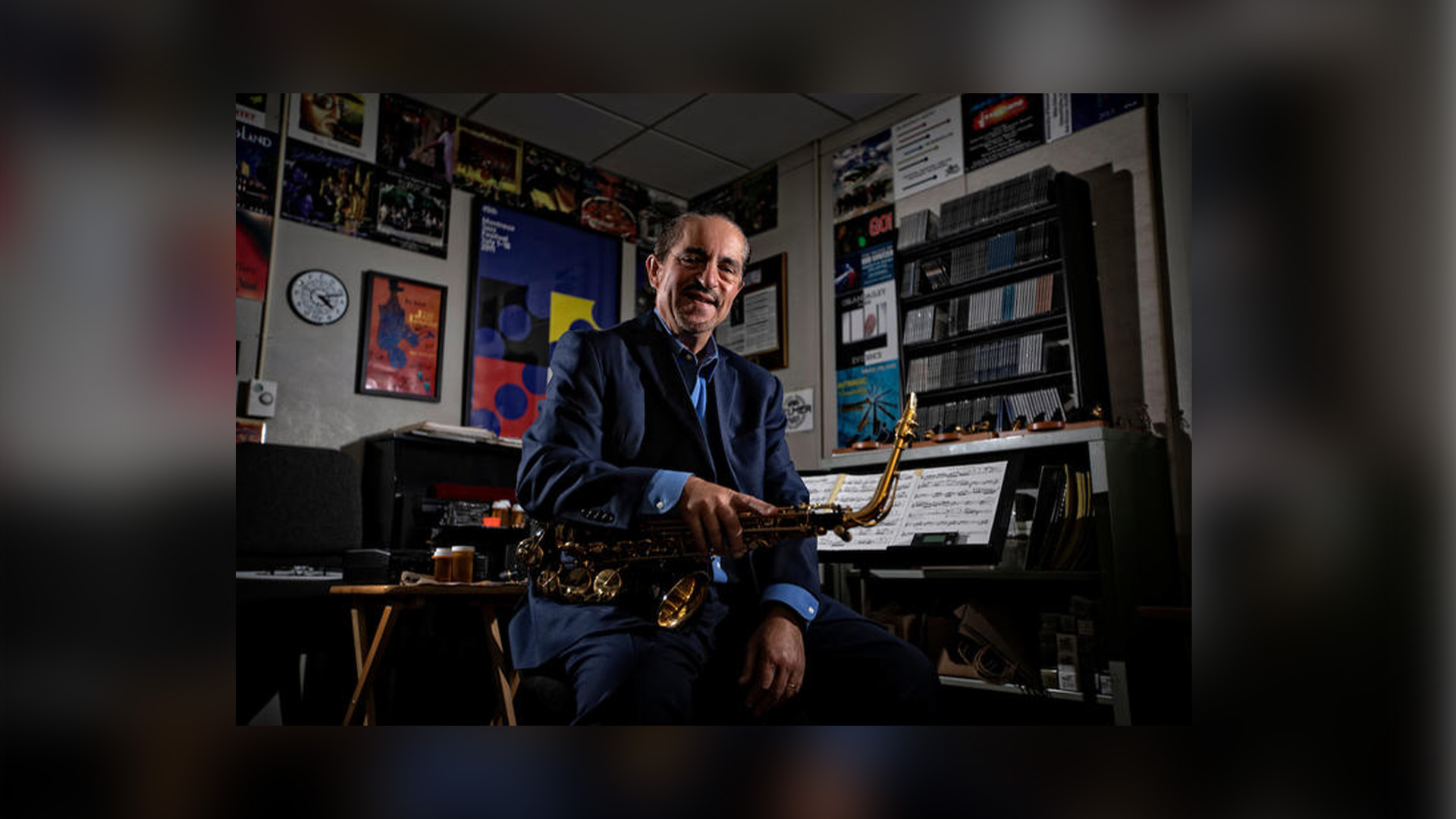 Story originally appeared in UKNow, Oct. 6, 2022. By Whitney Hale.
---
"Playing with freedom can only come after a certain amount of foundational study." – American jazz pianist Geri Allen
At the University of Kentucky, students achieve that foundational study under the watchful eyes of one of the nation's best jazz educators — Miles Osland — and the country has taken note.
November's DownBeat magazine, on newsstands now, has recognized Osland with its 2022 Lifetime Achievement Award for Jazz Education. The award is very prestigious given DownBeat's status as "the granddaddy of American music magazines," covering the best in the world of jazz and blues as well as its offshoots.  
"It's an honor to be recognized by a publication that I've been a subscriber to and reader of for almost 50 years! DownBeat is definitely the epitome of the art form of jazz," said Osland, professor of saxophone and director of UK Jazz Studies.
More than 30 years ago, Osland came to UK School of Music at the invitation of celebrated trumpet professor Vince DiMartino. DiMartino had elevated the UK Jazz Ensemble's profile as conductor for 17 years and as it grew, he realized the need for more jazz studies on campus.
"Vince twisted my arm and got me to the UK in 1989. I was hired to boost up the saxophone program and to start some different aspects of a jazz studies program," Osland said.
Since Osland landed on campus, the program has added different combos, classes in improvisation and new faculty including instructors in drum set, bass, jazz guitar and jazz piano, who teaches the Lab Band.
With the advancements came invitations, critical acclaim and awards. His first year, Osland took the ensemble to the country's oldest collegiate jazz festival at Notre Dame and won its division. 
Since then, the UK Jazz Ensemble has played several different festivals, including Elmhurst and four invitations to perform at the Midwest International Band and Orchestra Clinic. The group has also toured China and Europe with performances at Montreux and the North Sea Jazz Festivals.
In addition, UK's Jazz Ensemble and individual students have garnered multiple awards from DownBeat magazine including Best Jazz Ensemble, Best Jazz Orchestra and various soloist awards, as well as released almost a dozen CDs, cassettes and LPs in more than 40 years of commercial recordings.
---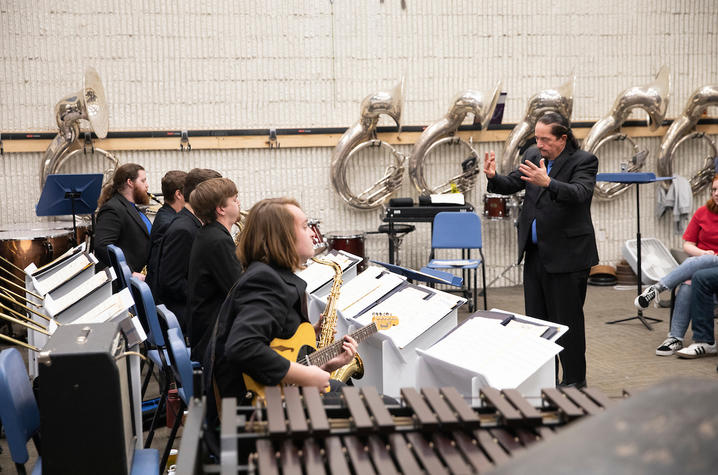 UKNow recently caught up with Osland to learn a bit more about his own introduction to jazz education.
UKNow: When did you begin playing music? Was saxophone always your instrument of choice or do you play other instruments?
Osland: I started on flute at age 10, picked up saxophone at 12 and clarinet at 13. I was actually a classical clarinet major for my undergraduate degree.
UKNow: When did you fall for jazz?
Osland: From the very beginning. My parents had jazz playing on the stereo in our house all the time.
In fact, when I was going to choose what instrument I wanted to start on, my mom played for me Herbie Mann (flute), Paul Desmond (alto saxophone) and Pete Fountain (clarinet) recordings.
UKNow: What made you want to become a jazz educator?
Osland: When I was working on my graduate degree at the Eastman School of Music, I had a teaching assistantship in their jazz department. This is what really sparked my interest in the teaching and the educational aspect of jazz.
UKNow: What is your favorite thing about teaching?
Osland: Seeing and hearing my students (and ensembles) improve. This can be overnight, or over a long period of time!
UKNow: Any favorite classroom/studio moments?
Osland: Performing at major festivals and conferences — the Montreux and North Jazz Festivals and the Midwest International Band and Orchestra Clinic. The UK Jazz Ensemble is currently preparing this semester for a prestigious invitational performance at the Jazz Education Network Conference in January (in Orlando, Florida).
UKNow: What do you hope your students take away from their time with you at UK?
Osland: I try to instill in my students a "real-world" experience. Hopefully they can take their acquired skills they've learned from me and others at UK into the workforce.
And it sounds like Osland is fulfilling that mission.
"UK and Miles and the jazz program have a great reputation … I talked to a lot of people who went to a bunch of different schools and people who went here, and the tradition and the quality of musicians here is so high," said recent graduate Kirby Davis, an award-winning musician who earned his bachelor's and master's degrees from the School of Music in UK College of Fine Arts. "… You need to be prepared to do any kind of job that somebody asks you to do. This school really trains you for that."