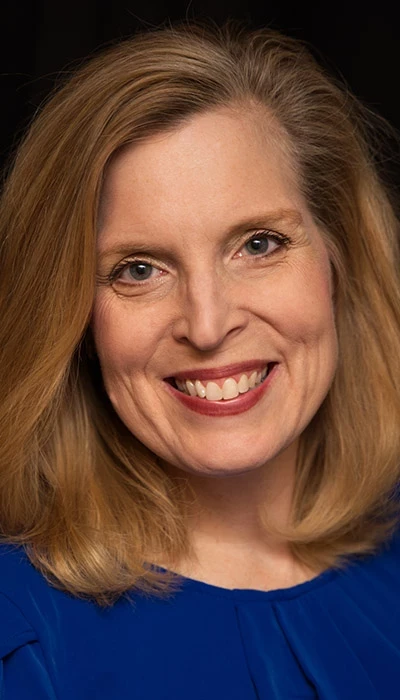 Associate Dean for Assessment and Student Advancement
Soprano Elizabeth Packard Arnold frequently performs as a soloist in recitals and oratorios throughout the United States, emphasizing early music and the Lieder of Franz Liszt. She has sung with numerous regional orchestras and frequently performed as a soloist with the New Trinity Baroque Ensemble (NTB) in cantatas of Bach and Handel and Monteverdi's Vespers of 1610. Her recorded performances with NTB of Carissimi's Jonas and Jepthe, Charpentier's Messe de Nuit, Monteverdi's Selve Morale e Spirituale, and Purcell's Dido and Aeneas appear on Edition Lilac. She also participates in numerous performances with Dieter Hennings, guitar/lute, first performing together as part of the fringe concert series for the Boston Early Music Festival. She currently collaborates with Baroque trumpeter Jason Dovel to develop an early music program at UK. Her performances of Liszt's songs include recitals and presentations in Weimar, Germany as part of the International Franz Liszt Congress for the 200th anniversary of his birth and the American Liszt Festivals in San Francisco and Arizona.
Dr. Arnold teams with Dr. Lori Hetzel as the voice technician for the UK Treble Choir; they demonstrate the value of a partnership between choral conductors and voice professors in rehearsals. Their work resulted in "Voice Building for Choirs" at regional and national conventions of the American Choral Directors Associations. She has given scholarly presentations and lecture recitals at the National Association of Teachers of Singing (NATS) and College Music Society (CMS).
Dr. Arnold is a certified Koru mindfulness instructor and has lectured on music and mindfulness at NATS, CMS, and the Presbyterian Association of Musicians. She teaches the curricula she designed, "Mindfulness for Singers" and "Mindfulness for Musicians and Artists," at distinguished young artist programs such as Music Academy of the West and the Kennedy Center for the Arts, including the Washington National Opera Institute and the National Symphony Orchestra. She has received invitations to present on similar topics from the Florida Music Educators Music Association and the Memphis Symphony Orchestra.
Arnold received a D.M.A. in vocal performance from the Cincinnati—College Conservatory of Music with a cognate in Baroque vocal studies. She studied German oratorio at the Benjamin Britten–Peter Pears School in Aldeburgh, England, participated in Stephen Stubb's summer Baroque opera program, Accademia d'Amore, in Seattle, and has coached with numerous Baroque specialists.
She is Professor in voice at the University of Kentucky and Associate Dean of the College of Fine Arts.