We had the chance to connect with four of our SA/VS student-athletes to discuss the symbiosis between their creativity and athletics.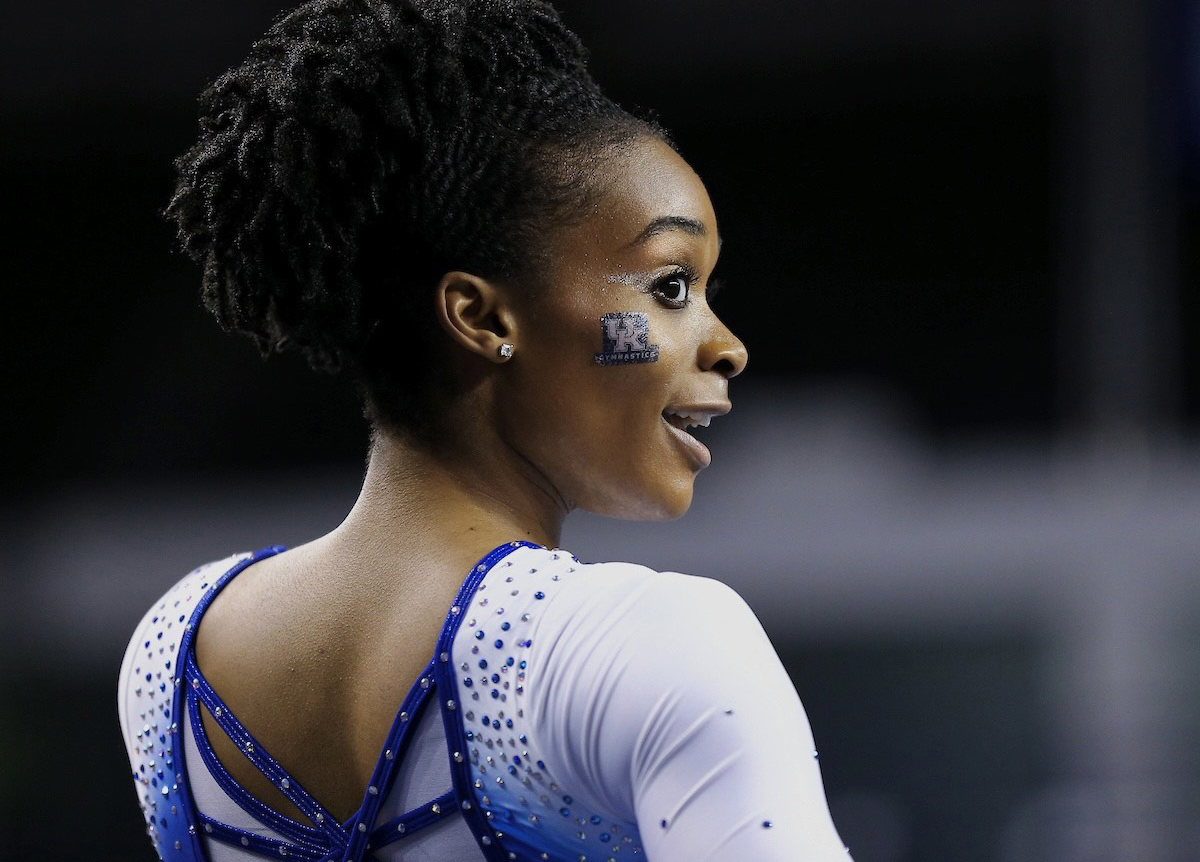 Art and athletics have always been intertwined. From 1912 to 1948, the Olympic Games included artistic competitions in five areas — architecture, literature, music, painting and sculpture. Medals were awards for original artworks that were inspired by sport. Since then, organizations like Art of the Olympians, founded by U.S. Olympic discus champion Al Oerter, and British Olympian Roald Bradstock, have made it their mission to find the connection between both sport and art. 
Continuing that tradition, several students in the Digital Media Design degree program in the University of Kentucky School of Art and Visual Studies (SA/VS) have discovered that same connection between their own art and athletic careers. The College of Fine Arts (CFA) had the chance to connect with four of their student-athletes to discuss the symbiosis between their creativity and athletics. 
The students include:
CFA: What is the connection between art and athletics in your life?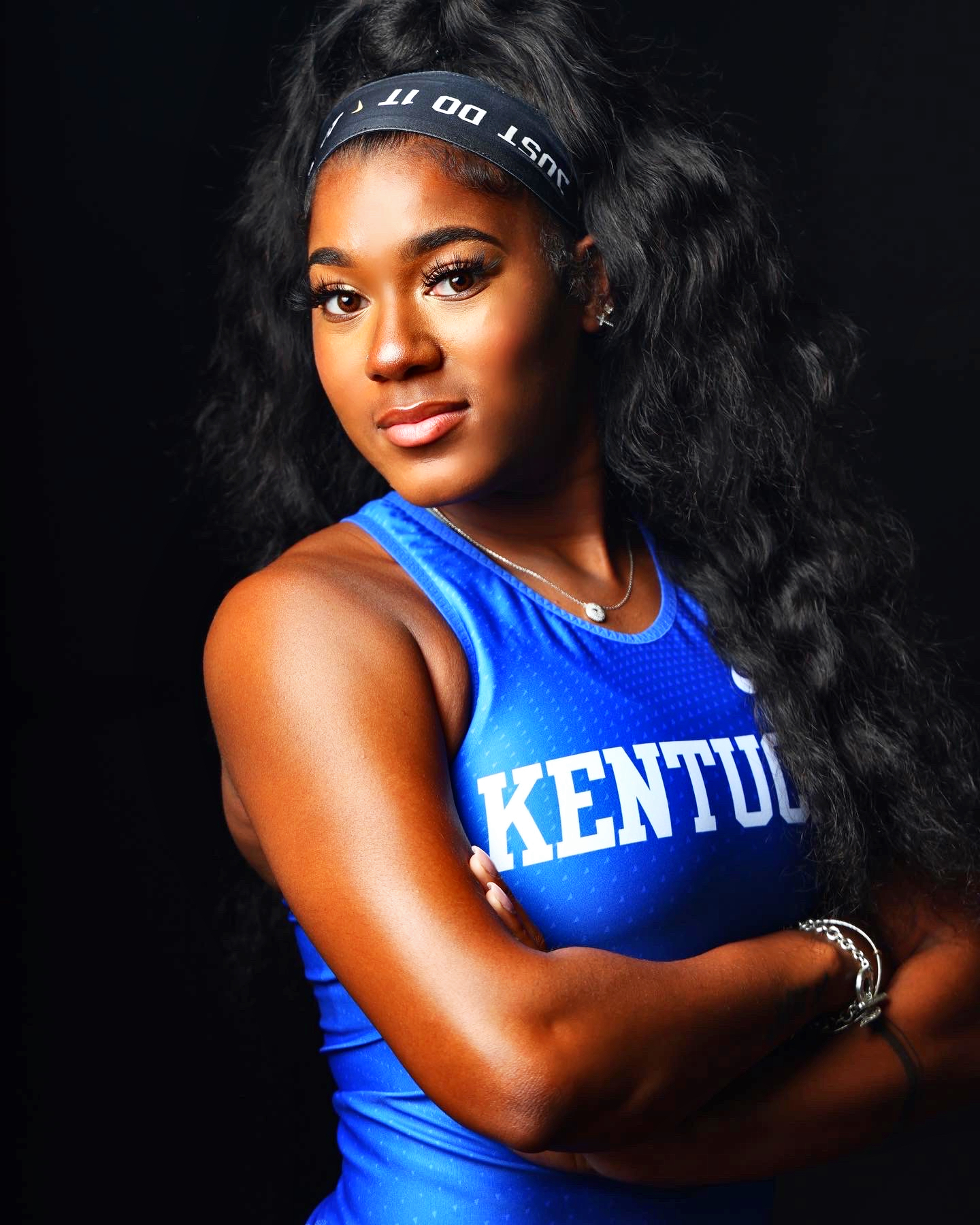 Kahn: I tend to enjoy the process of creating art, but I am not always happy with the outcome. Usually, when I am not happy with the outcome, many of my peers LOVE my work. Same thing when it comes to track: I love the process of getting better and practicing but sometimes the outcome does not always end how I had planned. But the people around me always remind me that I am doing amazing things and am exactly where I need to be. 
Young: There are quite a few parallels between what I do in athletics and with my art. The most literal one is the way in which having a good sense of motion and the way the body works has given me a big advantage when animating because it is second nature to break down a physical movement into its components. Also, art and pole vault specifically are similar in that the goal is simple, and there are very few if any rules for how to get there. Just like how the best vaulters all do certain things similarly in accordance with the laws of physics, so too many good works of art have things in common, and there are principles that can be used to focus creativity to make something beautiful. I think it's that balance between order and intuition that leads to performing well athletically and making a piece of art that is emotionally moving. 
Patterson: As an "artistic gymnast," attention to detail has always been an important part in gymnastics, which has carried over in all areas of my life, especially in my creative endeavors. My main interests are video editing, graphic design and voice acting. I have made a few music videos and edited some gymnastics videos for my team. I also make coloring books for kids. I think all of those include some kind of rhythm. Each piece, whether it be a video, graphic piece, or voice-over script, they all have their own song, and every detail is like a dance. One thing I have always loved is making things pretty. I like making my skills in gymnastics pretty with beautifully straight legs, pointed toes, gorgeous leaps, and jumps. I also like making pretty videos with beautiful angles, edits and cuts, and graphic designs with beautiful colors, patterns and textures. 
Williams: There is definitely a connection between arts and athletics in my life. I really got involved in the arts my sophomore year of high school when I started my YouTube channel. At the time, it was solely focused on my life as an aspiring college runner and now my art is totally influenced and encouraged by the community of runners and other young athletes around me. 
CFA: How does one influence the other? 
Kahn: Art and track are my two outlets in life. If life is not going as smoothly, I always have track and art to help make me feel better and forget about the rest of the world.  
Young: I don't think that art and athletics really influence each other, for me personally. While they are similar, I have not found any benefit from trying to achieve any sort of symbiosis between the two. Beyond the fact that art mirrors life and I have done a few projects in the past that reference my sport, there isn't much overlap. 
Patterson: I think attention to detail has positively influenced what I do creatively. 
Williams: Starting my YouTube channel is what ultimately led me to find my passion in the digital art space, and there will always be a part of my running in my art because it was such a big piece of what got me started. The feelings and excitement that arise with running bleeds into what I create in my art. 
CFA: Which came first — your artistic drive or your athletic drive? 
Kahn: My athletic drive came first. I have been doing sports since I was two years old, but I never allowed myself to really tap into my artistic side until my senior year of high school. I did enjoy doing art projects during my early childhood but never made time to embrace it. 
Young: My artistic drive came quite a bit before my athletic drive. I have always enjoyed athletic activities; however, I knew that art of some sort was something I wanted to pursue in my life long before I started pole vaulting. 
Patterson: I think being a gymnast, both my athletic and artistic drive play off each other. Gymnastics is a perfect balance between athletic performance and artistry, unlike many other sports. You cannot have one without the other, both are very necessary to be a great gymnast. 
Williams: My athletic drive definitely came first. I grew up being super active and always involved in some sort of sport or activity. In high school, I saw the dire need I had for a creative outlet. Creating and editing videos/photos filled that void I had and really allowed me to prosper in my running. 
CFA: What else would you like to share about your experience as a student-athlete and an artist? 
Kahn: My favorite thing about both art and track is that I am able to influence and inspire children and younger people through my talents. A lot of athletes tend to not embrace other talents we may have because we are so focused on our sports. I chose to be an art major because art is something that I want to learn more about and am passionate about it. I encourage everyone to choose a field that they love and want to learn about just as they love and want to learn about their sport. 
Young: For me, art has always been an innate gift, and while it requires an immense amount of effort and dedication, I always have control over the outcome. I think that my athletic journey has been beneficial for me because it is almost the complete opposite. My sport also requires a ton of effort and dedication but, at least for me, I have virtually no control over how my body performs. It has taught me a lot of patience and humility. Pole vault is a very mental sport, and if you can maintain serenity when your brain is not doing what you want it to, then it is pretty easy to do in most other areas of your life. 
Patterson: My career goals are to continue making coloring books for kids, do many kinds of video projects like music videos and commercials, and become a successful voice actress. 
Williams: Being a student-athlete and artist has presented me with so many opportunities I would have never thought possible. I was able to create multiple videos for a national high school running media outlet and connect with people all over the country and encourage them in all their passions and pursuits. Having a chance to reach people and spread love and joy to them through my art and my love for sports has been so fulfilling and is truly a blessing.