Being an art educator is wonderful combination of personal creative practice and contributions to future generations. If you are excited about making art, then you can excite and encourage others to experiment and experience the joy of being an artist.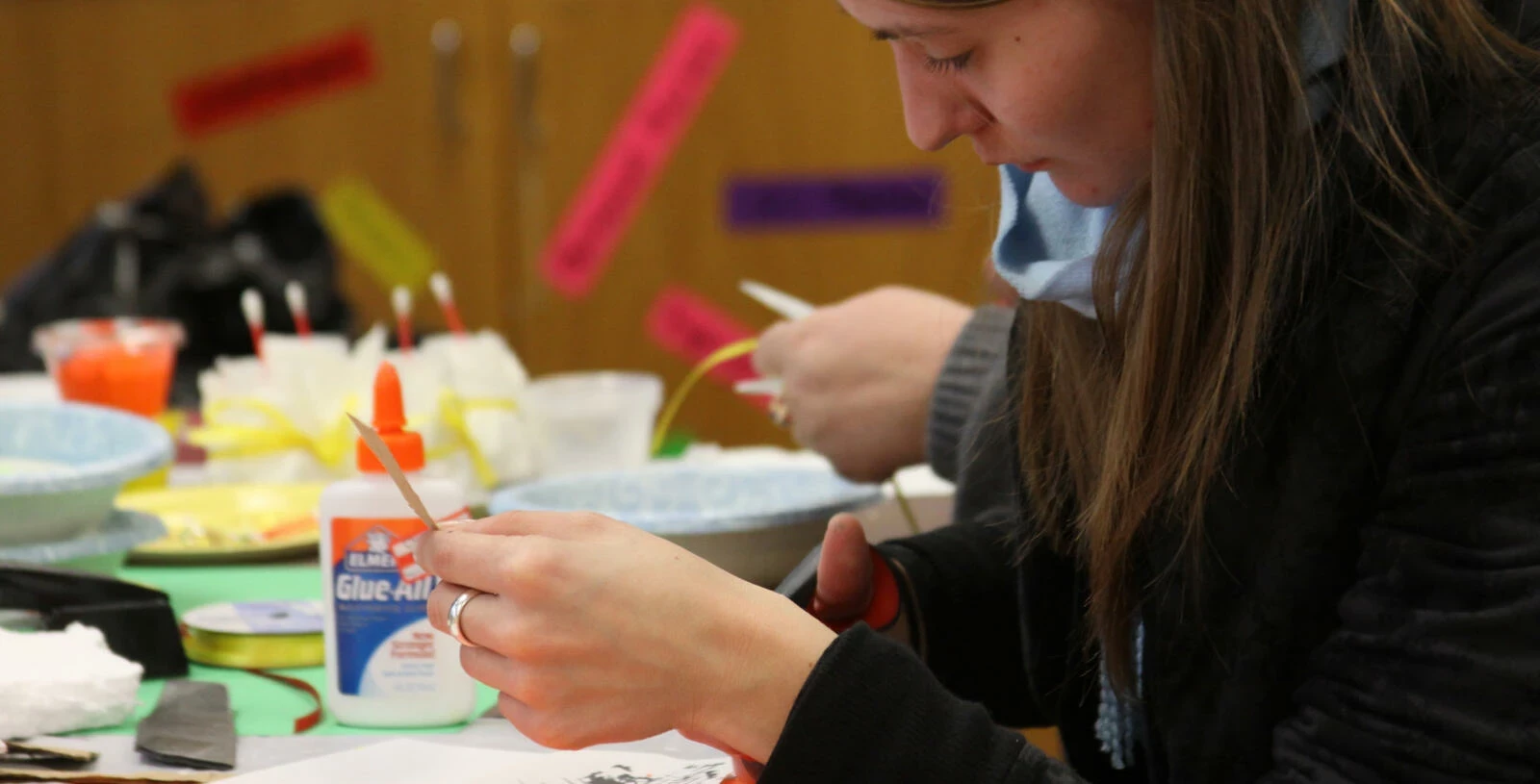 Art education
Building a Collaborative Art Education Community
The Art Education teacher licensure program is nationally accredited and state certified to prepare students for careers as art teachers in K–12 schools and as art educators in adjacent fields. Art Education students take a variety of courses throughout the four-year program to build a strong foundation in studio art and art history, along with the theory and practices of teaching visual art.
In the art education program, we strive to cultivate a creative community among students that extends to local classrooms as well as state, national, and global professional organizations. Art education students exhibit their artworks, participate in field experience, and practice their skills during a semester of student teaching. Many of our majors graduate with a dual degree in art education and studio art. Through this robust networking and the rigorous academic focus, students from our art education program are consistently offered jobs in the field at or before graduation. Art education majors are artists, researchers, and teachers engaged in collaboration and critical thinking toward a fulfilling career and lifelong engagement with the arts.
It's Personal
Our multidisciplinary program includes studio, general education courses, field experiences, and content specialty courses. To help students maneuver successfully through the program we offer a supportive advising environment with a highly-qualified art education faculty advisor.
SA/VS offers personalized instruction (average class size is 12 students) in a hybrid learning environment. Our faculty have 153 combined years of teaching experience and remain engaged in creative research and artistic endeavors.
Beyond the Classroom
Opportunities are available for studying abroad in studio and art history courses. Student teaching abroad is also an option – recent graduates have taught in Great Britain and Italy.
Art Education students are members of the Art Education Student Chapter at UK, affiliated with the Kentucky Art Education Association and the National Art Education Association. This group engages in service-learning, attends community arts events, and attends conferences, all contributing to student leadership and collaboration.
Official Degree Requirements & Course Information
Always be sure to check the full major requirements on the current UK Registrar Bulletin. The details listed below are simplified for brevity and presented for your convenience.
Continuous Assessment in the Art Education Program
Students' progress through the Art Education Program is continuously monitored, assessed, and reviewed. In addition to regular evaluation in conjunction with their program course work and field placements, students will be assessed three times in their Art Education Program:
Entry into the Teacher Education Program (TEP): Students must apply to the TEP program and demonstrate that they have earned at least 60 credit hours and meet the criteria put forth by the College of Education by filling out the College of Education TEP application form. Upon meeting those criteria, applicants then have a portfolio review and interview with Art Education faculty to determine entry into the program.
Mid-Level review: No later than the semester prior to student teaching, students will demonstrate that they meet the criteria put forth by the Art Education faculty by submitting the materials required for review by the Art Education faculty.
Final assessment upon completion of student teaching: The final assessment is made by the two cooperating public school teachers who supervise the student, and by the observation assessments of the University student teaching supervisor.
EPE 301 Education in American Culture: 3 credit hours
Students must have earned an overall minimum GPA of 2.5 to progress from premajor to major status.
College Requirements (6 credit hours)

UK Core Requirements (30 credit hours)

Graduation Composition and Communication Requirement

Progression Requirement
Premajor Requirements
Each first-year student in the Foundation Program must participate in an annual exhibition to occur late each spring semester. Students will submit one work of their own selection from their first year's work for the exhibition, present it professionally, and provide an accompanying artist's statement. Participation in this exhibition is required and is tracked in A-S 001, Foundation Exhibition.
A-H 105 World Art Before 1400 (3 credit hours)

A-H 106 Renaissance to Modern Art (3 credit hours)

A-S 001 Foundation Exhibition (0 credit hours)

A-S 101 Creativity Practices in Art Studio (taken first semester) (1 credit hour)

A-S 102 Two-Dimensional Surface (3 credit hours)

A-S 103 Three-Dimensional Form (3 credit hours)

A-S 130 Drawing (3 credit hours)

A-S 200 Introduction to Digital Art, Space, and Time (3 credit hours)
Premajor Subtotal: 19 hours
Major Requirements
CIS 110 Composition and Communication I (3 credit hours)

CIS 111 Composition and Communication II (3 credit hours)

PSY 100 Introduction to Psychology (4 credit hours)

EDP 202 Human Development and Learning (3 credit hours)

EDP 203 Teaching Exceptional Learners in Regular Classrooms (3 credit hours)

EPE 301 Education in American Culture (3 credit hours)

A-E 362 Field Experiences in Art Education (1-3 credit hours)

EDL 401 The Professional Teacher: Legal Perspectives (1 credit hour)

EDC 342 Student Teaching in Art (12 credit hours)

EDC 533 Teaching Literacy Across the Disciplines (3 credit hours)

A-E 576 Art in Middle Schools (3 credit hours)

A-E 577 Art in Secondary Schools (3 credit hours)

A-E 578 Art in Elementary Schools (3 credit hours)

A-E 579 Arts and Humanities in Art Education (3 credit hours)

A-S 490 Senior Seminar (To be taken during the final semester of study) (1 credit hour)
Education Subtotal: 49-51 hours
Area of Concentration in Art
A-E 300 Introduction to Art Education (3 credit hours)

Two Art History courses at or above the 300 level (6 credit hours)

A-S 310 Painting I (3 credit hours)

A-S 320 Printmedia: Screenprint/Relief -OR- A-S 321 Printmedia: Intaglio/Lithography (3 credit hours)

A-S 355 Introduction to Sculpture (3 credit hours)

A-S 370 Ceramics I (3 credit hours)

A-S 331 Exploration of Human Form (3 credit hours)

Art Studio electives of your choice (6 credit hours)
Art Subtotal: 30 hours
Major Subtotal: 79-81 hours
TOTAL: 120 hours minimum
---
State Mandated Testing and the Kentucky Teacher Internship
Successful completion of the examinations required by the Kentucky Education Professional Standards Board is a precondition for the granting of a teaching license (certificate). See www.kyepsb.net/ for the current list of PRAXIS examination requirements for P-12 Art certification.
Upon being recommended for a Kentucky Teaching License (certificate), a candidate will be issued a Kentucky Letter of Eligibility for the Kentucky Teacher Internship Program. Upon employment in a Kentucky P-12 school, the candidate will receive a one-year license to practice as a fully qualified intern Art teacher. After successfully completing the internship year, the candidate will be eligible for a regular Kentucky Professional Teaching License (certificate).
Information concerning licensure in other states is available from the office of Academic Services and Teacher Certification in the College of Education.