Aaron Levi Garvey is a Jewish-American Curator/Historian working and lecturing in Modern and Contemporary Arts and Culture. Currently Garvey is the Chief Curator of the Andy Warhol Museum.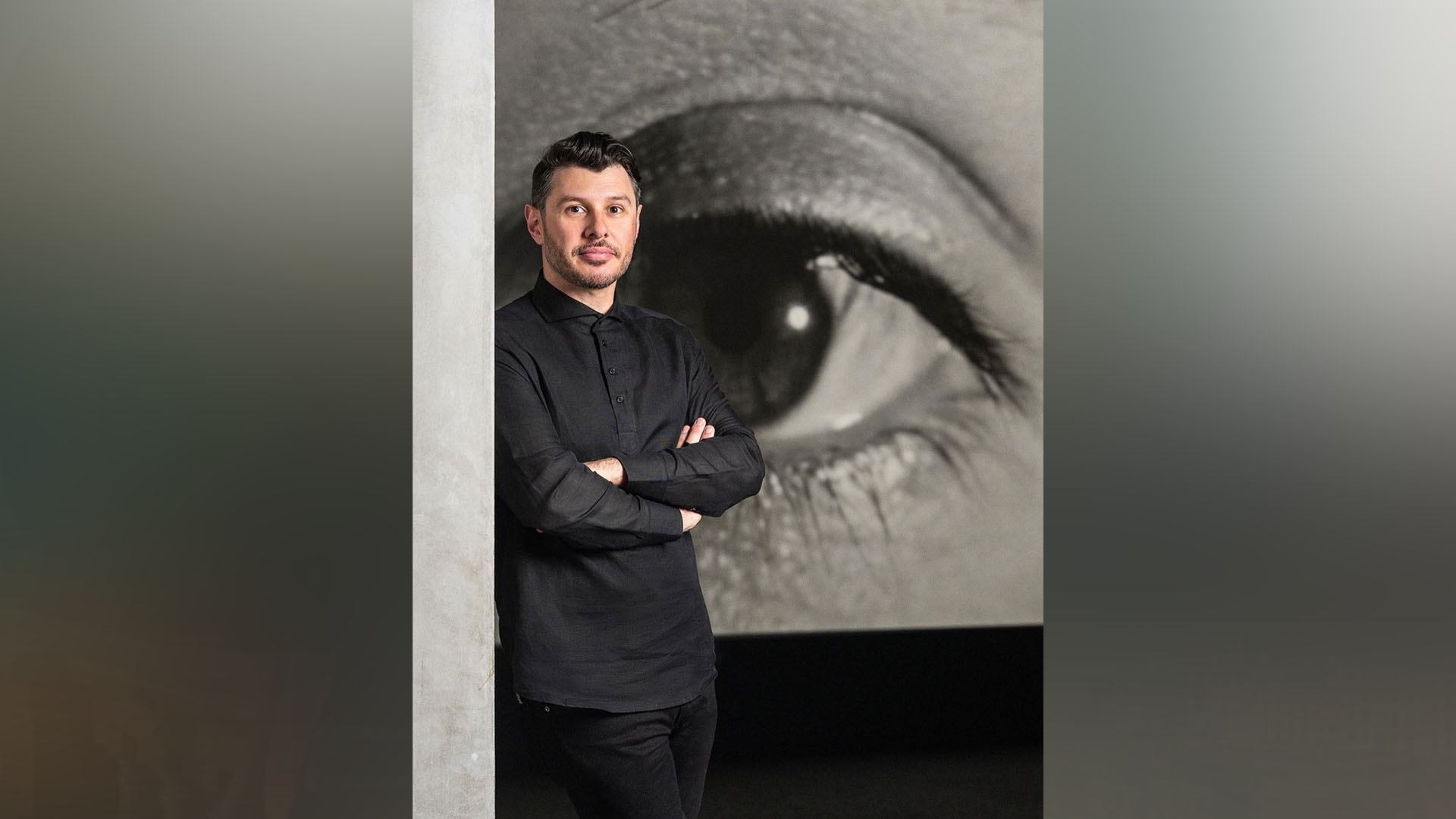 August 14, 2023, by Tess Wampler, University of Kentucky student
---
Department of Arts Administration alumnus Aaron Levi Garvey has been named the chief curator at the Andy Warhol Museum in Pittsburgh, Penn. The born New Yorker has created an expansive career for himself after completing his MA in arts administration and museum studies here at the University of Kentucky. He specializes in modern and contemporary art which has led him to curate exhibits and lecture at universities across the country. His most notable exhibits include "We Are What You Eat" at the United Nations Headquarters in New York City, "Ephemera Obscura" at the Contemporary Art Center of New Orleans, and "Ark of Life/Ark of Bones." at the Jule Collins Smith Museum of Fine Art at Auburn University.
Garvey's mission as a contemporary curator and historian is to create exhibits that focus on supporting underrepresented artists as part of marginalized communities to engage the public that art is something accessible to everyone, regardless of sex, gender, race, or sexuality. Garvey's engagement towards POC, LGBTQIA+, and women artists made him the perfect candidate for the chief curator at the Andy Warhol Museum, a museum focused on the legacy of the infamous contemporary artist and fostering the legacy of emerging artists within the same community in which Warhol challenged contemporary art conventions.
I had the opportunity to talk to Aaron about his recent position at the Andy Warhol Museum and what it means to be a successful curator.
Q. Why do you believe that Andy Warhol is the most influential contemporary artist of the 20th century?
A. Warhol's forecasting of trends, full immersion into the moment, constant curiosity and always working with what was current, new, or experimental, really broadened the landscape for artists to further experiment in their own studio practices. Warhol touched on so many themes, styles and processes of working, and continues to morph through media and technology. His work and experimentations are what I consider to be the precursors to — GIF, Meme, and AI culture. This might sound a little crazy, but I have this exhibition idea that would parallel and tie in Benjamin Franklin and Andy Warhol through the lens of printmaking as the predicate to modern computer design and computer-aided art as a whole.
Q. What drove you to choose the University of Kentucky's MA program in arts administration/museum management?
A. UK seemed like a great fit for my interests and life balance. UK was always one of those schools that was top of mind for several reasons and often swirled around my life spheres, whether through friends, colleagues, etc. I, of course, can't leave out that I have been a huge UK basketball fan pretty much forever!
Q. I read in an article that you focus your curation towards emerging and diverse artists. Do you feel you have created a "bedrock foundation" for emerging and diverse artists through your exhibits? How so?
A. I wouldn't say that I have fully created a bedrock, as I am constantly working to build and refine structures to do so. The goal is to implement collaborations and support mechanisms for artists and communities which will grow into firm foundations.
Q. What was the most impactful exhibit that you have curated?
A. I'm not sure that I can answer this, that is like choosing a favorite child, or favorite parent. They have all been impactful in different ways for me personally, and impactful the public in vastly different ways too. 
Q. What has been the most defining moment in your career?
A. I'm not sure that there is a singular defining moment, but I think that it all stems from spending my life going to museums and being interested in art, history, object history, stewardship, creating access, mentorship and finding comfort within museums and cultural institutions. All of those combined continue to shape and contribute to how I approach my career. 
Q. What is the best advice you would give to a student that wants to start a career in curation?
A. Stay curious; stay ambitious–late nights working, reading articles, going to performances and openings; strive for better; work with integrity, honesty and passion; foster and maintain relationships; be open to adapting to your surroundings; visit as many museums, cultural institutions and non-profit organizations as possible; be willing to bring people along with you when you have a seat at the table –or– give up your seat for someone else; and spend time thinking ahead about how to create accessible longevity for intuitions. But most of all–do the work necessary to see measurable impact. 
---
Image: Aaron Levi Garvey, photo by Abby Warhola.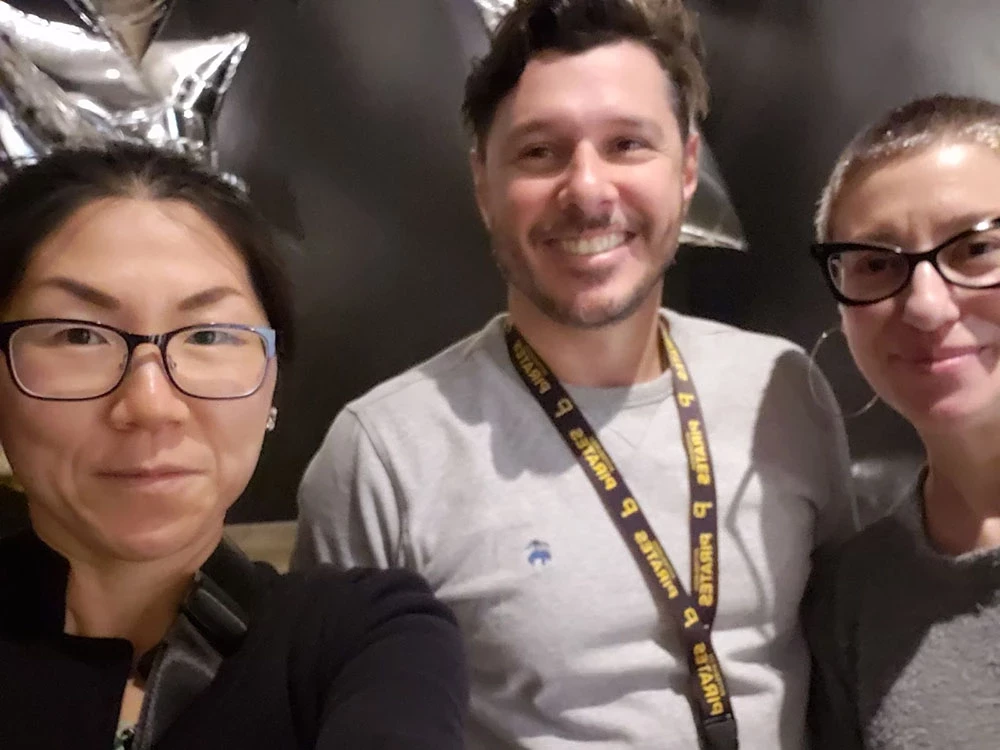 Arts Administration faculty Yuha Jung and Jill Schinberg with Aaron Garvey.