University of Kentucky arts administration students took a field trip to study arts practices, policies, and law through an analysis of the Janis Ian Collection in the Berea Archives.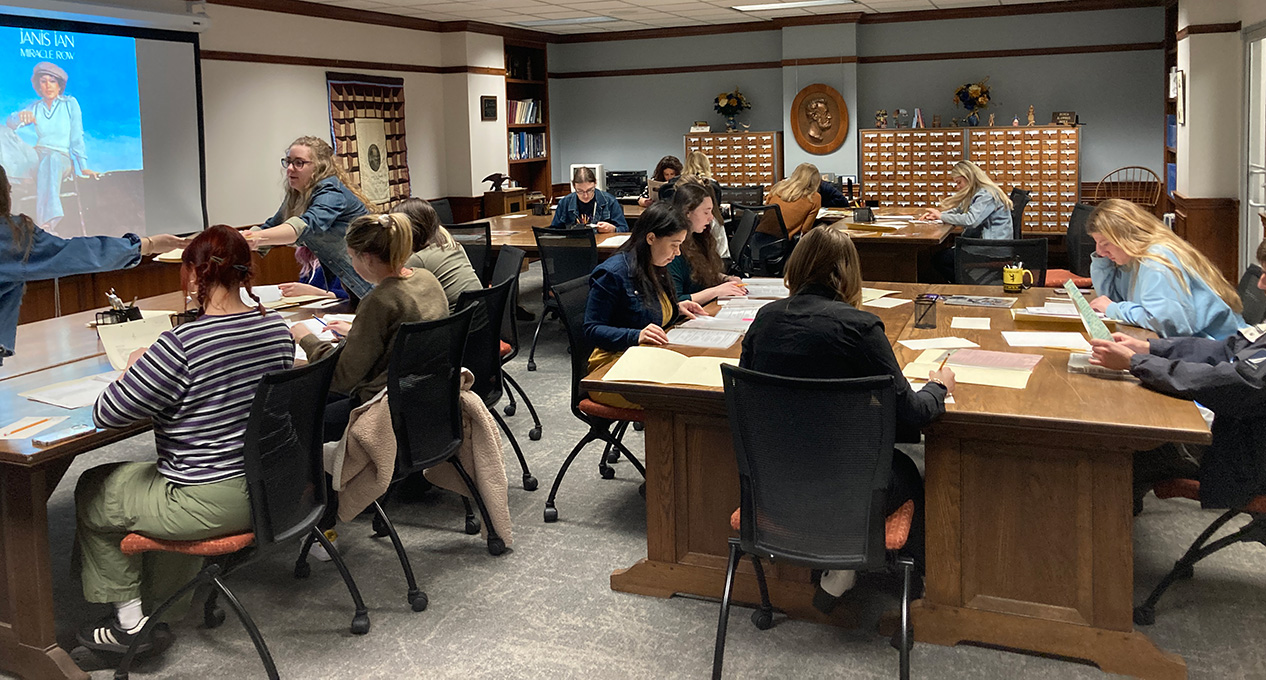 By Joy Chou, Arts Administration and Digital Media Design senior
Students of AAD 420: Practices, Policies, and Law in Arts Administration recently visited the Berea College Special Collections and Archives to view records from the collection of Janis Ian, an award-winning and world-renowned folk musician, social activist, and LGBTQ icon. While at Berea Archives, students were able to tour and get a glimpse of their vast array of documents, learning about the various aspects of archival processing. For the primary purpose of their visit, the class was allowed an exclusive view of specific records from the Janis Ian Archives for educational purposes before the collection officially opens to the public.
"The Janis Ian Archives are a unique resource for music history research, offering public access to evidence of Ian's life and career, including publishing, recording and live performance contracts, copyright paperwork, tax returns, contracts and correspondence dating back to 1964," according to a Berea College press release. The collection was donated to Berea College by Janis Ian, who intends for the collection to serve as a public resource.
In AAD 420, students have been studying policies and laws surrounding copyright, trademarks, intellectual property, and licensing practices. Dr. Jaleesa Wells, professor of AAD 420, wanted students to investigate these topics by engaging with their practical applications in the arts.
"The purpose of the field trip was for students to explore areas of copyright, compliance, and contracts within the music industry," said Dr. Wells. "A critical learning objective was for students to access primary resources within the Janis Ian special collection in order to identify and summarize the differing aspects of artistic agency and to discover and investigate arts administration legal practices surrounding a successful musician's career."
The selection of archive materials, shared by project archivist Peter Morphew, were analyzed by students through two primary lenses: viewing the artist as an individual and the artist as a business. Students spent their day looking over contracts, letters, catalogs, awards, newspaper clippings, event plans, and several other types of documents from Ian's collection. While much of the collection is composed of records, Ian's donation included various artifacts as well, including hats, shoes, and even Ian's 1937 Martin D-18 guitar, which had belonged to her father. Students were able to play the guitar, per Ian's wishes.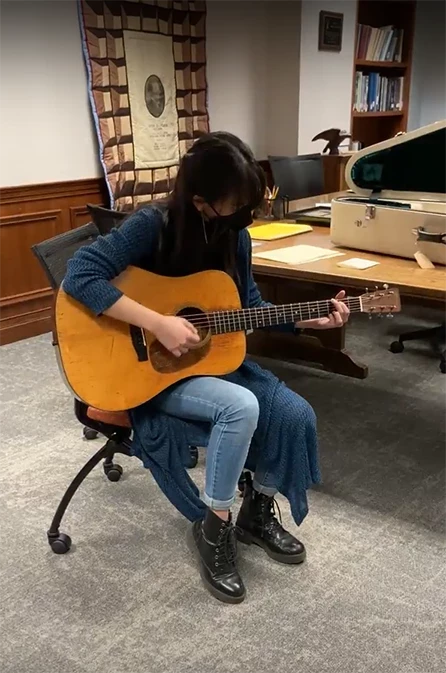 Students had the opportunity to play Janis Ian's 1937 Martin D-18 guitar. Photo provided by Dr. Jaleesa Wells.
Following their examination of the documents, students wrote reflections on what they had spent the day learning about. For Kristin Earnest, a senior Arts Administration major with minors in Music Performance and Creative Writing, the experience inspired contemplation about not only practices in arts administration but also the nuances in artistic legacies.
"When doing our reflection exercise, I was contemplating on the idea of how the physical things we leave behind may impact what future generations think about us," reflected Earnest. "Beyond the flashier things like Ian's guitar and her songbook (which were still incredibly cool), how does the way she communicated with people change our view of her? The way she reacted to things, the way people interacted with her, the way things were handled outside of her control. That's sort of where that poem came from- all of the questions that arise from thinking about the legacy we leave behind, and the amount of agency we have over it."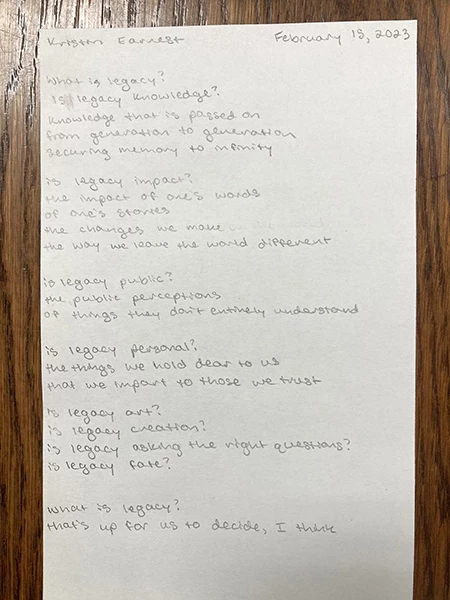 Kristin Earnest's poem reflecting on artistic legacies and archival practices. Photo provided by Kristin Earnest.
This opportunity gave students the chance to examine their own role as arts administrators on a deeper, more personal level while engaging with professional materials that reflect their studies in arts administration.
"I really enjoyed visiting the Janis Ian archive! I feel like learning about her in that way gave me a completely new perspective on her and her music, in a way that reading about her through articles or pages online wouldn't," Earnest said. "Getting to see all of the incredibly detailed documents like contracts, licensing agreements, and event plans was very aligned with what we do in arts administration. I always love to learn about more things that go into the creation of art and the execution of an arts event—the level of detail and learning in this field is endless and that's fascinating to me."
Students' reflections will be shared with Janis Ian and may be included as part of the collection's exhibition, which is planned to become available for public viewing later in 2024.