UK Arts Administration alumni join forces to build CommonTime, a virtual platform that brings together artists, arts organizations, and educators.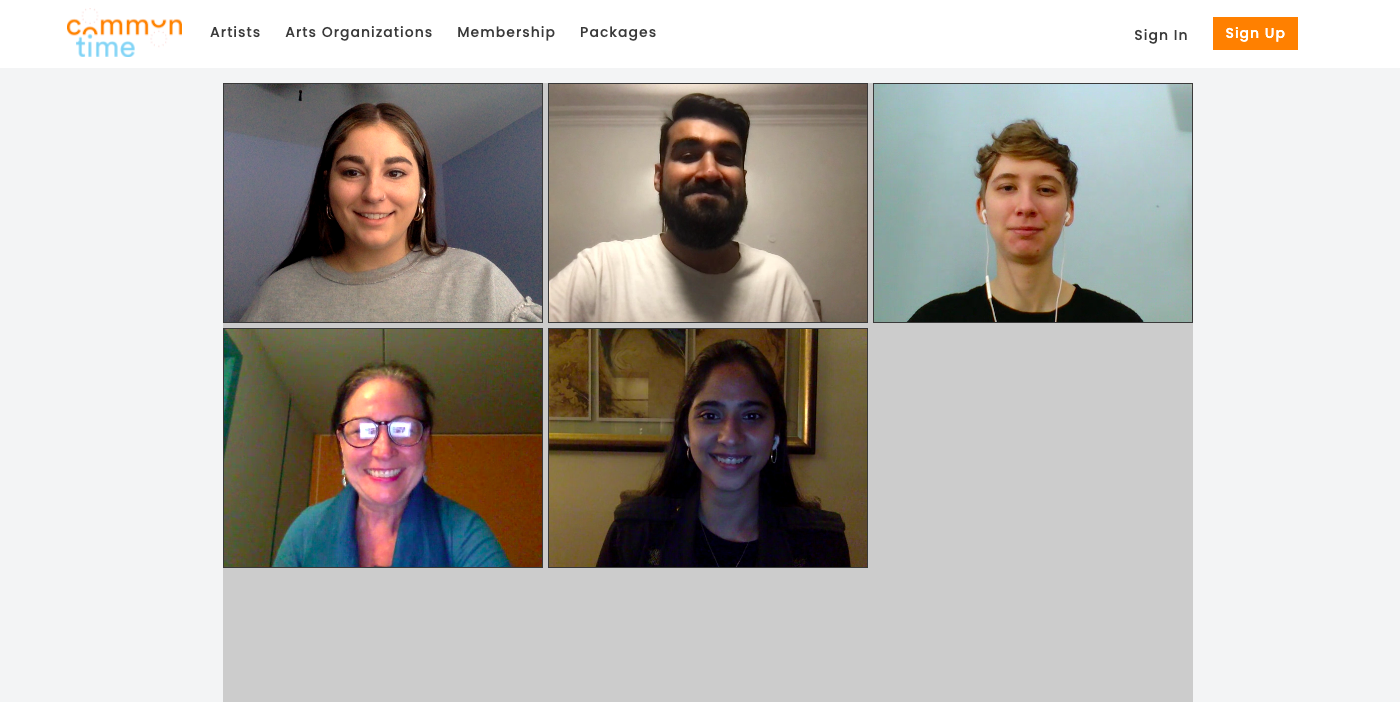 By Emma Lucas
Jacqui McKenna graduated from the University of Kentucky in May of 2020, right at the height of the COVID-19 pandemic. A student of the Arts Administration B.A. program, McKenna was paired with an industry professional for a portfolio review as part of AAD 450, Senior Seminar. She met with Christine Matovich, who received her Masters in Arts Administration from UK, and was later offered an opportunity to work for CommonTime.
CommonTime is a sustainable arts education platform that can be used globally to connect artists with educators and other organizations. Keep reading to find out more about CommonTime and how to get involved in our interview with Jacqui!
What year did you graduate and with what degree(s)?
I graduated in May of 2020 (what a crazy time to graduate) with a BA in Arts Administration and a Minor in Photography.
Tell me about CommonTime. What's the organization's mission, vision, purpose, etc.
CommonTime's mission statement is: Engaging learners with the Arts by bringing together Artists, Educators, and Arts Organizations. A world in sync where different cultures create real connections in a virtual space.
CommonTime is about creating a sustainable arts education platform that can be used globally. "Anytime, Anywhere" is one of our mottos. The Arts have taken a tremendous hit from the pandemic, and CommonTime is a way for Artists and Arts Organizations to make money without the worries of masking, social distancing, or sanitization.
During registration, artists will supply us with their resume, their work experience in the classroom, portfolios, schedules, rates, and other information that will help us decide if they are a good fit for CommonTime. After being accepted, their profiles will go live and registered educators will be able to browse through the artists' profiles and choose which artists they would like to book a session with.
CommonTime is also giving Arts Organizations a chance to boost their educational outreach programs. There are so many wonderful educational organizations, but unless you are already familiar with a certain organization or are specifically looking for a certain outreach program, you might not know just how many programs are out there. We are offering arts organizations an opportunity to promote all of their programs in one place, to increase knowledge about their programming, and to bring more traffic to their outreach series.
In the future we would love to expand our clientele beyond educators and offer sessions to students, other artists, and anyone who would love to take a class from one of the artists on our platform. We are also hoping to provide team building experiences and webinars to businesses and corporations. CommonTime launched just a few weeks ago, so these ideas are still in development.
How did you find this organization?
I was extremely lucky in the fact that CommonTime kind of found me. I was paired with Christine Matovich, our Founder, for my senior portfolio review. We met virtually over Zoom because she is located in Germany, and she gave me a lot of great advice on how to strengthen my work. A few weeks later she contacted me and asked if I wanted to be on the CommonTime team, and I was thrilled to be given the opportunity to help such an amazing idea become a reality.
Tell me about your connection with Christine and her connection with UK Arts Administration.
Christine is also an alum! She received her Masters in Arts Administration from UK and that is why I was connected with her for my senior portfolio review. She is an amazing leader to our team and her guidance has allowed each of us to flourish in our positions from the very beginning. Christine is an educator at the International School of Stuttgart as well as an accomplished opera singer, so she brings to CommonTime an invaluable knowledge of both teaching and the Arts.
Where are you living/are you working remotely? What is this like?
I am currently living in Cleveland, my hometown. Our whole team works remotely and the majority of us have actually never met in person. Christine is in Germany, our Developer Jaskaran and our Designer Amanat are both in India, and our Content Editor and Organizer Jordan is in New Jersey. One of the first things Jaskaran did for the project was build CommonTime's video capabilities so that we could hold meetings on our own platform, instead of on alternatives like Zoom.
I enjoy working remotely and the fact that we have built an entire business virtually is a testament to what an online platform is capable of, but I am excited for the day when the whole team can meet up and celebrate our accomplishments together.
What does your typical day look like working for CommonTime?
A typical day varies for me. Since our team is just five people right now, I tend to wear many different hats.
In the beginning I was in charge of putting together the website flow, but I also created lists of time zones, languages, and email addresses of university arts programs for marketing.
Now I am in charge of social media posts and analytics/SEO. I am also working on a pitch deck for investors, and the five of us are creating a CommonTime blog that will be up and running within the next few weeks.
We all work together as a team and spend a good chunk of time in our meetings creating content, editing, and making sure the website is running smoothly. Each team member has projects that require everyone else's input and expertise.
How do you see this organization impacting our field of work?
We want it to have a positive impact on the sustainability of the Arts and Arts Education. The Arts often get taken for granted, but I think that CommonTime is creating a healthy, mutually-beneficial environment. It's a place where Artists have an opportunity to make money, and Art lovers and Educators can come together to support each other.
Providing accessibility to authentic cultural learning experiences is another way that CommonTime is impacting the Arts Ed community. Many schools do not have the funds or the opportunity to hire visiting artists and pay for their travel and stay even once, let alone multiple times per year. We are breaking borders and cutting out unnecessary costs and barriers on both sides. On top of that, there are no health and safety risks because everything is virtual. Anybody can have an authentic Arts Experience from the comfort of their studio, classroom, or business.
What are your hopes for CommonTime?
My hope is that the platform keeps growing and thriving. I would love to see it host artists of every facet and medium you could think of, as well as offer a large catalog of arts organizations' outreach programs. My wish is to see CommonTime become a truly global and widely-used platform. It's all about fulfilling our mission. Right now we have artists and educators from many different countries, so it is really neat to see our mission come to fruition even in these beginning stages.
We would also like to contribute to Arts Education now and as the company grows by supporting young learners with internship opportunities. It is important to our team that we are always fostering a creative and inspirational environment. Eventually, we hope to supply schools in need with arts outreach programs and participate in other philanthropy for the arts and arts education.
There's nothing worse than trying to force yourself to fit a position or team that just isn't right for you.
How did UK and the Department of Arts Administration help prepare you for this endeavor?
As a whole, the Department of Arts Administration made me feel confident to enter the workforce and advocate for myself as a competitive candidate. The internship requirement was one of the best ways the department could have prepared us for life after college. For the internship requirements, I gained experience in both the nonprofit and for-profit sectors which was a huge help. Besides that, learning how to write a mission statement (we spent many weeks on ours), how to come up with a business plan, and how to create a pitch deck have all been integral in my success with CommonTime. My role at CommonTime is a culmination of everything I learned over the 4 years in the Arts Admin Department.
What advice would you give to current students looking to pursue a career in Arts Administration?
My first piece of advice is to always be on the lookout for networking opportunities, even before you graduate. Internships, job fairs, professional reviews, and other school events are a great way to meet people who want to help you succeed in the future.
Next would be not to lock yourself into a box when looking for a job. You might have a dream job in mind already and that is fantastic, but be open to other opportunities; they could make you a stronger candidate in the future. Also, non profit work and for-profit work are both accessible with an Arts Administration degree.
Finally, be your genuine self. It might sound cliché, but there's nothing worse than trying to force yourself to fit a position or team that just isn't right for you. There's a difference between exploring outside of your comfort zone in a positive way and trying to change yourself for a job. I was lucky enough to find a team where every meeting starts and ends with chatting about each other's lives and accomplishments and we are still able to get all of our work done across three different time zones and continents. We are truly a little virtual family and I am forever grateful for that!
---
For internship opportunities for students or to host a classroom session, contact jacqui@commontime.online.
Instagram: commontime.online
Twitter: @CommonTime_
Facebook: @commontime.online
LinkedIn: CommonTime Online