American theatre researchers will benefit from the major discovery of correspondence between two of the nation's most storied playwrights — Tennessee Williams and Eugene O'Neill.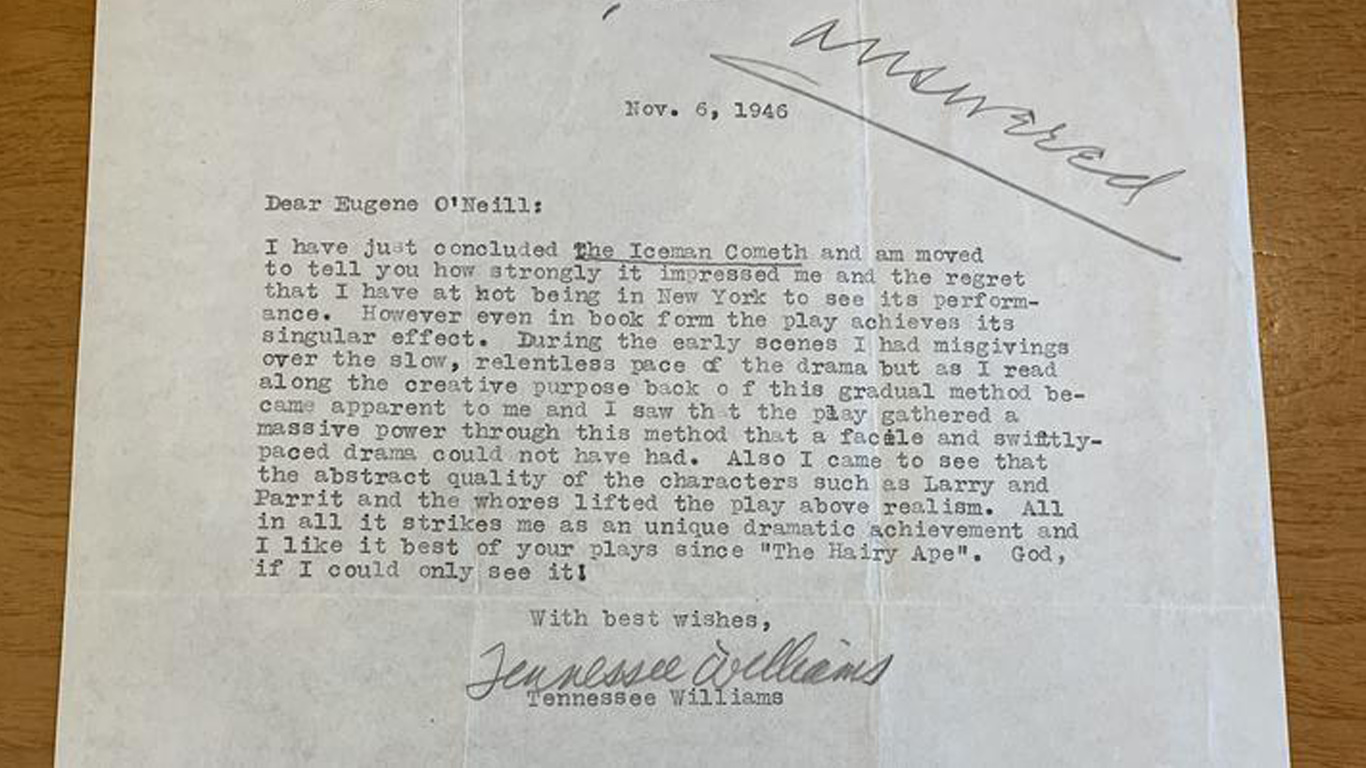 By Whitney Hale and Alexander Pettit | Eugene O'Neill Review
University of Kentucky Professor Herman Daniel Farrell III, a playwright and noted O'Neill scholar, found the letter while doing research in the archives at Yale University. The newly discovered letter gives readers an idea of the impact the two celebrated artists had on the other. The correspondence, penned by the critically acclaimed Williams in 1945 — not long after the success of his work "The Glass Menagerie" — speaks to his appreciation of a new work of Nobel Prize laureate O'Neill — "The Iceman Cometh." Williams' letter expressed admiration for O'Neill's play describing it as "an unique dramatic achievement."
While O'Neill's response remains lost, the Williams' letter was found by Farrell in a collection of newly discovered O'Neill-related materials at the Beinecke Rare Books and Manuscript Library at Yale. Farrell's trip to Yale was made possible with assistance from Farrell's University Research Professorship, funded through the UK Office of the Vice President for Research, and a UK College of Fine Arts Research Enhancement Grant.
"I was heeding (Pulitzer Prize-winning journalist) Robert Caro's advice to researchers to 'turn every page' and found this gem tucked away in a folder marked 'W' that contained a stack of correspondence that O'Neill received between 1928 and 1948. I immediately recognized that it was a new discovery," Farrell told The Eugene O'Neill Review.
Grasping the importance of his find, Farrell reached out to Robert M. Dowling, then-president of the Eugene O'Neill Society and author of "Eugene O'Neill: A Life in Four Acts," to confirm the letter's significance.
Dowling's response to the discovery and publication of the letter in the new issue of The Eugene O'Neill Review was understandably enthusiastic. "An impassioned letter from Tennessee Williams to Eugene O'Neill is an astonishing find in the world of American drama studies. Just when it seems that the archival well has been drunk dry for these exhaustively studied artists, something truly wonderful appears and changes things.
"This is one of those times … Herman Farrell III has discovered a deep and refreshing well indeed for O'Neill studies with many other new finds. Let it never run dry."
Williams' scholars are also thrilled with Farrell's find; evidence of the once rumored letters penned by the two renowned playwrights. "Farrell's discovery of the Williams half of that mythical correspondence among the O'Neill papers at Yale finally confirms what theatre scholars have long surmised, namely that the younger Williams had indeed sent cordial and earnest words of encouragement to the beleaguered master at his creative vision of the play," said John Bak, author of "Tennessee Williams: A Literary Life" and editor of Williams' "New Selected Essays."
Researchers and fans alike worldwide can check out this landmark discovery online for a limited time. Penn State University Press, which publishes The Eugene O'Neill Review, is making Williams' letter within Farrell's journal article available for public view via JSTOR through the end of June 2021.
Research like Farrell's is important to history and scholarship surrounding the field of theatre. To make such work possible, Farrell took advantage of the UK College of Fine Arts Research Enhancement Grant competition and Faculty Scholarship and Travel awards, which allow college faculty to pursue research and creativity through dedicated funds to support endeavors like travel, conferences, materials, recordings and archival research.
"Dean Mark Shanda generously put these programs into place shortly after his arrival in order to demonstrate his commitment to our faculty's research and creative profiles in order to encourage the advancement of faculty careers, to firmly plant the CFA as a robust member of the UK research community, and to highlight the gifts and talents of our faculty," noted Associate Dean of UK College of Fine Arts Beth Arnold.
"The importance of Professor Herman Farrell's discovery from the Yale Collection of American Literature, Beinecke Rare Book and Manuscript Library, confirms the positive relationship of these literary giants as contemporaries," UK Department of Theatre and Dance Chair Tony Hardin added.
At UK, Farrell teaches playwriting, screenwriting, theatre history, seminars on playwrights (O'Neill, August Wilson), as well as Staging History, a course that examines historical dramas and involves the devising of a documentary drama over the course of one semester. In 2015, he was one of the first two Travis Bogard Artists-in-Residence at the Eugene O'Neill National Historic Site.
"Herman Farrell III has discovered a deep and refreshing well indeed for O'Neill studies with many other new finds. Let it never run dry."
Farrell's other plays have been developed in workshops and readings at Manhattan Theater Club, Crossroads Theater Company, Primary Stages, The Working Theater, New Dramatists and the Eugene O'Neill Theater Center National Playwrights Conference. His work has been recognized and honored by several national arts institutions: New Dramatists (member playwright 1995-2002, Joe Calloway Award); National Endowment for the Arts grants ("To Mandela" at The Working Theater, 1998; and "There" at Primary Stages, 1996); MacDowell Colony Fellowship, 1996; 1994, 1995 and 1999 National Playwrights Conference ("Bedfellows," Brodkin Scholarship Award; "There," first Eric Kocher Playwriting Award; and "Memorial Day"). More recent work includes "Cousins Table," (National Playwrights Conference Semi-Finalist) a family drama in the Obama era, "Supremacy" set during the Trump years, and a commissioned work for the American Slavery Project called "Assento," part of the Writing Collaborative of "Unheard Voices," a theatrical response to the African Burial Ground in lower Manhattan.
Farrell was co-writer of the Peabody Award-winning and critically acclaimed HBO film "Boycott" about Martin Luther King Jr. His play productions include: "Rome," 2004 New York International Fringe Festival; "Portrait of a President," 2002 New York International Fringe Festival (Excellence in Playwriting Award); "Solo Goya," Lincoln Center's Director's Lab at HERE (NY 1998); "Bedfellows," The Flea Theater (NY 1997) and The Echo Theater Company (LA 1996) (Drama-Logue Award and Critic's Choice).
A 2018-2019 University Research Professor and professor in the UK Department of Theatre and Dance, Farrell holds a bachelor's degree in drama from Vassar College, a juris doctor from New York University School of Law, and an MFA in playwriting from Columbia University. He served as the Kentucky regional representative for the Dramatists Guild of America from 2011-2014 and is vice president of the Eugene O'Neill Society.
---
Story originally appeared in UK Now on May 6, 2021.