Brilliant Illusions: Crafted Forms by Li Hongwei
Ticket Price
Free, Reservations Required
Poster Image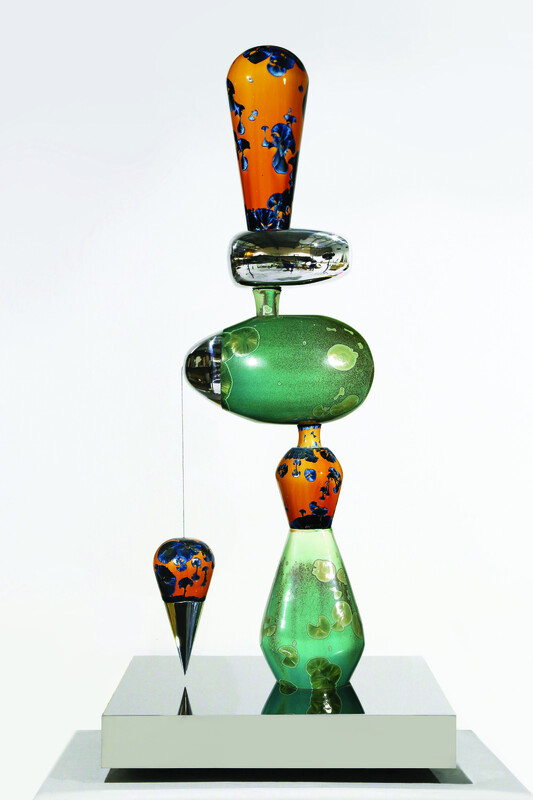 The renowned ceramic traditions of ancient China find fresh and dynamic expression in the hands of contemporary artist Li Hongwei. His sculpture—which takes the form of graceful hanging pieces as well as work on pedestals—combines crystalline glazes on porcelain with polished steel in ways that reanimate the past and evoke a new future for this art form.
Li explores the "the interfacings between light and form, reflection and reality, tradition and transformation," says guest curator Dr. Andrew Maske, associate professor of Asian art history at UK and a specialist in the history of ceramics. "He manipulates iconic ceramic modes from China's ancient past to create sculpture that expresses the concept of balance, flow, and beauty."
Born in Tangshan, China, in 1980, the artist now divides his time between Beijing and New York. Li holds a bachelor's degree in sculpture from the Central Academy of Fine Arts in Beijing and a master's in ceramic art from the New York State College of Ceramics at Alfred University. His work has been collected internationally by institutions that include the Art Institute of Chicago, the British Museum, Harvard Art Museums, the Israel Museum, and the National Art Museum of China.
Sponsored by the Albisetti Exhibition Fund, with additional support from the Office of China Initiatives at UK. Special thanks to Jim Albisetti and Huajing Maske.
IMAGE CREDIT: Li Hongwei, Allegory of Balance #18, undated, porcelain and stainless steel. Courtesy of Pucker Gallery, Boston.
Created 09/21/2021
||
Last Updated 01/18/2022