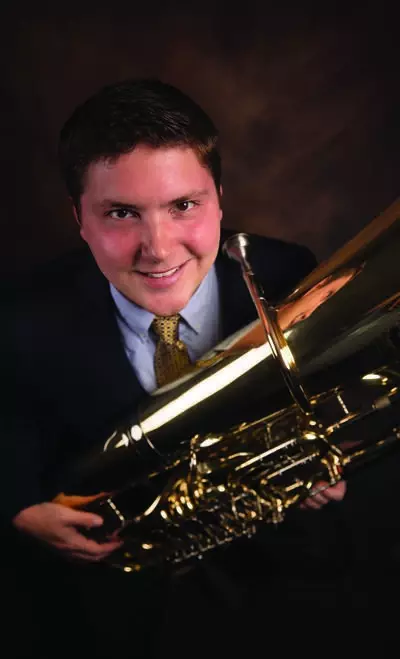 Area
Music Performance
Brass
Tuba and Euphonium
Matt Hightower is the Assistant Professor of Tuba/Euphonium at the University of Kentucky. Prior to his appointment at UK, he held a similar position at Texas A&M University-Kingsville.
As a professional tubist, Dr. Hightower's performance experience covers a wide range of chamber, orchestral, and solo music that spans three continents and nine countries. He is a prizewinner of international solo competitions and has presented masterclasses to tuba/euphonium students around the world.
His growing list of solo residencies include Baylor University, Conservatory of Reykjavik (Iceland),the University of Louisiana at Monroe, the University of Texas, the 2017 & 2018 South Central Regional Tuba/Euphonium Conferences, the 2015 & 2018 South East Regional Tuba/Euphonium Conferences, The United States Army Band Tuba/Euphonium Workshop in Arlington, VA and the Xi Xiang Music Valley (China) among others.
He is the tubist with the University of Kentucky Faculty Brass Quintet and was previously tubist with the Corpus Christi Brass Quintet and the Kingsville Brass Quintet. He is a founding member of the Atlas tuba quartet, a professional tuba quartet that has presented clinics and recitals at Austin Peay State University, Indiana University of Pennsylvania, the 2016 International Tuba/Euphonium Conference, Murray State University, the University of Akron, the University of Memphis, and Western Kentucky University.
Some of his credits as a large ensemble performer include appearances with the Bloomington Camerata Orchestra, The Columbus (IN) Symphony, The Evansville Philharmonic, The Iceland Symphony Orchestra, The Jackson Symphony, and David Baker's 20th Century BeBop Band.
In addition to his career as teacher and performer, Dr. Hightower is an award-winning composer. In 2010 Dr. Hightower was named the winner of the KMEA Intercollegiate Composition Contest. Commissioned works by Dr. Hightower have received premier performances at the 2012, 2014, and 2016 International Tuba Conferences, the 2017 & 2018 South Central Regional Tuba Euphonium Conference, the 2018 South East Regional Tuba Euphonium Conference, the John F. Kennedy Center, and the 2016 Texas Music Educators Conference.
Dr. Hightower earned a BM in music education from Murray State University, an MM in tuba performance from Indiana University, and a DMA from the University of Texas at Austin. His primary instructors were Ray Conklin, Daniel Perantoni, and Charles Villarrubia, with additional instruction in the field of composition from Mike D'Ambrosio, John Fannin, and P.Q. Phan.
Matt Hightower is a B&S performing artist.