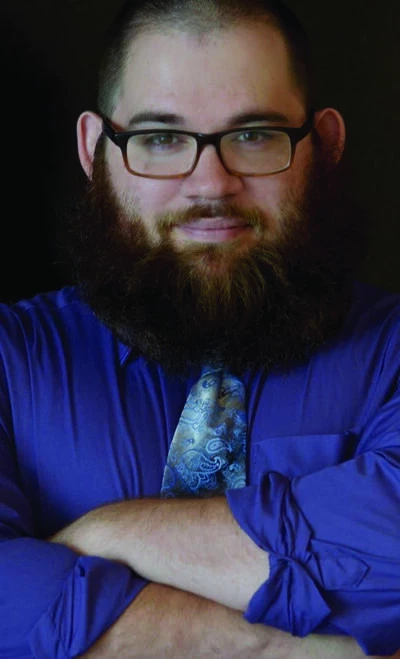 Music Business and New Media
Aaron Hynds is a Kentucky-based audio engineer, tubist, and composer. His creative practice is centered on the intersection of technology and live performance, with a specialty in the interpretation of contemporary music. To this end, he remains active as a performer and composer, while working primarily as an educator and audio engineer in higher education.
Aaron is Lecturer of Music Business and New Media for the School of Music at University of Kentucky. He is the primary audio engineer for the School of Music, and has previously worked as the Sound Production Coordinator for the University of Nebraska at Kearney.
As an engineer, Aaron's current projects include a full-length CD of music for euphonium and chamber ensembles, featuring Dr. Robert Benton on euphonium. He is also recording his first solo project as a performer, entitled Colossus: New Music for Tuba, Vols. 1 & 2, which encompasses 13 works that he has commissioned for the tuba and euphonium. In addition, he has appeared on CDs with groups such as Ensemble Dal Niente (the Katherine Young/Austin Wulliman collaboration Diligence is to Progress as Magic is to Flight), the University of Wisconsin Wind Ensemble, and the Midwest Hackers.
Aaron has been a featured performer across the United States since 2007, particularly in new music venues. He has performed at events such as the inaugural Omaha Under the Radar Festival, the 2014 International Summer Course for New Music in Darmstadt, Germany, the Null Point music series in Buffalo, NY, Constellation-Chicago, and the 2016 and 2017 New Music Gatherings. In March of 2019, he was the featured guest artist for the 2019 UNK New Music Festival, performing several recently-composed works for tuba and bass trombone.
Besides his work as a performer, Aaron is also a composer and new media artist. Recent premieres include Choke (Radio Edit) for bass clarinet and electronics (for clarinetist Gunnar Hirthe), Robot; ready for piano and computer (for pianist Lucy Yao by Ensemble Knox), and SID 6581 for amplified violin and computer (for violinist Abdel Anzaldua). Upcoming works include hollow town hums for xiao+xun and computer (for Hong-Da Chin) and a large-scale work for tuba-euphonium quartet and computer.
Aaron earned Bachelor of Arts and Master of Music degrees from the University of Northern Iowa and University of Wisconsin-Madison, respectively, and recently completed the Doctor of Musical Arts degree in Contemporary Music from Bowling Green State University.