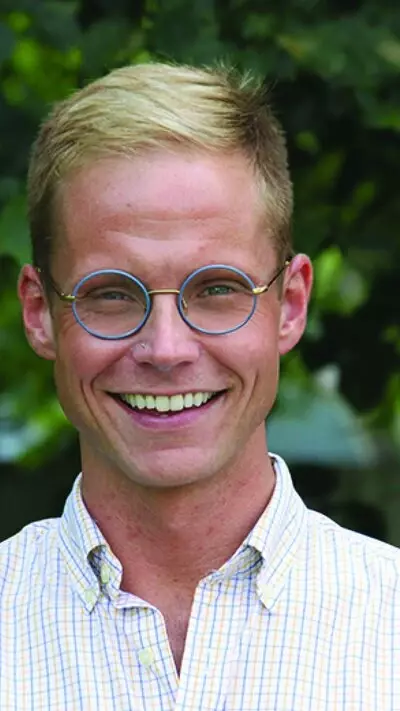 Department
Department of Arts Administration
Director of Undergraduate Studies
Lee Erik Eachus is a Lecturer and the Director of Undergraduate Studies in the Department of Arts Administration at the University of Kentucky, College of Fine Arts. As Director of Undergraduate Studies, Professor Eachus works closely with the department's more than 200 undergraduate students as they work toward completion of one of the nation's most comprehensive and robust Bachelor of Arts degrees in the field. Professor Eachus also teaches a number of courses within the undergraduate degree and has been instrumental in recent curriculum revisions, which centers the degree offerings around workplace readiness skills and emotional intelligence.
At the University of Kentucky, Professor Eachus serves as the Faculty Advisor to the Arts Administration Society and newly formed Safe Have CFA, a student run organization focused on promoting allyship within the College of Fine Arts and decentralizing LGBTQIA+ resources on the UK campus.
Professor Eachus earned a Master of Arts in Arts Administration from the Savannah College of Art and Design and a Bachelor of Arts Degree in Cultural Anthropology from Transylvania University before beginning a ten year career as a professional dancer and Company Manager for Princess Cruises Entertainment (Los Angeles, CA), Peter Grey Terhune Entertainment (Orlando, FL), and Matt Davenport Productions (Nashville, TN). Following his time on stage, Lee transitioned into working as a development and fundraising professional for some of the nation's most post prestigious ballet companies.
In 2015, Lee returned to Kentucky as the Development Director for Lexington Art League. During his time at LAL, he increased the organization's annual fund support by nearly 12% in just over 7 months and increased its corporate support by 25% within his first year in the role.
In 2017, Lee spearheaded a program in conjunction with the Lexington Police Department and Fayette County Public Schools entitled 'JustUs,' aimed at building and sustaining meaningful relationships among high risk youth and law enforcement through shared experiences in art. He continues his involvement with the field through a number of consulting projects and board engagement. Lee has previously served on the Mayor's Advisory Council for Arts & Culture, the Board of Directors at Lexington Ballet, and as a Steering Committee Member of Commerce Lexington's Leadership Lexington program. Currently, Lee is an active member of DanceUSA, the Association of Arts Administration Educators, and is a member of the Board of Directors at Lexington Philharmonic.